Is the latest boom in digital collectables just a market bubble ready to burst at any moment? Will the investors lose interest in them once they get mainstreamed? These queries must be worrying all crypto and NFT fans, more than anyone could have imagined.
Investing in an asset is not something we do in the heat of a moment. It is always a well-strategized step. So, when NFTs took a blow, many people found themselves in a tough spot. There was a pulsating market that was demanding participation amidst the aggravating tension brewing amongst the investors. As the fumes of the dilemma started settling down, we saw NFTs evolving into a multi-million-dollar industry. New concepts, innovative approaches, and user-focused content helped the NFT market to grow globally.

In no time, digital collectables were everywhere, finding a place in the portfolio of all investor classes. The craze for NFTs was so huge that it compelled celebrities from different spheres to hop on the bandwagon and enjoy the perks of the digital economy. However, just like any other investment plan, NFTs come packed with a set of merits and demerits. The changing dynamics of the crypto market often restrain investors from spending their hard-earned money. The world of NFTs is no different. Some investors are selling off their digital assets, citing their fears about losing funds if NFTs are proven to be a fad.
Despite all this dilemma, the popularity of Non-Fungible Tokens has only increased in the past two years. Investors are willingly risking big chunks of money in the sector. Having an NFT displayed as the display picture on social media platforms has become a trend, and people are doing everything possible to get into it. This shows that NFTs are here to stay with us for a long time. They will thrive as more and more companies will join the NFT fandom. We are bound to see Non-Fungible Tokens bringing a revolutionary change in how we trade, interact, and earn. This article is here to celebrate the essence of Non-Fungible Tokens. We will talk about NFTs and how they will continue to rule the financial space in the future. So, let's start:
What exactly is an NFT?
Non-Fungible Tokens are unique trading assets that allow holders to cherish a sense of owning something worthy and valuable. Being cryptographic assets, NFTs use blockchain technology as their core underlying infrastructure. If explained in simple words, one can say that NFTs are digital tokens that represent rare items from the physical world. NFTs can be anything and everything. They can be something as precious as an art piece or something as familiar as the picture of a dog.
Unlike cryptocurrencies, Non-Fungible Tokens are non-fungible, which means that one unit of NFT cannot be swapped for another unit of the token. Each NFT is a one-of-a-kind, unique, and irreplaceable asset, and this uniqueness or digital scarcity gives an NFT its value. An exclusive code is stored on a blockchain representing each NFT which helps track the collectable's real owner. Investors can freely buy or sell NFTs on any popular NFT platform such as OpenSea, NFTICALLY, and others.
Surprisingly, the technical pedagogy of NFTs has been in the sector for quite a while; however, it was the year 2021 that gave them the necessary push. The craze for digital collectables spread like wildfire attracting the attention of new-age investors worldwide. Reports revealed that the total sales volume of NFTs in 2021 shot up to reach $25-30 billion from the $100 million figure in 2020. Well, this hinted toward a 25-30x surge in the sales volume of NFTs within a year span. A major reason for this growth can be attributed to the celebrities, the global icons from multiple fields that happily joined the NFT development boom. From famous models to singing idols, actors to sportsmen, and billionaires to philanthropists, NFTs have managed to envelop everyone in their charm. The NFT fandom includes names such as Justin Bieber, Snoop Dog, Jack Dorsey, Lionel Messi, Jimmy Fallon, Serena Williams, Paris Hilton, Louis Domingue, Naomi Osaka, Tiger Woods, Shawn Mendes, and many more.
Industrial firms also work to earn a leading position within the NFT cubicle. They are continuously experimenting with innovative projects to grab the attention of users. NFTs are receiving a significant push from Metaverse expansion. We already know how Metaverse became a trend soon after Facebook announced its name change to Meta. The team's rebranded version of the social media giant was a strategic step to emphasize its future expansion in the Metaverse stream.
For those who don't know, Metaverse is a virtual space that mimics the real-world experience for users. The technology encompasses concepts such as crypto, blockchain, AI, AR, VR, etc. In a Metaverse, users have a digital identity or avatar that helps them interact, play, and trade within the ecosystem. NFTs are an inevitable part of a Metaverse cluster as they support the economic system in the virtual world. The digital lands and objects investors own in a Metaverse exist in the form of NFTs for easy trading. Presently, multinational firms like Meta, Microsoft, and Twitter are using NFTs as a tool to strengthen their presence in the Metaverse industry. Metaverse and NFTs are the trendsetters of the financial realm, and everything related to them is gaining insane popularity amongst investors.
Scope of NFTs In the Global Market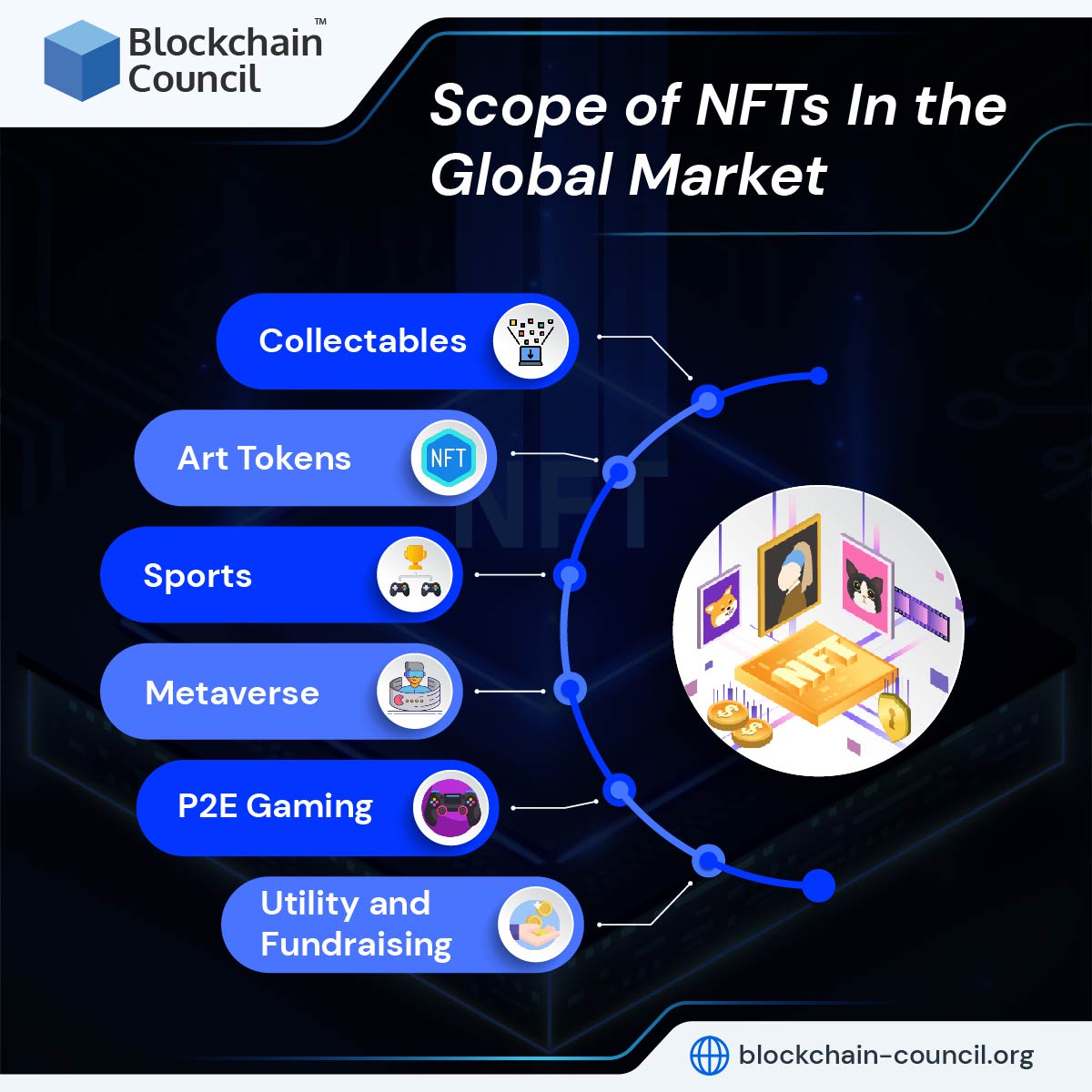 With the crypto expansion, concepts like stablecoins, crypto futures, and NFTs also gained a strong position in the investment sector. Today, people choose NFTs over traditional assets as a powerful investment resource. The scope of non-fungible tokens is growing within the global economic setup. They are widely used in various forms to spoil the investors' for choice. Let us take a look at some of the most common ways of using NFTs:
Collectables are an exclusive suite of NFT assets with a limited supply. They represent an artwork, a valuable item, or cards with distinct features and scarcity. Each collection comes packed with distinguishable features from other packs bringing an element of rarity to valuation structures.
This type includes digital content involving images, videos, and music. They are quite popular as they carry a fun vibe with them. Sometimes, these NFT projects are tagged along with a physical item; however, this is not compulsory.
NFTs represent sports collectables, ticketing, and community participation approval in this category. Some of them depict the most iconic moments of a sports event. The users can trade these NFTs similar to sports trading cards. Sports fans can own these NFTs and cherish the feeling of owning something that belongs to their favorite player. Global sports icons are using NFTs as a tool to connect with their fans and offer them a chance to purchase their official merch, souvenirs, and other precious collections.
As mentioned earlier, Metaverse uses NFTs to represent the digital objects, assets, and avatars in the virtual space. Real estate in the form of NFTs in a Metaverse is a quite popular trading asset amongst investors. They also attract some of the highest deals in the sector.
NFTs in e-gaming have become a great source of entertainment and incentives for users. These NFTs designed by an NFT expert represent in-game assets and properties, giving an ownership right to the holders. Play-to-Earn models have encouraged the use of NFTs in blockchain gaming clusters.
This type of NFT gives holders some monetary and operational rights in a digital economy. Insurance NFTs and domain names are this category's two most popular subsets. NFTs can also be used for raising funds. NFT creators use smart contracts to create a secure interface for managing the flow of funds. This ensures public traceability, transparency, and secure movement of funds to the designated organization.
What Future Holds for NFTs in the Long Run?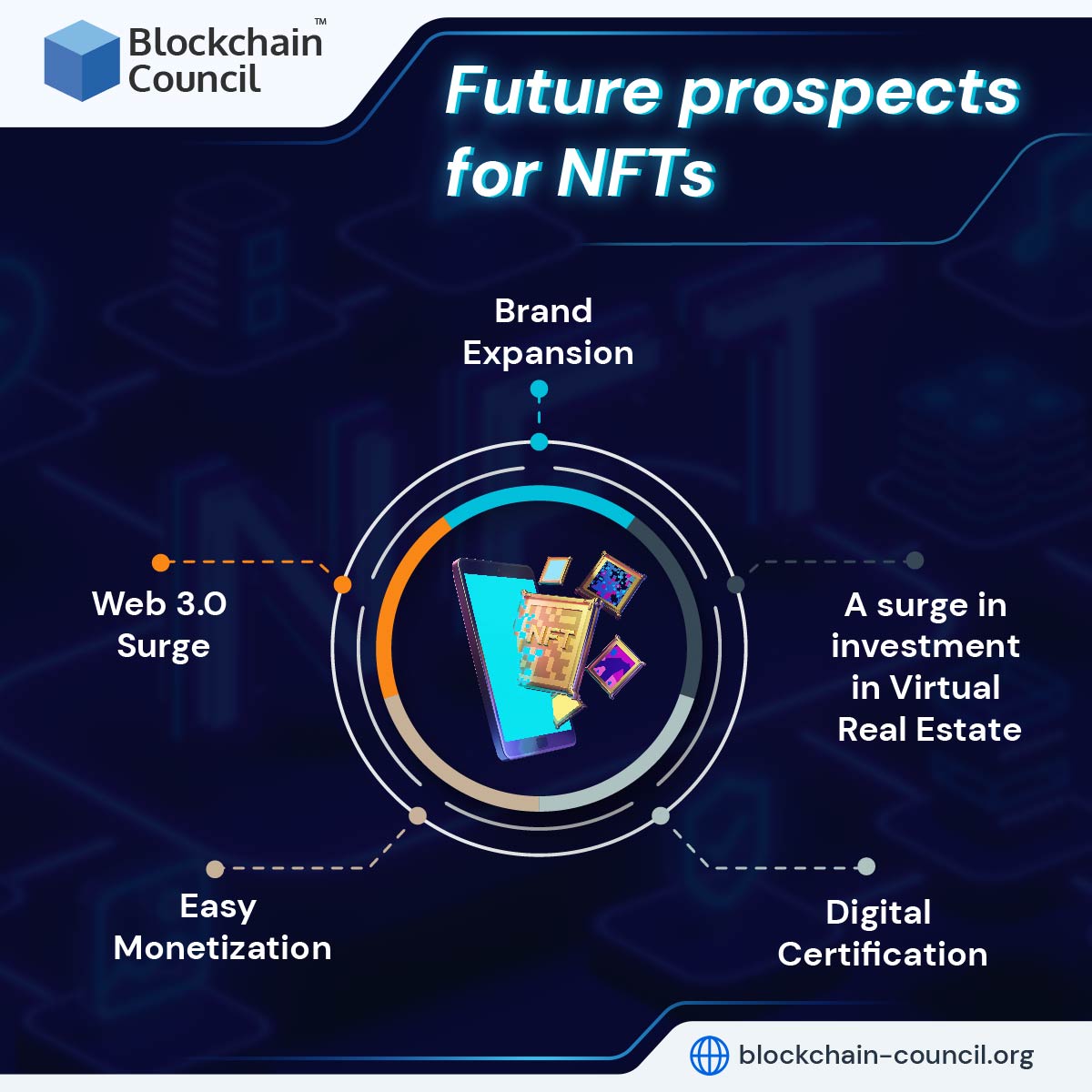 What increases the success rate of NFTs in the global investment market is the fact that we as a society are quickly ushering towards a digital economy. Concepts like Web 3.0, Metaverse, and AI are fast becoming part and parcel of our everyday lives. With this stream, we can easily predict that NFTs will likely flourish in the long run. The industry is growing in the number of investors and sales volume.
In 2021, the craze for NFTs was at its peak. Reports revealed that NFTs was one of the most looked-for terms in Google searches, leaving behind blockchain, Ethereum, and Dogecoin. Where NFT supporters are quite huge in number, there are some antis as well who openly call it a fad. They bash it saying that the craze for NFTs will soon lose the fizz and vanish from the market like many other ventures. Keeping the negatives aside, let's try to look at some future prospects for NFTs:
Big brands like Pepsi, Adidas, and Nike entering the metaverse evolution helped in surging the popularity of Non-Fungible Tokens. Experts predict that with brands having a strong customer base at the local level like Pepsi, NFTs are likely to experience a mainstream adoption. People will access these digital collectables first-hand and will understand them in better way. This will help to bring NFTs to the retail level where they can be used for day to day operations like crypto.

A surge in investment in Virtual Real Estate
Non-Fungible Tokens satisfy human cravings for ownership and incentives. Regarding NFTs, the NFT developer community suggests that the industry opens up to some juicy business opportunities where entities and customers can grow side by side. Interestingly, metaverse real estate became one of the most popular NFT trends in 2021. The concept has managed to sustain its position in 2022 as well. The sales volume reached billions in total worth, making it a hot-shot venture field for firms. The Sandbox, which is one of the most successful blockchain-based metaverse projects, deals in virtual estates. The company allows its users to build, design, own, trade, and rent virtual areas called LAND. The LAND is nothing but a Non-Fungible Token that lets users own a piece of land in the metaverse space. Investors can easily invest in the project using its SAND and LAND tokens.
NFTs can play a significant role in the education sector. Presently, educational authorities issue certificates and degrees in paper format or as a digital documents. The issue of verification is rampant in the field. However, if certificates are issued as NFTs, the verification process will become relatively easy. In this case, the students need not have to carry their degrees in files and the authorities can easily check the documents' authenticity on the blockchain channel. NFT training programs help users in employing NFTs for multiple use cases.
Digital collectables are transforming the way we see and deal with art, music, sports, and entertainment fields. NFTs render the creators with an exclusive range of options to monetize their work. As everything is stored on the blockchain network, the issues of duplicacy, privacy, theft, or copyright can be quickly solved.

The growing popularity of decentralised web or Web3 technology will likely unlock new growth opportunities for the NFT cluster. As people will shift to a more decentralized economy, we can easily predict a surge in the popularity of NFTs and other related virtual assets. Furthermore, the semantic web will push us to the next-gen Internet, which will be driven by the community in the future where NFTs will be necessary for it.
What makes NFTs Popular?
NFTs offer a plethora of benefits. The assets provide ownership rights to creators previously controlled by the big business houses. NFTs talk about a decentralized economy where digitalization brings transparency to users. While the list of lucrative features of NFTs is vast, we have tried to provide some of the most prominent ones in the list herein. So, have a look:

NFTs and their Compounding Value
For a profitable long-term investment, it is essential for the asset to rise in value over time. In simple words, if you purchase an NFT today, it should come with a scope that its sale in the future will fetch you an amount higher than what you paid in the past. The NFTs with a strong community and the highest scarcity are the best options for a long-term investment. The crazier the hype for an NFT project, the higher its demand. NFTs representing artwork can be considered good as art collections tend to possess an appreciating value system.
The core NFT ecosystem thrives alongside its community of users. Each community brings together people that share common interests in some way or the other. The social value related to NFTs is a non-appreciated outlook, but it certainly needs more attention from us. This has become essentially important now as we move towards a bigger NFT market. These communities charge a membership fee from investors before offering them access to the club. The investors get NFTs and avail several other benefits and incentives that grow with time.
When we invest in an NFT project, we get many benefits, including a blend of short-term and long-term value perks. This means that with the NFT, you enjoy the present benefits as well as the future benefits stored therein. As more influencers and celebrities will flock to the NFT space, we can expect a high success rate for the sector in the coming years.
Conclusion 
Investing in Non-Fungible Tokens is the trendiest investment option at present for those who are looking for a potential source of earnings. The sector is growing with firms from all industrial domains accepting NFTs as a tool to please customers. Amid this evolution, we are likely to see several other changes that will change the NFT market causing a surge in their demand and value. This is the time when you can indulge yourself into NFTs and grab a share of this future success. Early stage investors can earn a plethora of perks from the growing industry. If you are up for this, then Blockchain Council can help you. The platform offers an exclusive range of NFT certification programs that give in-depth knowledge to the participants. The NFT course list is detailed and the training programs give the perfect exposure of the actual dynamics of the realm.