With the sale of Beeple's $69 Million Christie Art Auction in March 2021, Non Fungible Tokens (NFTs) have been on the increase. People's attention and curiosity have been sparked by the high resale value of 'digital art.'
NFTs have gained popularity since they are not associated with the banned term 'crypto.' It appeals to a larger group of creatives and customers. It will be interesting to witness how the area evolves in response to new ideas and collaborations. 

Several NFT marketplaces options such as NFTically and others are available to select from, so it might be a challenging task to pick one. You can seek help from crypto advisors to better grip the trending fintech market. This summary will assist you in understanding the distinctions and similarities across the top NFT marketplaces.
Categories of NFT Marketplaces
The NFT marketplaces are fragmented presently. Every marketplace and its accompanying organization has a distinct style and message.
There is no centralized location for all assets. The marketplaces are all vying to be the Amazon/eBay of NFT, which will be fascinating to watch. At the moment, OpenSea appears to be in the best position.
All marketplaces serve the same goal at their core. Artists can sell their work, and collectors will buy it based on its perceived value.
The different categories of NFT marketplaces are:
Open market

Closed market

Open protocol
The top NFT marketplaces like OpenSea, Rarible, and Mintable all fall under the open market category. In contrast, Nifty Gateway is a closed type. 
Nifty Gateway
Duncan Cock Foster and Griffin Cock Foster, twin brothers, established Nifty Gateway, a renowned NFT marketplace platform. Its goal is to "make the Nifties more accessible to everyone." "We will not rest until 1 billion people are collecting Nifties," they declare in their bold aim.
Nifty Gateway is a centralized marketplace for NFTs. The management team made the decision to position the platform as a curated marketplace with only high-quality art. As a result, a central authority oversees the minting and issuing of NFTs.
Artists and companies cooperate with Nifty Gateway to create limited-edition digital art collections only available on the site, thanks to agreements with major companies and artists. This increases the uniqueness of the NFT and adds to Nifty Gateway's exclusivity.
Unlike many other NFT marketplaces, Nifty Gateway does not require users to own cryptocurrency such as Ethereum (ETH) to conduct business. Instead, Nifty Gateway accepts regular debit and credit cards for payment.
Users with US bank accounts can withdraw funds immediately using Nifty Gateway, which supports USD fiat currency.
Rarible
Rarible is a software and online platform for digital creators that offers a variety of features and integrations. It is a platform that allows creators to sell or even issue crypto assets that represent ownership of their work. It eliminates the need for a middleman and streamlines the process of trading and distributing all assets.
Rarible is a network based on the Ethereum platform, eliminating a middleman's need. The NFT developers create non-fungible tokens. These are one-of-a-kind and closely resemble the notion of bitcoins. It is non-fungible, which implies it cannot be exchanged or interchanged with other items. The rarible cryptocurrency is known as RARI.
A person's ability to vote on proposals is determined by the presence of RARI tokens in their possession. On the other hand, the votes are significant and have an impact on the job. It is a marketplace where content and digital art creators can sell, market, and distribute their products using cryptocurrency.
Initially, when creating their profiles, creators are required to fill out a form that includes an image as well as pricing information for their work or invention.
Following the completion of the creators' profiles, the platform allows them to generate a new token on the Ethereum blockchain. It is, however, possible to transfer tokens within and across wallets. Furthermore, these tokens are integrated and continuously monitored to ensure that transactions and other procedures run smoothly.
OpenSea
OpenSea was the first platform to be set up for the sale and exchange of digital products. Aside from that, it is the most extensive network. It's a peer-to-peer platform and marketplace for dealing with cryptocurrencies and digital assets securely and privately. In addition, it includes games, collectibles, and a wide range of other items.
A blockchain network has barred all assets out here in the OpenSea. However, it is a platform that is rapidly expanding. The software received a massive response of 200 million dollars from the moment it was released. On the platform, over 11 million assets have been published and discussed. 
The site also manages and connects coin-based wallets and opera, allowing users to manage and connect the crypto asset. Non-fungible tokens were invented by Alex Atallah and Devin Finzer in January of 2018, and they're widely used on websites and platforms that deal with digital assets and cryptocurrencies. It was that group that rose to prominence and witnessed rapid expansion.
Many well-known influencers got on board, causing the company's name to become increasingly well-known and sparking a more fierce competition. NFTs have an incredibly high value that is sometimes overlooked and misinterpreted when it comes to art. It's a lot more than most people think it will be. It is valued at more than a hundred million dollars. In addition to digital art, the NFTs are quite important.
Mintable
This NFT marketplace, launched in 2018, quickly gained traction since it allows users to purchase and sell a wide range of digital assets. Art, music, videos, e-books, and other goods are among the assets that users can trade. Mark Cuban, a billionaire, is backing this NFT marketplace as an alternative to the OpenSea platform. The NFT marketplace Mintable makes use of Ethereum blockchain technology to allow users to create, buy, sell, and trade NFTs.
On the Mintable platform, anyone may buy, sell, and trade NFTs. However, you must first purchase Ethereum on any cryptocurrency trading platform and link your wallet to the Mintable marketplace. For example, on the NFT marketplace, ETH is used to pay minting costs, bid on, and purchase digital assets.
Nifty Gateway vs. Rarible vs. OpenSea vs. Mintable
Now it's time to evaluate Nifty Gateway vs. Rarible vs. OpenSea vs. Mintable to determine which NFT platform is the best. We'll compare all of these NFT marketplaces in the categories of Definition, Origin, Target Market, Marketplace type, Technical Services, and Technology Integration. Let's take a closer look at these –
Origin
To begin with, we'll evaluate Nifty Gateway, Rarible, OpenSea, and Mintable, based on their origin.
Nifty Gateway was founded in 2018 by Duncan Cock Foster and Griffin Cock Foster. This is a marketplace with its parent company Gemini, a New York-based company. 

Rarible is the newest addition, debuting in 2017 but arriving in 2020. This is one of the NFT marketplaces with a US presence.

The oldest is the OpenSea NFT marketplace. OpenSea is a United States-based platform launched in 2017.

Mintable is the runner-up in the NFT Marketplace, having been launched in 2018. Mintable is a Singapore-based digital marketplace.
Target Market
Although all four platforms aim at the same group of digital artists and content providers, this isn't entirely true in reality.
Individuals surfing for an online platform to build their own range of premium, limited-edition NFTs can check out Nifty Gateway.

The Rarible NFT marketplace is suitable for anyone who wants to create or collect rare digital commodities while maintaining blockchain security.

OpenSea is an excellent choice for users who want to benefit from smart interaction and secure blockchain technology.

For those wishing to trade digital assets and earn crypto, the Mintable, NFT metaverse is a bias.
Assistance & Coaching
Online assistance & coaching is another significant difference between the four NFT marketplaces. The online training and support tool comes in helpful for anyone new to these platforms, whether a creator or a digital artist. In addition, the platforms can utilize this feature to educate and help their consumers in making the best selections possible.
Nifty Gateway and Rarible are the appropriate platforms for those looking for an NFT platform with the option of live online training.

OpenSea and Mintable, the other two systems, do not offer online training. 

However, none of the four NFT marketplaces offer web-based instruction or face-to-face discussion. Although these platforms may offer these functionalities soon, it is yet possible.
Technological Integration
Finally, we'll evaluate Nifty Gateway vs. Rarible vs. OpenSea vs. Mintable regarding their technological integration versatility. No one wants to be concerned about platform integration with other tools like wallets, whether they are a content provider or an investor.
The Nifty Gateway platforms integrate with Metamask and Ethereum only. 

The Rarible platform, on the other hand, integrates with popular wallets like Coinbase Wallet, WalletConnect, and others.

In this category, OpenSea is the clear victor. It supports integration with a wide range of technologies, including Ethereum, Metamask, Coinbase Wallet, Mintbase, Bitski, etc.

The mintable marketplace can integrate popular wallets such as Ethereum, Metamask, Rainbow, and other Wallets.
Nifty Gateway vs Rarible vs OpenSea vs Mintable : In a nutshell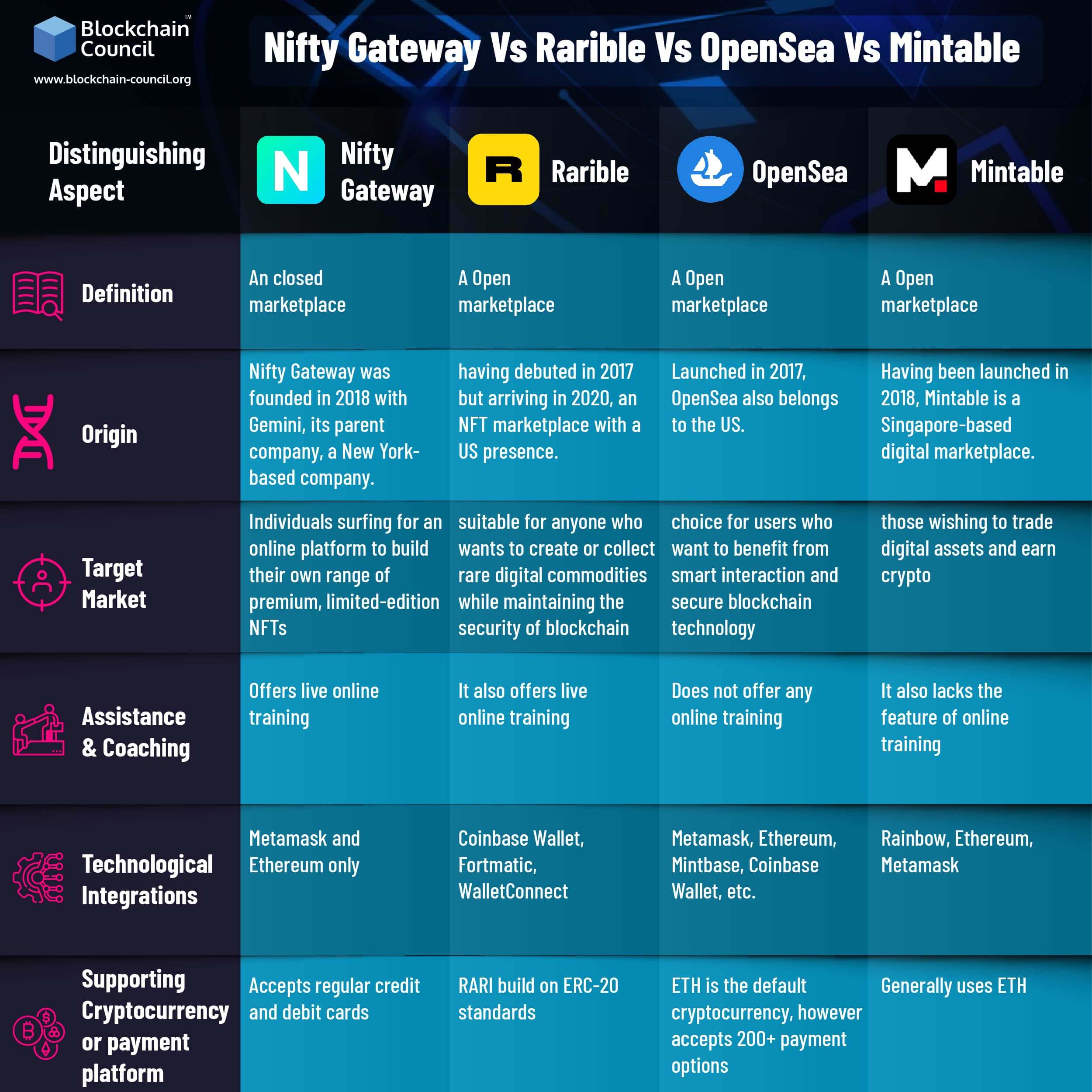 Conclusion
NFT marketplaces are a key feature of NFT trade and could play a critical role in NFT adoption. With more mainstream participants entering the industry and platforms moving to scalable, cost-effective solutions, it appears that we are on the cusp of seeing trading on next-generation NFT marketplaces.
If you are wondering on how to get started, you can take advice from the certified professionals available online. You can opt for some cryptocurrency course to have a better understanding of the crypto world.  In fact, Blockchain Council is at your service and has answers to all your questions!