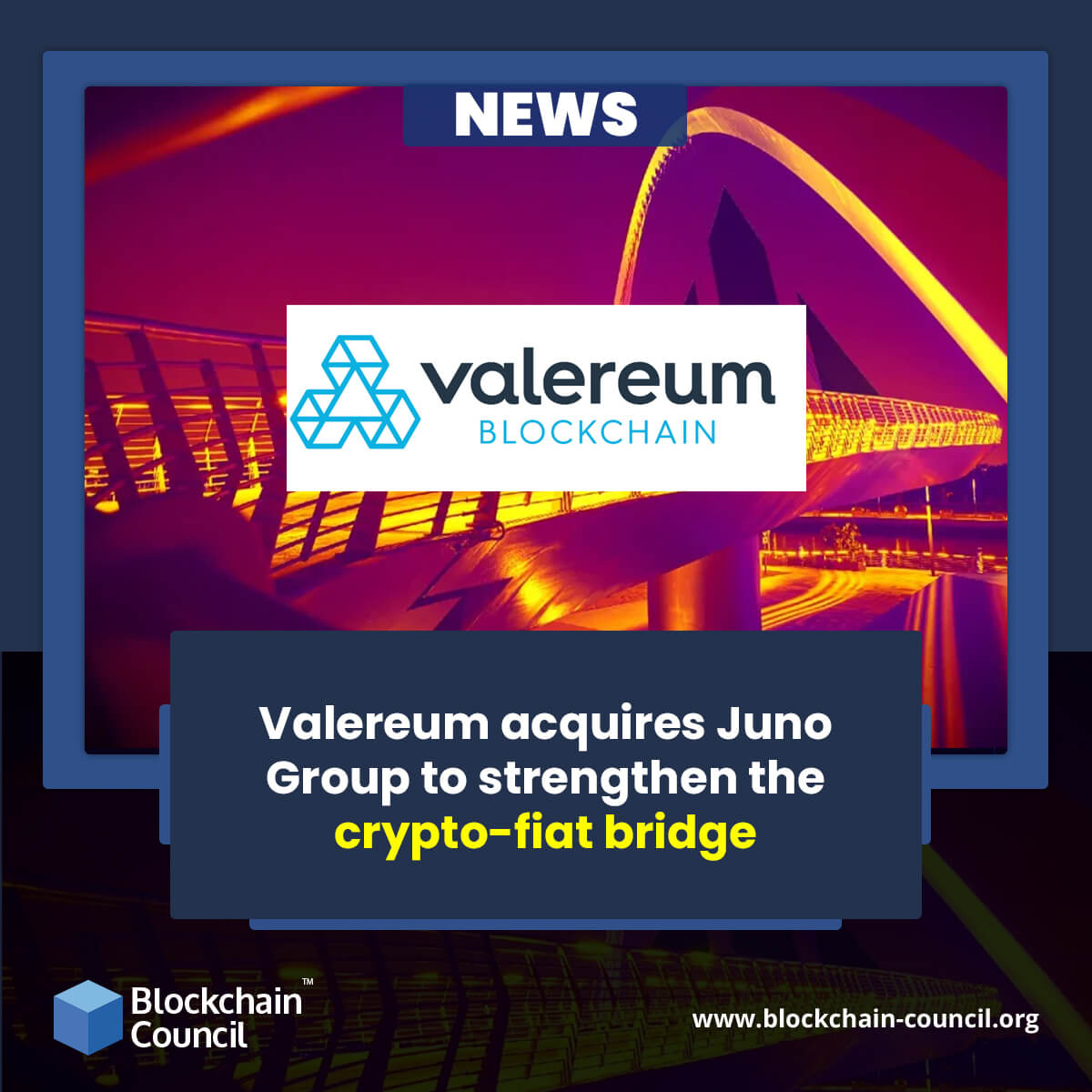 Hailing from Gibraltar as a top-tier blockchain technology platform, Valereum Blockchain is gearing up to acquire Juno Group to facilitate swift integration of fiat and crypto spaces. Coming from Gibraltar, the Juno Group is known for helping in the creation and administration of trusts, money management, and enterprise development in the country. With this partnership, the firms are looking forward to creating a fully-regulated ecosystem for fiat and cryptocurrencies.

The Valereum Blockchain entity is elated to collaborate with the Juno Group as the latter is known to provide licensed operations in three key areas. The company is licensed to offer core services including management of trusts and alike firms, management of cash for fiat as well as crypto, and incorporation of companies in Gibraltar and countries across the globe. The acquisition will help in setting up a regulated interface for crypto fans who often restrain themselves from investing because of a lack of regulatory control in the industry. As part of the process, Valereum's board member Alan Gravett will hold the office as the chairperson of Juno.
Earlier in October 2021, Valereum announced its plans to acquire the Gibraltar Stock Exchange (GSE). The trading platform is a fully-regulated entity that provides a safe and secured investment of virtual assets. The acquisition of Juno will help Valereum and Gibraltar Stock Exchange in expanding their operational capacities for the investors. The regulatory authorities of Gibraltar are working on the details of the GSE acquisition by Valereum. This will be the world's first-ever integrated channel that will provide trading of common bonds along with top cryptocurrencies like BTC and DOGE. The company requires the green signal from the Gibraltar Financial Services Commission for the transfer and change in management control.
The government of Gibraltar is taking some serious steps to promote the growth and adoption of cryptocurrencies in the region. The Financial Services Commission has recently given its permission to top-tier crypto firms like Huobi Group's sister concern Huobi Gibraltar and Block.one's Bullish Limited to kickstart their operations. The regulators are striving to provide a safe haven for public and private blockchain and crypto firms to expand their operations in Gibraltar. The government recently collaborated with Mexican crypto exchange Bitso and IOVlabs to formulate blockchain technology into its eGov platform. The potential service allowed users to store certificates and important credentials on its blockchain ecosystem for easy and safe access for the inhabitants.