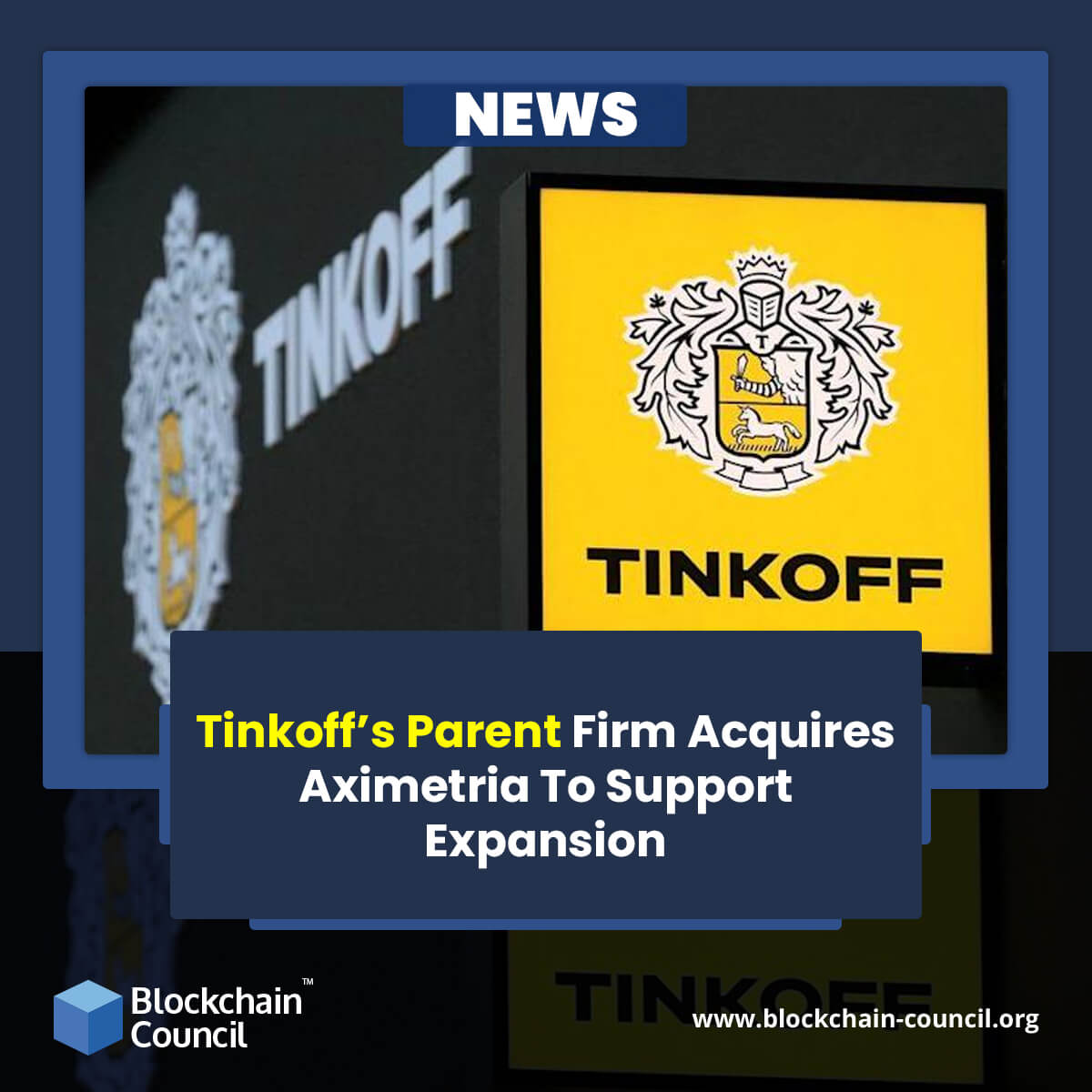 Russia's renowned banking entity Tinkoff's parent company, TCS Group Holding has acquired a majority share in Aximetria, a Swiss-based cryptocurrency startup firm. With this investment, TCS Group is gearing up for its big sweep into the digital currency space that is fast gaining pace in the global economic canvas. The company has purchased the shares from Aximetria's first investor, Digital Horizon, that is a popular venture capital fund.

According to the report, TCS Group Holding has bought 4,449 shares of Aximetria worth 100 Swiss francs or $108 per share. The total share capital of Aximetria stood at 535,000 francs, equivalent to $578,000 which shows that TCS Holdings now holds a whopping 83.2% of this total worth through the recent pact. However, Dilyara Belyakova, a spokesperson from Aximetria did not reveal the size of the acquisition and the data mentioned above was derived from TCS' official filing with the Swiss regulators. The crypto firm will work as a catalyst for the expansion of Tinkoff Group in the international space. The teams will work together in compliance with all the essentials of the regulatory framework in the global paradigm.
The Aximetria ecosystem offers crypto trading services to the investors along with access to physical debit cards that facilitate seamless payments through virtual currencies. In 2019, the firm secured a license from the Swiss Financial Services Standards Association (VQF). The firm was founded by Alex Axelrod who started his career with the Russian telecom conglomerate MTS. The company's representative stated that Aximetria is a financial service provider in the digital asset sector and not a cryptocurrency exchange platform. The platform allows users to have free deposits and withdrawals in Euro and USD via their Swiss crypto account opened on Aximetria's ecosystem.
In November 2021, Tinkoff hired ex investment banker of Morgan Stanley, Pavel Fyodorov to manage its expansion plans across the Southeast Asian region. He is working as a co-CEO along with bank's CEO Oliver Hughes. The firm has planned to spend nearly $200M to enter the international market space in the next two years span.
The team has applied for a banking license in the Philippines and is looking forward to spread its operations in India and Indonesia. The company is striving to penetrate into the fast-developing economies of African and South American market hubs. Tinkoff has 17 million customers in Russia and stands strong with a market cap of $22.5B worth. The crypto industry is in a full swing with a steady rise in customers as well as the volume of investments across the financial space.