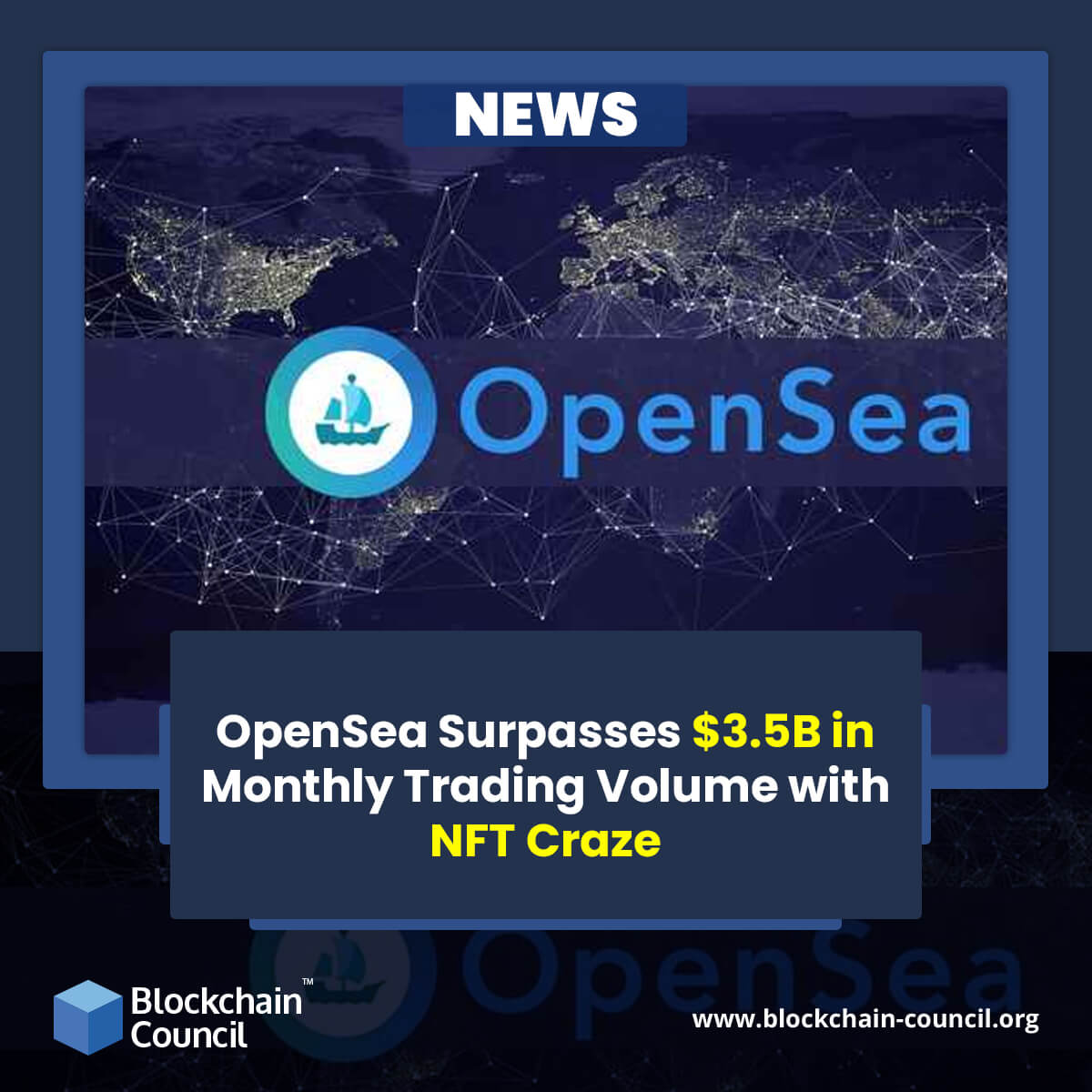 Considering the whopping success of Non-Fungible Tokens since the start of 2022, it won't be wrong to say that NFTs will soon emerge as the undisputed leader of the investment sector. The growing craze in digital collectibles has given a huge push to the business houses and firms involved in NFT trading like the globally-acclaimed NFT marketplace, OpenSea. In its latest achievement, OpenSea has successfully surpassed the mark of $3.5B in monthly Ether trading volume for the first time ever thereby setting a new record for its fast-growing trading ecosystem.

According to the data report from Dune Analytics, the world's top-tier NFT marketplace has crossed its earlier all-time high record of $3.42B achieved in August 2021 by the portal. On January 16, 2022, OpenSea recorded a figure of $261M in trading volume signaling the constant support for NFTs from investors across the globe. The first month of the New Year 2022 has turned out to be super successful for OpenSea as the portal managed to pull $169M in trading volume each day while setting new records for the NFT cluster.
The rise in the trading volume of Non-Fungible Token's on the OpenSea marketplace can be attributed to many factors. One of the catalysts for the NFT surge is the price hike of the premier collection Bored Ape Yacht Club (BAYC) and its related collections, Mutant Ape Yacht Club (MAYC) and Bored Ape Kennel Club (BAKC). The BAYC NFT pool boasts of a large number of celebrity clients and thus is the most popular product on the OpenSea portal. The project involved successful trading of 14,306 ETH or $47M in the last 24 hours span.
To expand its operations further, OpenSea recently announced a $300M Series C funding round led by venture capital companies Paradigm and Coatue. The event witnessed active participation from the industry and helped to increase the firm's value to $13.3B in the sector. The funds shall be used by the company for enhancing the potential of its present product portfolio and expanding its workforce for better results.
The report released by Dune Analytics revealed that OpenSea is receiving strong competition from a new NFT portal called LooksRare. Launched in January 2022, LooksRare has managed to achieve high trading volumes in a very short span of its entry into the NFT space. The powerful trading tools and services of OpenSea still make it shine as the most trusted NFT marketspace presently. In a recent case, a 22-year-old student from Indonesia, Sultan Gustaf Al Ghozali became a millionaire by turning 1,000 selfies into NFTs and then selling them on OpenSea. The potential to offer quick earnings in the simplest investment forms has made NFT very popular amongst young investors.