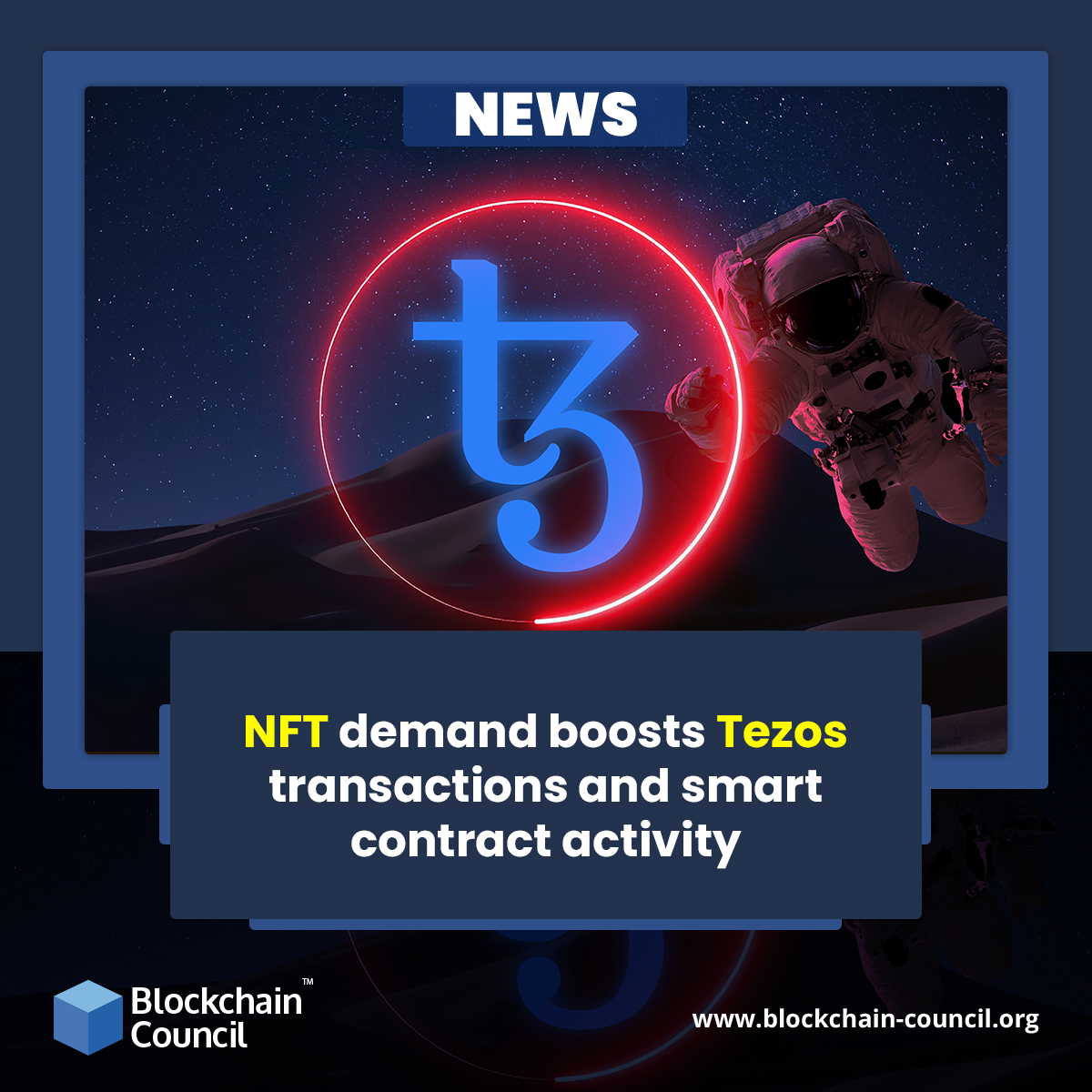 Working as a popular decentralized platform facilitating P2P transactions and deployment of smart contract services, Tezos Network is rolling high on success with its recent growth in the industry. The company has witnessed a striking surge in smart contract activity and general adoption amongst investors thereby increasing the transaction volume on the ecosystem. The exponential growth in the popularity of Non-Fungible Tokens and NFT users has been one of the main catalysts for the impressive performance of Tezos.

According to the report, the operational activities across the Proof-of-Stake channel have reached new success rates recently and have strengthened the position of the company. The firm is moving steadily alongside its competitor firms like Ethereum in the NFT space. Tezos has managed to grab a fair share of success in NFT minting and NFT-focused market spaces in the past 12 months span.
The data collected by Coin Metrics revealed that the number of transactions related to smart contracts, in the past 12 months, have increased to 50,000 per day from the 10,000 per day volume in January 2021. The active users on the portal are more than 45,000 whereas the smart contract addresses have gone 3x from under 200,000 to more than 600,000 during the same duration. The daily transaction volume has surged from 40,000 per day value to a whopping 250,000 per day. The report signaled that the number of addresses having more than at least 1XTZ recorded a growth of 150% to surpass the figure of 300,000.
The analysis report emphasized that the main push for this growth came from the NFT space. The generative art portal FX Hash played a significant role in supporting Tezos' growth as it helped to fetch higher interest rates for its services. In December, gaming firm Ubisoft announced its collaboration with Tezos Network by integrating support for the firm for its powerful NFT gaming cluster. Interestingly, Ethereum has been the first choice for NFT developers and creators for quite some time now, however, the bulky network fees have compelled users to switch to new platforms like Tezos. The Tezos native coin XTZ has gained 6.7% in the past 24 hours span to trade at $3.77 as per the CoinGecko report.
The platform has a section for all Tezos-supported NFT clusters that are carbon-neutral and cost minimum network charges. The NFTs are often criticized for harming the environment through their minting techniques and dependence on Proof-of-Work algorithms. The Tezos Network has seen constant support from industry users as they find it to be a potent solution for the issues pertaining to the NFT sector.