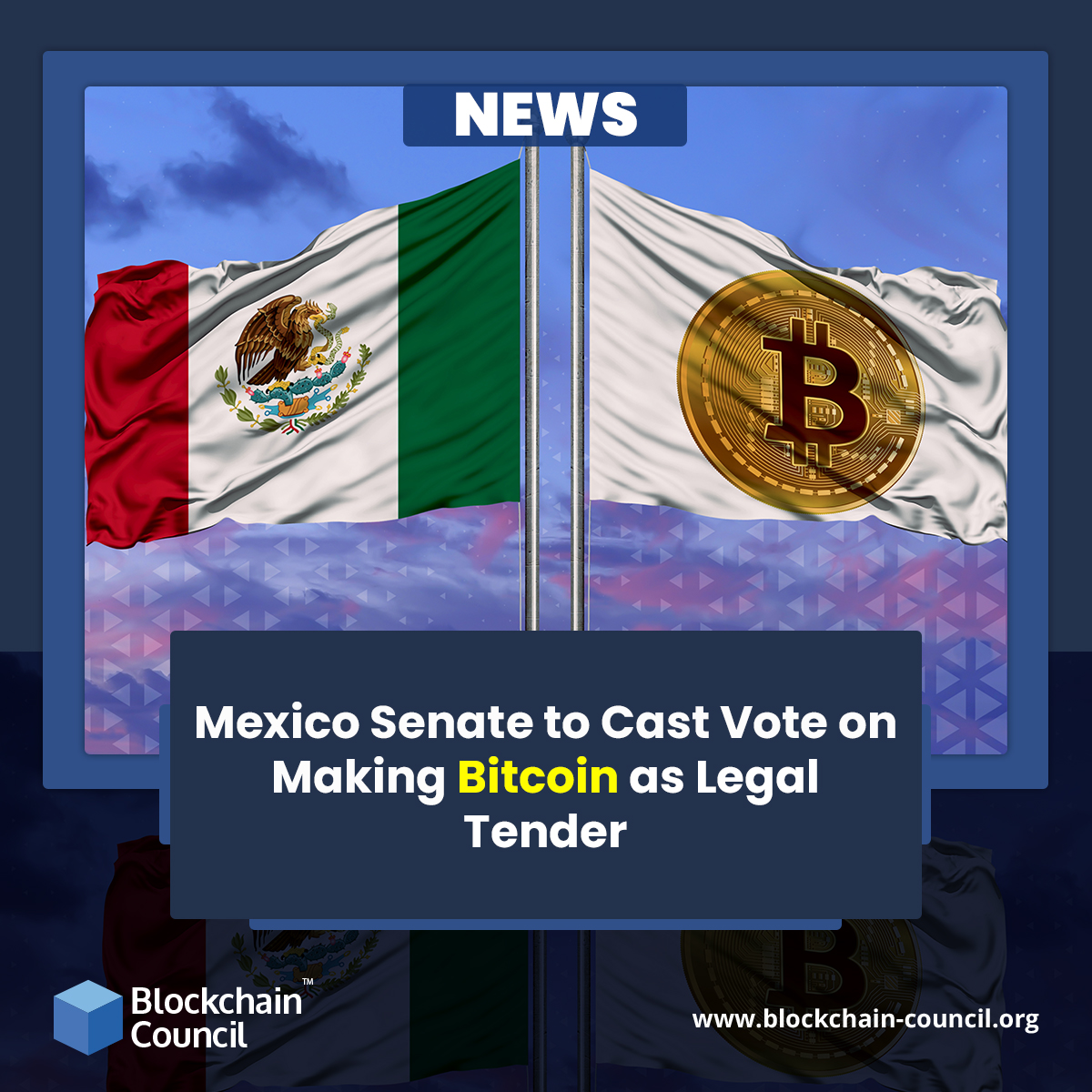 Following the strategic footsteps of El Salvador, the Mexican Senate is all set to decide the future of a highly-anticipated bill that would make Bitcoin a legal tender currency. In the latest development, Mexican senator, Indira Kempis of the State of Nuevo León, has revealed her plans of making Mexico a crypto-friendly state by presenting the proposed Bitcoin Legal Tender Bill and seeking approval from the Senate for its implementation within the country. The senator, during the interview, emphasized that she strives to promote the adoption of BTC while using her political power for achieving this high-potential goal.

Speaking to the Diario El Salvador media portal, Kempis stated that the country needs Bitcoin as a legal tender as in case of failure it will become difficult for the authorities to take action. She added that El Salvador is fast evolving as a popular destination for Bitcoin fans across the globe. Though Bitcoin has gained wide scale popularity amongst investors in Mexico, the chances of getting the bill cleared with a majority vote from the Mexican Senate still remain quite slim.
🌎 #Bitcoin

«El Salvador se está convirtiendo en el hub más importante en el mundo sobre el futuro con bitcóin»

Gracias por la entrevista @elsalvador

👉🏾 https://t.co/6KOi9AGX4Y#ToTheMoon 🚀#financialinclusion pic.twitter.com/CJsJpHrHXr

— Indira Kempis de I. (@IndiraKempis) February 21, 2022
Launched in 2009, Bitcoin was the first cryptocurrency token that was introduced by Satoshi Nakamoto to work as a substitute for the traditional payment channels. The recent outbreak of the Coronavirus pandemic brought the entire economic cluster to a standstill, however, there was a sharp rise within the crypto industry. Governments from across the globe started looking for new ways to encourage crypto usage and trading amongst investors. El Salvador took a lead in this regard by becoming the first country in the world to legalize Bitcoin by making it a legal tender. If Mexican Senate passes the bill, it will become the second country to do so.
Talking about cryptocurrencies, Kempis said that virtual assets can resolve the problems related to financial exclusion and unbanked population growth in the country. The senator is working on framing a legal structure aimed at cryptocurrencies. She is looking forward to proposing the bill in the present parliamentary session. In contrast to this, Mexico President Andrés Manuel López Obrador shared a skeptical view of Bitcoin by highlighting concerns for tax evasion. The central bank is planning to come up with a digital Peso by 2024 to encourage decentralized asset use amongst investors.
If you are looking for the right companion to start your crypto expedition, then Blockchain Council certifications are here to help you. The certificate courses are designed by experts to offer detailed information about cryptocurrencies to the students who are willing to reap the benefits of the thriving crypto industry.