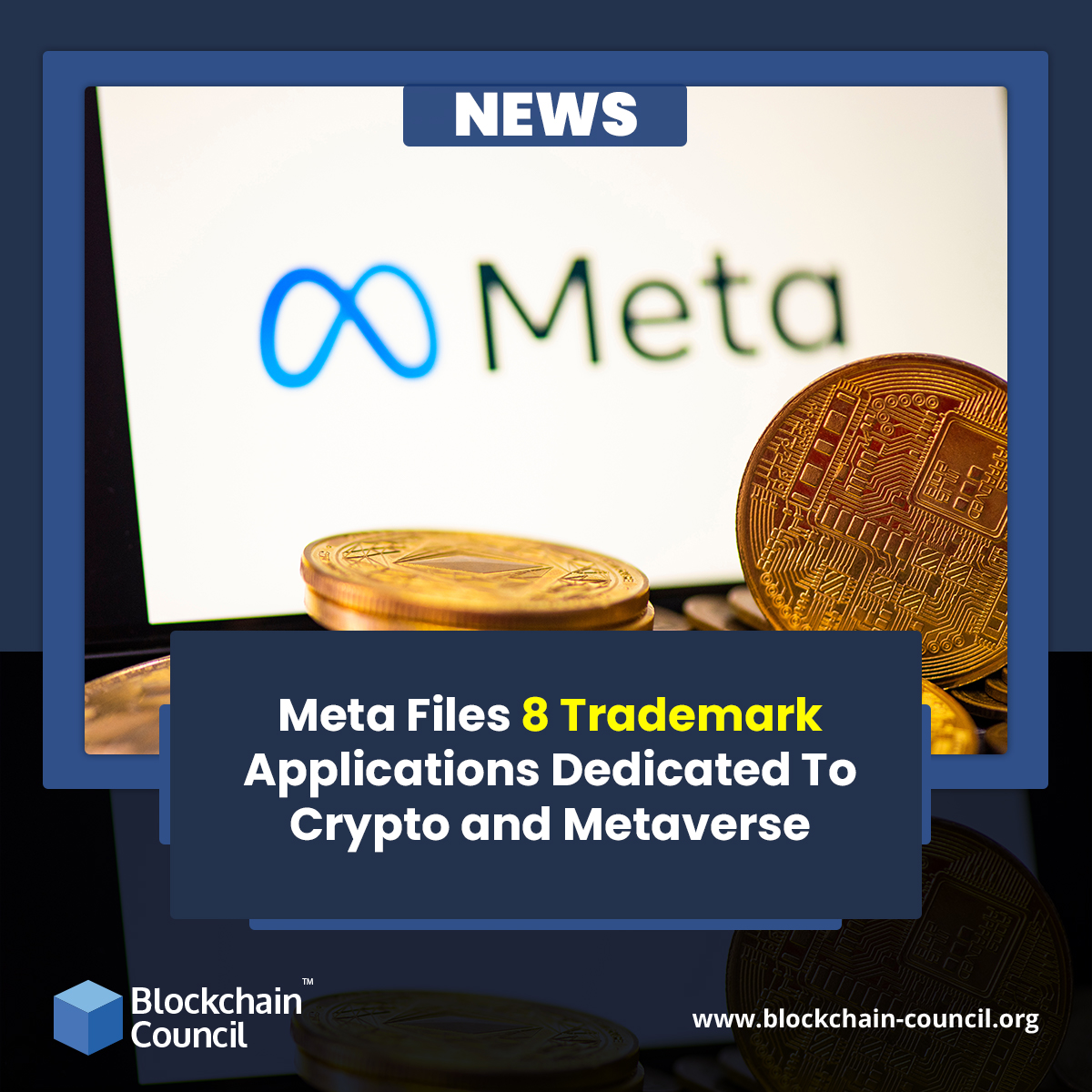 Meta Inc., the parent firm of popular social media platform Facebook is setting all the chords right to emerge as a strong player in new-age tech fields like crypto and metaverse. To execute its expansion plans in the sector, Meta has filed eight trademark applications with the U.S Patent and Trademark Office (USPTO) for seeking logo approval on new services and products. The firm is looking forward to exploring multiple fields related to virtual assets including digital tokens, crypto trading, digital wallets, crypto exchanges, and blockchain technology solutions.

On Wednesday, Mike Kondoudis, a USPTO-licensed trademark attorney released a tweet highlighting the eight applications filed by Meta seeking approval from the regulator. The company filed for approval on March 18, 2022, signaling its growing interest and trust in the potential of cryptocurrencies and metaverse technology.
The official added that the applications forwarded by Meta are a blueprint for the future plans of the firm concerning its engagement in metaverse and crypto space. He showed confidence in Meta saying that only a firm with such scale and capacity to support metaverse development can fulfill the plans elaborated in the applications by the team. Interestingly, a large number of multinational firms have shown interest in expanding their business operations to crypto, blockchain, and metaverse technology. There has been a constant growth in the popularity of projects related to digital assets amongst firms as well as investors. Today, we can find an insane craze for cryptocurrencies amongst celebrities hailing from the field of sports, music, movies, etc.
The sector has seen tremendous support from global food companies like McDonald's, Burger King, Panera Bread, and Panda Express. Burger King filed its application for trademark logo on the same day as Meta. The application incorporates a variety of elements covering blockchain technology, crypto trading channels, metaverse-based restaurants, Non-Fungible Tokens, etc. Following the footsteps of cryptocurrencies, Metaverse has earned a strong position in the market space.
Facebook rebranded itself as Meta to explore the potential of the virtual tech space. Technology and software giants like Microsoft, Google, and Apple have also delved into the Metaverse world with their innovative products and services for customers. Renowned investment bank Goldman Sachs speculated that the Metaverse domain is capable of reaching the $8 trillion mark in the future. Global brands like JPMorgan and HSBC have also kickstarted their expedition in Metaverse.
The users willing to enhance their skills in cryptocurrencies and blockchain technology can do so with Blockchain Council's certificate courses. The courses are designed by experts to offer in-depth knowledge and practical skills to the participants.
If you want to keep up with the trends of blockchain industry, join our communities on Discord, Reddit and Telegram.