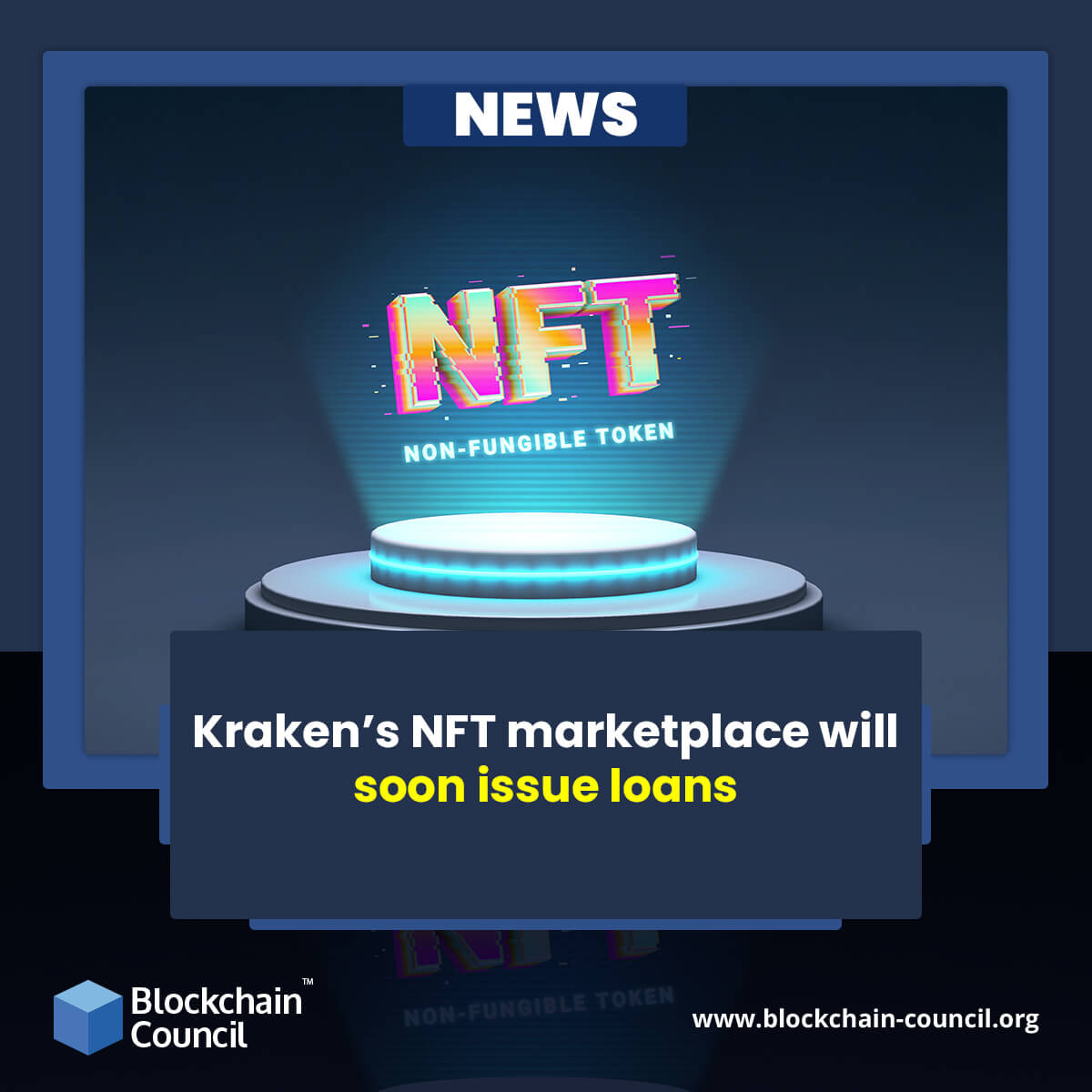 Hailing from the United States as a top-tier cryptocurrency exchange portal, Kraken is all set to sail on the NFT cruise by launching a fully-dedicated NFT marketplace that will issue loans to investors. The announcement was made by Kraken founder and CEO Jesse Powell during an interview session with Bloomberg News. With Non-Fungible Tokens emerging as the gen-next financial tool and investment resource, Powell's NFT marketplace will look forward to reaping the benefits of this fast-growing industry.

In his interview, Powell affirmed that the highly-anticipated NFT market space by Kraken will allow users to take loans against their valuable tokens easily. The exchange aspires to expand the operational capacities of non-fungible tokens for crypto fans by exploiting the full potential of the digital asset class. Kraken is planning to enter the NFT domain in early 2022 with its fully-dedicated NFT market hub. The team is looking forward to including a feature for determining the liquidation value of an NFT token that will eventually help to decide if it can be used as collateral for a loan.
The worth of NFTs, however, is comprehensive and only a tiny percentage of token holders own a digital NFT token valued equivalent to CryptoPunk, whose price is 66.9 ETH. The CEO stated that if an investor is depositing CryptoPunk on Kraken, then the exchange portal should be capable of showing the token value in the respective account of the holder. The system should be able to facilitate the borrowing of funds against those tokens. The spearhead is confident that NFTs will surge exponentially in the coming year. He added that phase one of NFT development involved speculation, phase two favored art and artists, and now the third phase will witness growth in functional use cases of digital collectibles.
The surge in NFT-supported loan arrangements reflects its popularity in the DeFi field. Platforms such as Nexo and Arcade are providing this NFT-supported loan facility to their users. Recently, Arcade pooled a whopping $15 million in a funding round organized in December. The firm will employ the collected funds to expand its portfolio of assets and services so as to attract more investors to its ecosystem.
Founded in 2011, Kraken has managed to become a trusted exchange platform for crypto fans from across the globe. It is one of the largest exchanges in the world and ranks as one of the top trading portals in terms of volume and asset reserves, average liquidity, etc. The exchange is entering into new partnerships and collaborations with some of the biggest brands to fuel its operations and strengthen its hold in the sector. The portal recently acquired crypto staking firm Staked to earn more investors. The integration will allow Kraken users to earn juicy crypto rewards along with full control over their digital valuables.