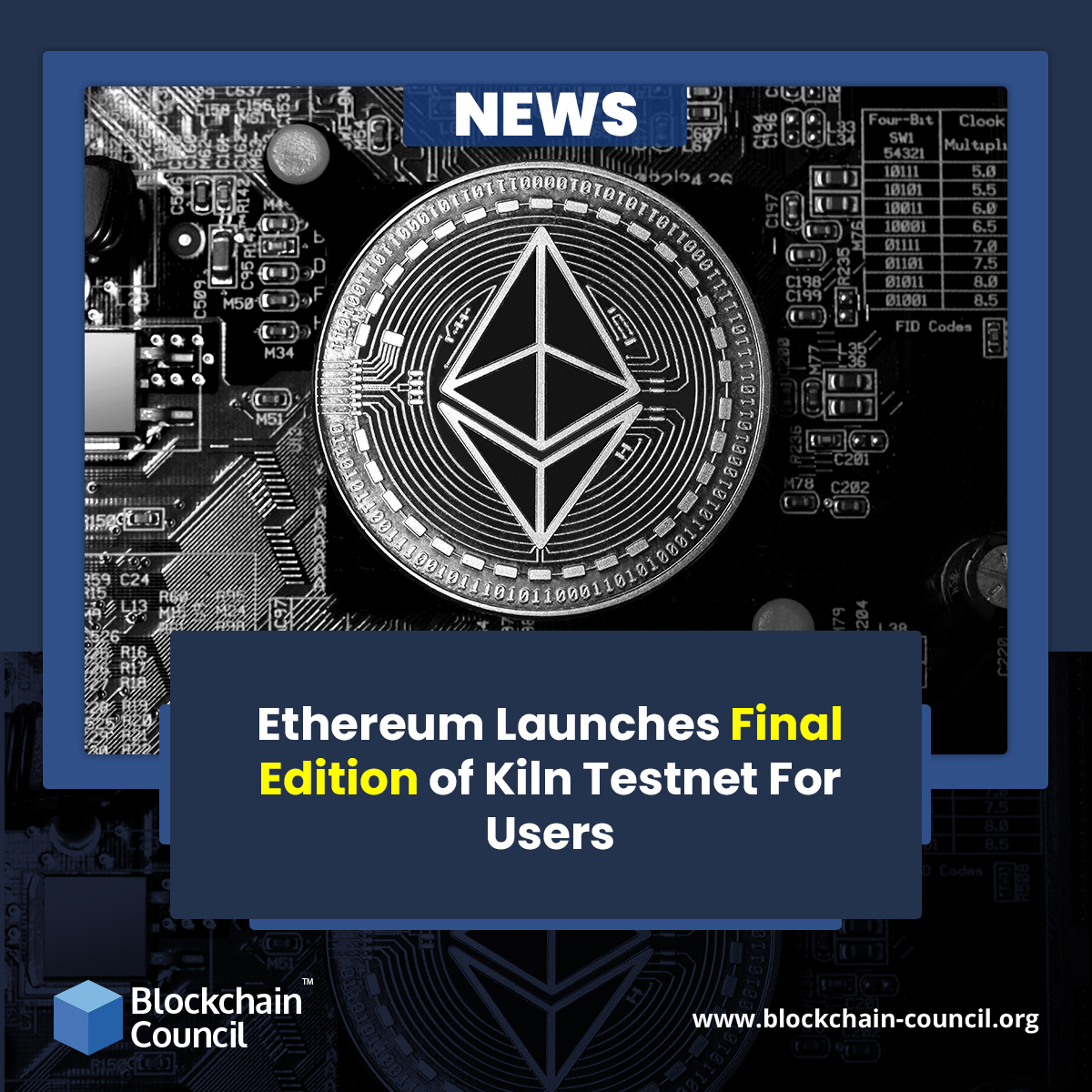 Setting the first foot right, the world's leading decentralized platform, Ethereum has launched the last public testnet Kiln on its ecosystem. What makes the launch of Kiln more special is the fact that it unanimously hints towards the edging of Ethereum's long-awaited 'Merge' upgrade that will transform the way the crypto community trades and works collectively. Designed to offer an unprecedented experience to users, Merge incorporates a combination of the present Ethereum mainnet and the Beacon chain of the Ethereum 2.0 infrastructure.

According to the March 14 instruction by the Ethereum Foundation, the ETH stakeholders were asked to run trials through Kiln to ensure a successful shift on the current public testnets. The team urged the developer community to run full-fledged tests and deployment structures on Kiln. They were asked to report shortcomings in the resources or dependencies of the maintainers to the Ethereum team quickly. Also, Tim Beiko, Ethereum developer, confirmed the launch of Kiln in his Twitter post and added that it will soon be merged with the Beacon Chain seamlessly for optimum results. The service went live in the current Proof-of-Work environment only.
Kiln, the next iteration of Ethereum merge testnets, is now live 🔥🧱

Highly recommended that node operators, application developers, stakers, tooling/infra providers test their setups on the network. Blog post has all the info to get started 😁https://t.co/TCHBZxcFlt

— Tim Beiko | timbeiko.eth 🔥🧱 (@TimBeiko) March 14, 2022
Kiln is working in a PoW testing ecosystem for Ethereum node operators, stakers, and developers. This is the final public testnet run right before the complete transition of the network to Proof-of-Stake from the Proof-of-Work mode in the coming time. The project will test the merge this week itself. During an interaction, Beiko stated that the launch of Kiln was a well-planned initiative by the team. They wanted the community to test their solutions via the merge function to ensure full satisfaction to them. Kiln ran parallelly with the Beacon Chain in a PoW environment. Beacon Chain is the first PoS solution of Ethereum 2.0 that allows token holders to stake their assets and contribute to the Ethereum ecosystem with their efforts.
The highly-anticipated transition of Ethereum from PoW to PoS is likely to prove a major development for it in the crypto sector. The transformation will place the network's security on staked tokens rather than the pricey and energy-consuming mining equipment. The recent reports suggest that Merge will be implemented by June 2022 and is likely to grow the earnings from 4.8% to 15% per year for investors.
If you are interested in learning the basics of crypto right from the scratch, then Blockchain Council has a lot of courses to help you. These courses are designed by experts to offer detailed information on every aspect of crypto and blockchain technology. The courses are pocket-friendly and are taught by industry experts.