Feeling confused about your future move in the fast-developing crypto world? Have no worries!!! We are here to rescue you from this crisis as we present to you some of the latest news content from the crypto industry for your reference, take a look: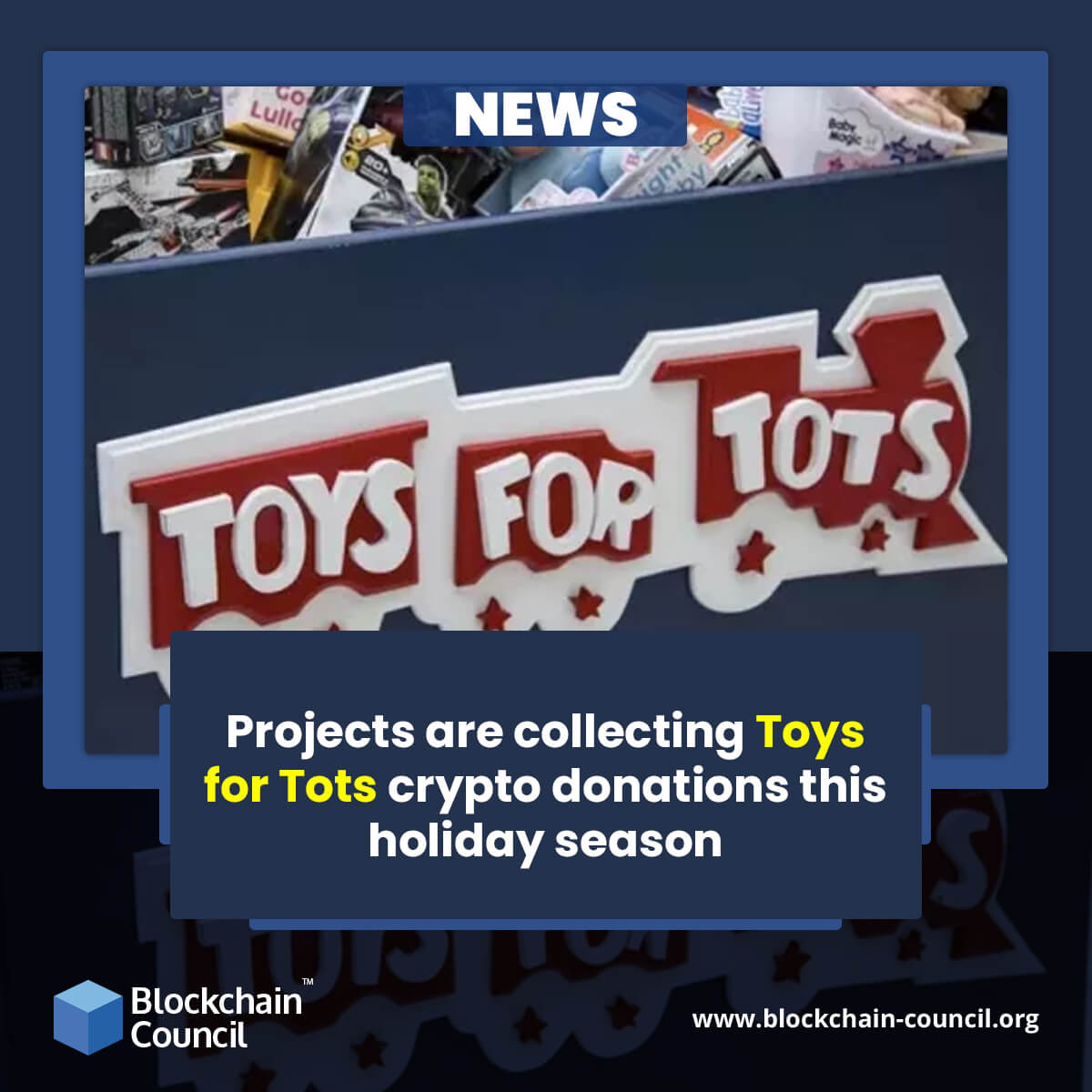 Projects are collecting Toys for Tots crypto donations this holiday season
Seeing the fast-escalating popularity of cryptocurrencies, it won't be wrong to say that 2021 was the 'Year of Crypto'. We saw digital tokens making a cool entry as an underdog across many unvisited industrial spheres. For the recent take, fintech firm, Unbanked will facilitate crypto donations for a project called 'Toys for Tots' helmed by the United States Marine Corps aimed towards sourcing soft toys to the disadvantaged kids.
In an announcement on December 2, Unbanked stated that the portal will allow people to make donations in the form of cryptocurrencies for the fundraising event. With this deal, Unbanked will facilitate the users to transfer funds in 28 cryptocurrencies including BTC and ETH. Those willing to contribute to the cause can do so till December 20. The charity event has given 604 million toys to 272 million kids over the years across the United States, the U.S Virgin Islands, and Puerto Rico.
Talking about crypto inclusion as a payment way for the project, Unbanked co-CEO Ian Kane stated that this is an effort to return the fortunes cryptocurrencies have given to its users. The firm was looking forward to employing the potential of cryptocurrencies for making the holiday season a bliss for the unprivileged kids.
Apart from Unbanked, there are several other firms that are actively accepting crypto donations to fuel the Toys for Tots campaign. A project called Elf Token revealed that it has pooled $41,200 as donations for the event and is looking forward to fetching $100,000 over the holiday season. The Giving Block platform has also opened doors for crypto donations for the toy collection event. Over the years, we have seen an active involvement of crypto in charity campaigns and programs. The Giving Block has raised $2.4 million in crypto in 2021 while enjoying a 583% surge from 2020. The portal is planning to raise over $100 million in crypto donations before wrapping up this year.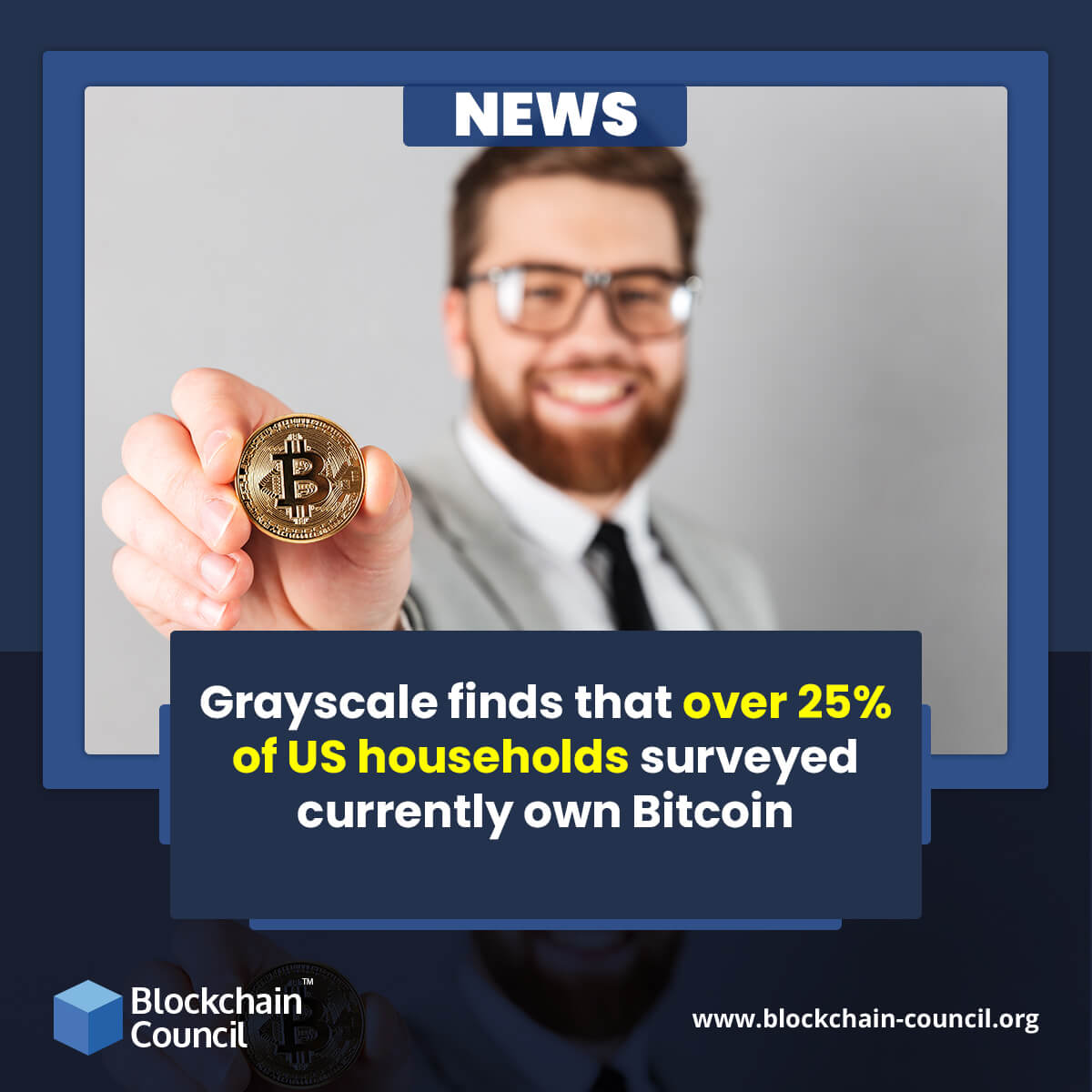 Grayscale finds that over 25% of US households surveyed currently own Bitcoin
Working as a top-tier financial group providing access to digital currency products, Grayscale Investments has published a report highlighting crypto investment trends across the United States. Released on Monday, the report stated that nearly 26% of U.S traders surveyed by the team accepted that they already own a fair share of Bitcoin assets. In this group, 46% revealed that they jointly hold BTC and ETH while 44% accepted to hold BTC together with DOGE in their wallets. A whopping 77% of surveyors conveyed that they would like to deal in BTC through an exchange-traded fund or ETF.
The survey involved 1,000 investors falling in the age bracket of 25 and 64 years. All the participants had a minimum household income of $50,000 with at least $10,000 locked in investable household assets excluding workplace retirement plans and real estate. A majority of these traders invested in crypto through a trading portal or a crypto exchange. A small share of the surveyors invested in BTC via self-brokerage firms or professionals. Interestingly, the volume of investors depending on a financial advisor for crypto trading dropped from 30% in 2020 to 11% in 2021.
Talking about investment plans, the majority showed an inclination towards holding BTC as an investment rather than a currency. More than half of the participants stated that they see Bitcoin as a long-term plan that perfectly suits their investment strategy. Out of the total, 77% accepted to have purchased BTC within the last 12 months span. Ninety-one percent of the surveyors showed a positive response towards their crypto investments.
The crypto industry, especially Bitcoin has witnessed a rapid expansion across multiple parameters including age group, gender, geographical boundary, etc. The participants gave multiple reasons for getting attracted to crypto. The wide scale accessibility, no-limit investment, and high growth potential were some of the most common reasons listed by the investors.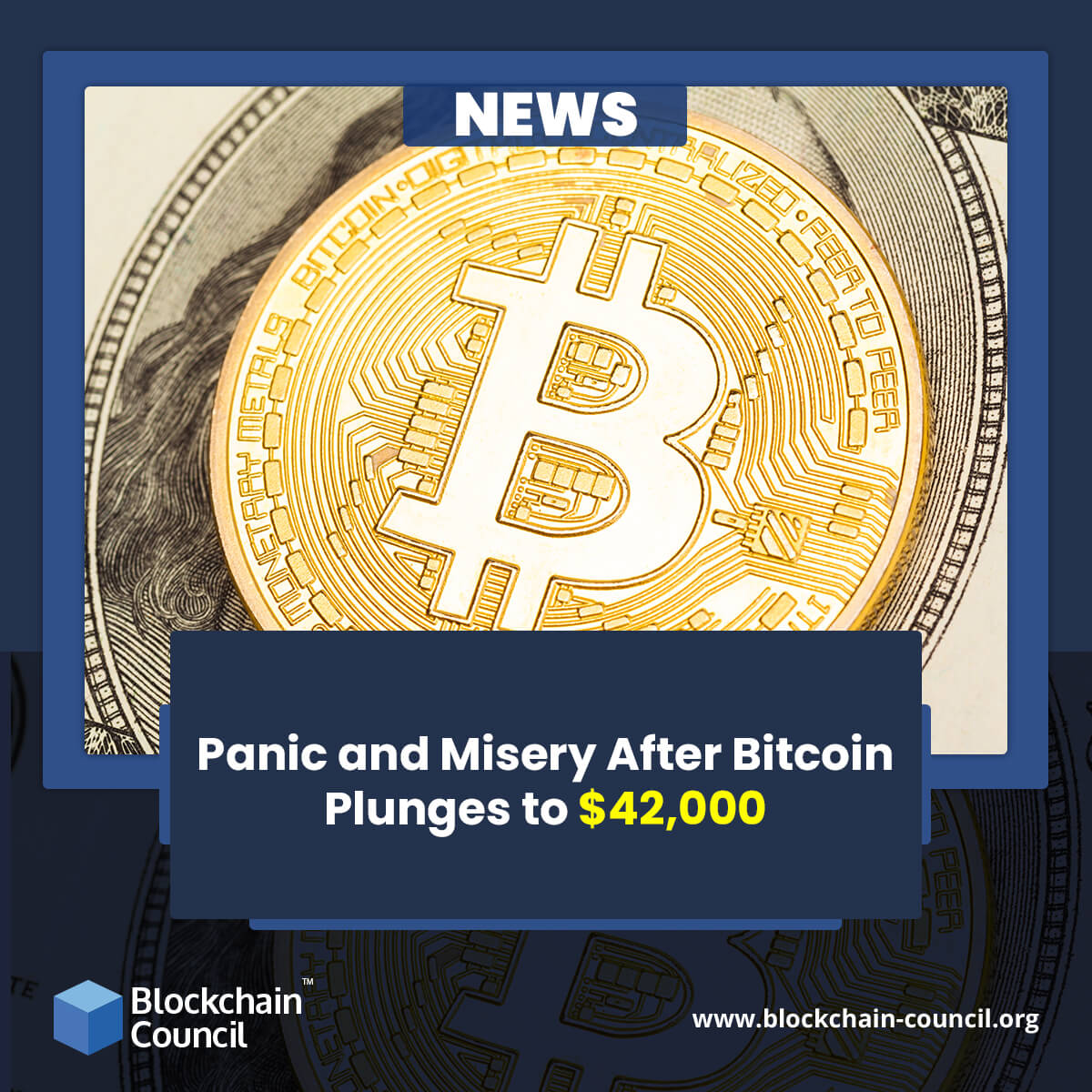 Panic and Misery After Bitcoin Plunges to $42,000
Things took an unfavorable turn for crypto fans as a scary plunge hovered the crypto industry this weekend where price charts signaled towards some aggravating future trends. Where Bitcoin was rolling at a value of $57,000 on Friday, the token dipped below the $53,000 mark through the evening. The Saturday morning caused more misery for the holders as BTC moved to a value of $42,874.62 after recording an 18% drop in its worth.
Following this fall, Bitcoin managed to move to the $47,000 mark in an hour span right after hitting its lowest. Ever since then, BTC, the biggest cryptocurrency in terms of market capitalization has been reeling under $50,000 worth. The frequent fluctuations made several analysts declare that the bottom has settled in while fresh misery was yet to follow. Despite this, many investors are hopeful for a surprising recovery of Bitcoin in the market space soon making the token regain its top score easily.
Discussing the situation, Blockware lead insights analyst Will Clemente stated that people are trying to reflect the past market trends onto the future. They are not looking at the future as a potential opportunity for growth. The data reports from Coinglass revealed that over $2 billion were liquidated between Friday and Saturday post the recent crisis.
The BTC fall affected the overall altcoin market too. Ether rolled at a value of $3,632 on Saturday but recovered to $3,909 soon. The total market cap of the crypto industry lost nearly $2 trillion after the Saturday sell-off. The recent speculations have predicted a surge in the price of BTC citing the token as a hedge against inflation. The crypto investors are now anxiously waiting for a miraculous uprising of BTC which will eventually bring the industry back to its hype.