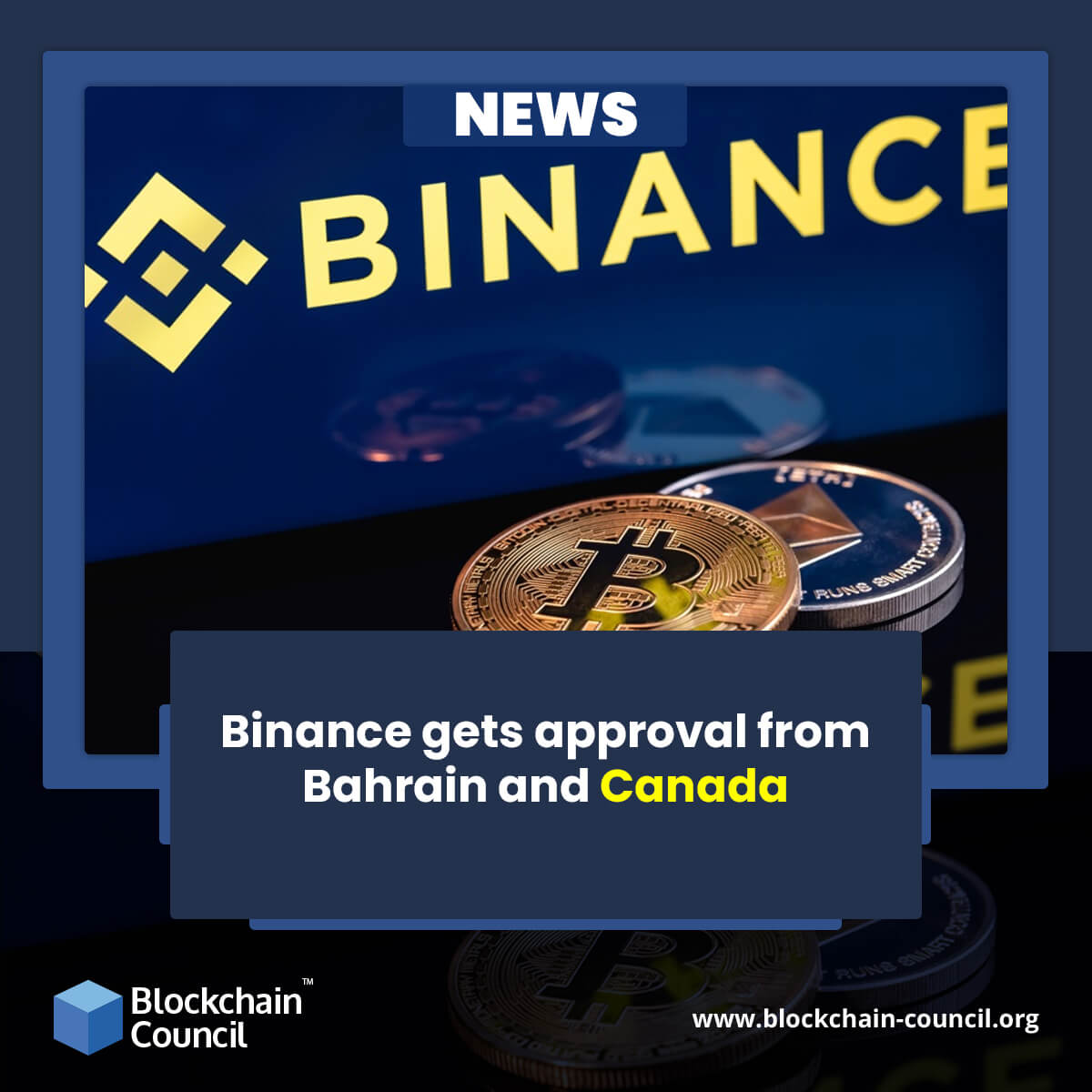 Leading cryptocurrency exchange Binance has successfully added yet another striking glory to its star-studded 2021 achievement list. The globally-acclaimed trading platform has earned an in-principle license approval from the Central Bank of Bahrain and Canadian regulators for offering crypto trading services to investors. With this, Binance will be offering access to its world-class trading experience to the crypto fans hailing from the Kingdom of Bahrain and Canada and thus expanding the crypto cluster in the respective territories.

According to the report, the in-principle license issued by the Central Bank of Bahrain is the first-ever approval for Binance in the Middle Eastern and North African region. Talking about this achievement, CEO Changpeng Zhao (CZ) stated that official licensing from national regulators is quite essential for the industry. He released a Twitter post confirming the news about the licenses and added that the firm is elated to expand its cluster to new investors and exchange platforms. These approvals help to develop trust in cryptocurrencies and blockchain technology. The spearhead feels that regulatory nod helps to encourage mass adoption for crypto across the global parlance.
The director for licensing at the Central Bank of Bahrain, Abdulkarim Haji conveyed that licensing is a matter of formalities. He emphasized that Bahrain is the perfect choice for the establishment of Binance's headquarters for expanding operations in the region.
The license issued by the Canadian regulators will help to flourish the business of Binance's new subsidiary concern in the region named Binance Canada Capital Market. The unit will manage digital holdings of investors, facilitate money transfers, manage foreign exchange, and work as a money service business or MSB. On Friday, Binance applied FINTRAC for an MSB license that got a green signal on Monday. The current financial license of the exchange will expire on December 31, 2024.
Interestingly, Bahrain that is the smallest economy in the gulf region, has managed to emerge as a hot spot for crypto firms. Rain Financial was the first licensed crypto exchange in the state that got its approval in 2019. In January, the regulators renewed the license for CoinMENA exchange from Manama.
The crypto exchange has witnessed a thrilling experience all through 2021 and emerged as a strong player in the field. Recently, Binance became the first crypto exchange to enter the crypto hub developed by Dubai World Trade Centre Authority. Now with its entry in Bahrain, Binance is reflecting its plans to strengthen its hold in the Middle East region. The Turkish unit of Binance was fined $75,000 by the Financial Crimes Investigation Board for violating the AML laws. The Binance team is striving to sustain its position in the fast-evolving crypto sector through partnerships with leading firms and constant up-gradation of its services' ecosystem.