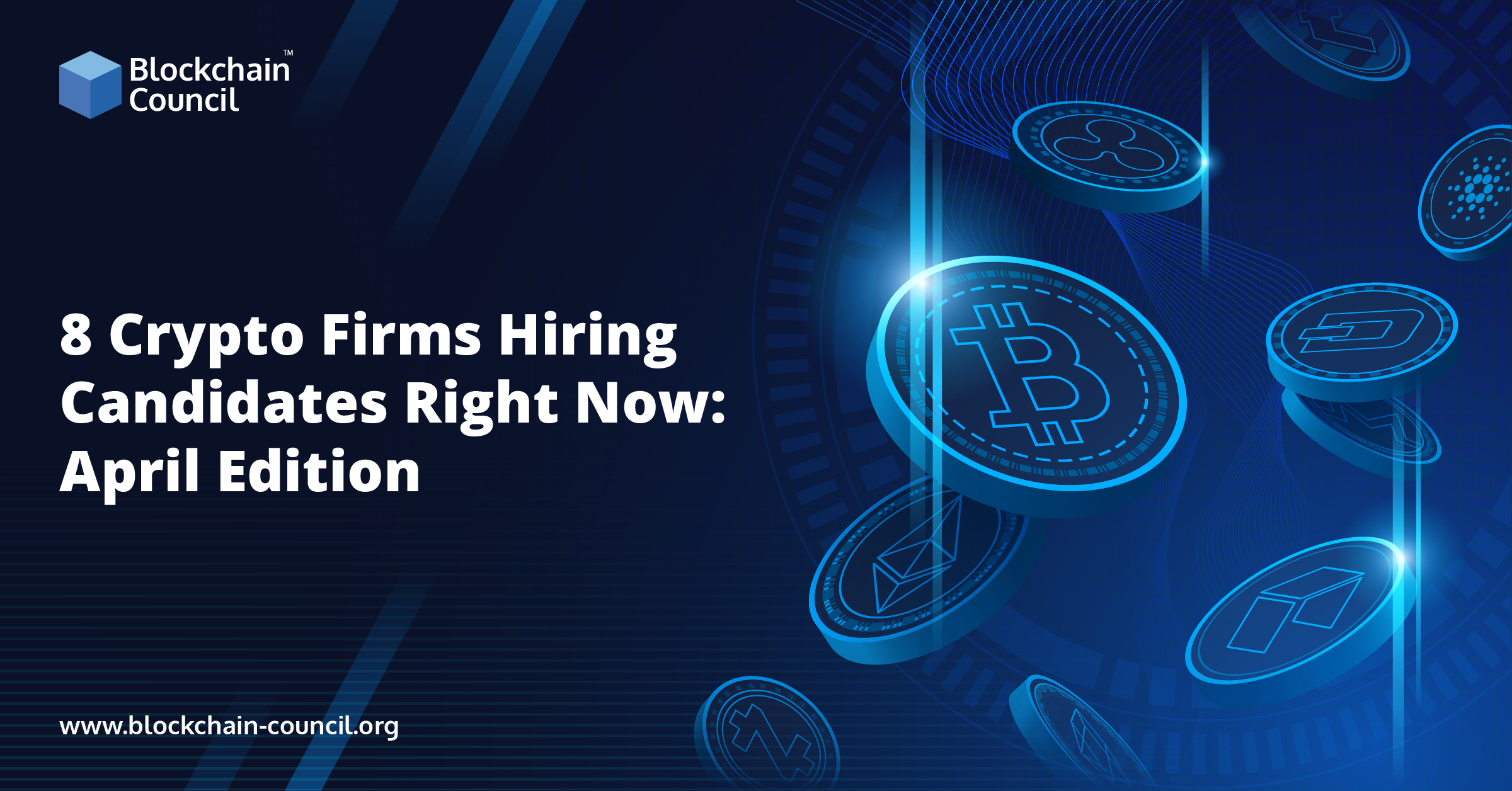 Ask a tech-savvy or an investment expert about their current favorite trend and they would instantly say 'Crypto' or 'Blockchain'  Yes, that's the insane craze for virtual currencies and Web3 protocols amongst the Millennial aficionados who are placing all their bets on these new-age technologies. While crypto continues to grow keeping up with its character as of dynamic market space, people are making their sweep irrespective of the trends and patterns witnessed by the industry. The recent economic upheavals, due to the Russia-Ukraine war, among other issues, have resulted in a chaotic situation in the global crypto space, which is now touted to be worth a few billion dollars. Moving through the first four months of 2022, we are still in an unclear state to tag the market as particularly bearish or bullish- especially after the slowly settling recession around the globe.

Despite all this, multinational firms are actively injecting funds into projects involving Web3, virtual currencies, or related digital protocols. In the past few months, venture capital funds invested billions to support their expeditions across Web3 and crypto. To satisfy this growing demand, there has been a rise in jobs and employment opportunities for tech experts, developers, and digital content creators in the domain. There has been a considerable surge in remote jobs in the field of Non-Fungible Tokens (NFTs) and Decentralized Finance that have undisputedly emerged as mainstream financial tools.
Where looking for a job can be a cumbersome process in itself, it becomes easy when someone does the skimming and brings the best available options for you to choose from. In this article, we have tried to do this for you. We have prepared a list of some of the most in-demand jobs in the sector, have a look:
List of Top 8 Jobs in 2022 Within the Crypto Industry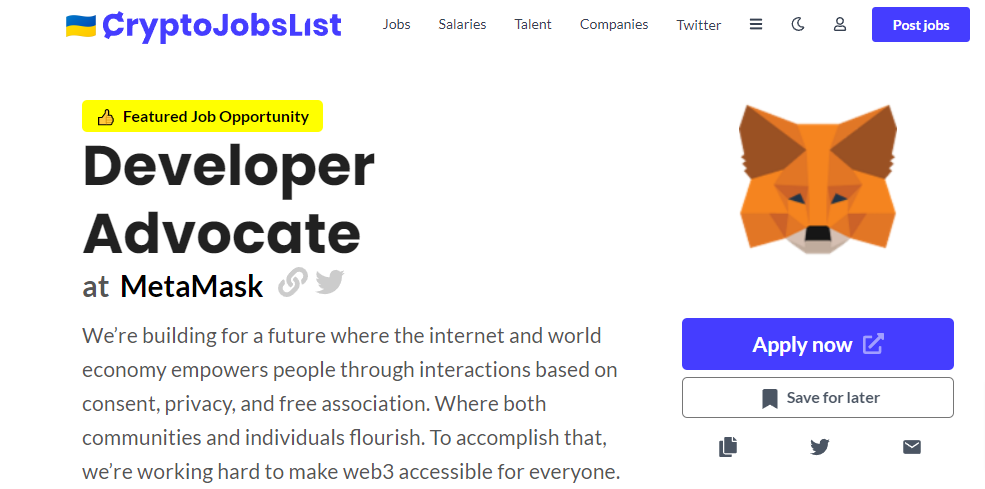 Thriving as one of the most trusted digital wallets, MetaMask holds a strong community of users who interact with DApps on Ethereum and other top-tier blockchain networks. The firm is searching for a trained developer advocate who can connect with developers and aid them in building DApps that use MetaMask. The required individual will need to collaborate with the developers of the company to unravel new growth opportunities in this remote job.
The employee needs to possess an experience of a minimum of four years in developer relations, developer education, and technical writing. One should be accustomed to working with multiple SDKs, APIs, etc. They should be able to write codes in JavaScript as well. 
Recommendation: Blockchain Council offers several developer-based certifications that can help you get shortlisted for the job.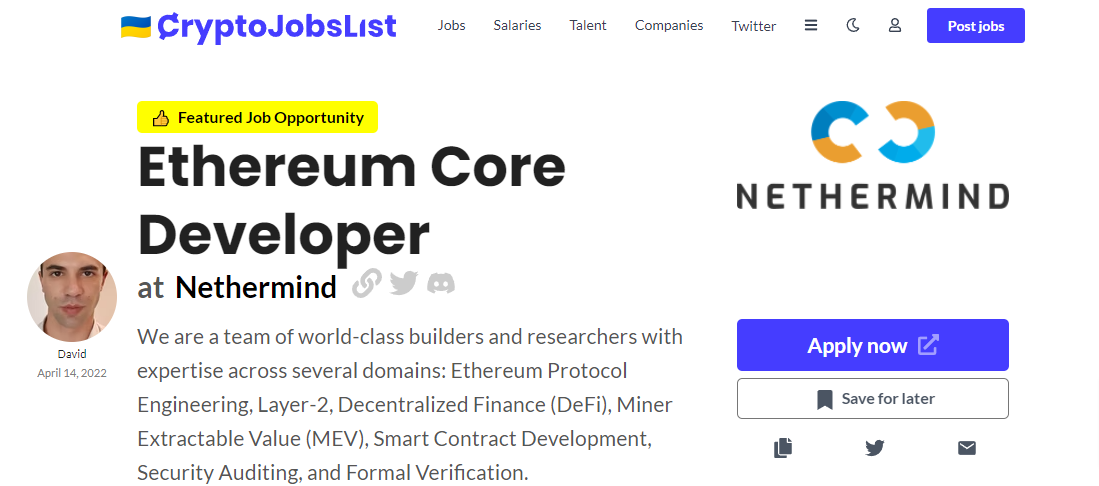 Nethermind works in Ethereum Protocol Engineering, Layer-2, Miner Extractable Value (MEV), Decentralized Finance (DeFi), Smart Contract Development, Formal Verification and Security Auditing domains.
Nethermind's Ethereum Client implementation is largely done in C# (.NET 5), with future work in C++, Rust, and Go. Thus, the candidate needs to be familiar with these working models as well as programming languages. The candidate should know how to implement new Ethereum Improvement Proposals, improve or rewrite module efficiency, and increase client stability. Their ideal candidate can communicate with other Ethereum Core Developers on a regular basis and offer suggestions on improving and changing the Ethereum network.
Recommendation: Check out the Ethereum certification offered by Blockchain Council.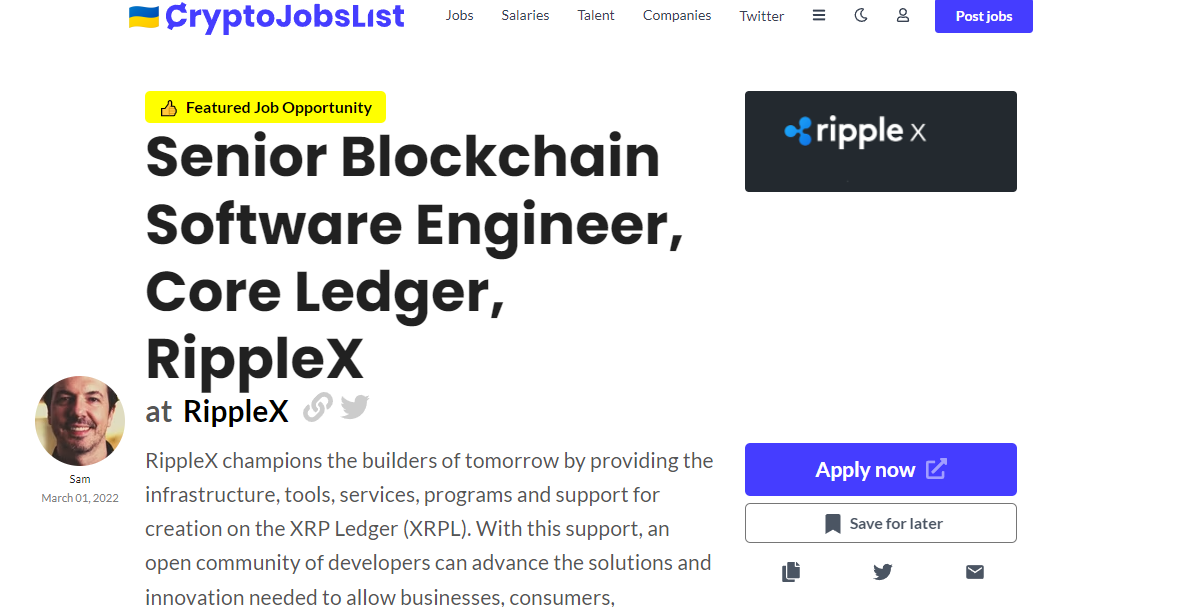 RippleX, the incubator promoting the creation of powerful decentralized solutions on the XRP Ledger, is lookingto hire a Senior Blockchain Software Engineer for its team. The platform is known for aiding the developer community by offering them access to SDKs, dev kits, tools, etc. The individual should hold an experience in managing backend development work and be accustomed to database technologies. If selected, the person will enjoy a wide range of perks including a lucrative salary, equity benefits, and 100% paid medical insurance.
Recommendation: The Blockchain Council provides a number of developer-focused certifications to help you stay ahead of the competition.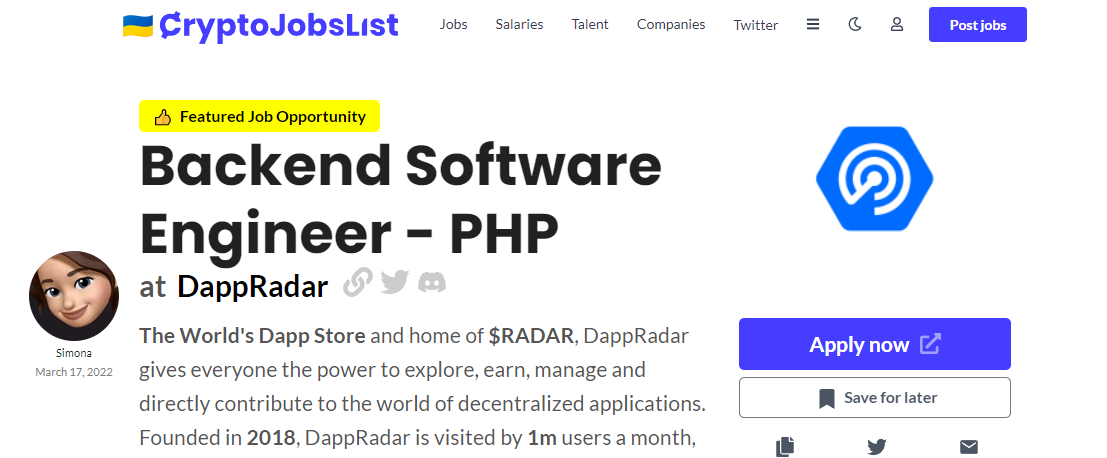 DappRadar works as a diverse platform offering seamless access to a wide range of decentralized applications to users. It tracks over 8,000 apps across 20 blockchain networks. The company is recruiting a backend software engineer for a remote position with an expert hand in PHP and blockchain. The eligible candidate should possess an experience in PHP along with working knowledge in the decentralized domain.
Recommendation: Blockchain Council offers several developer-based certifications that can help you get shortlisted for the job.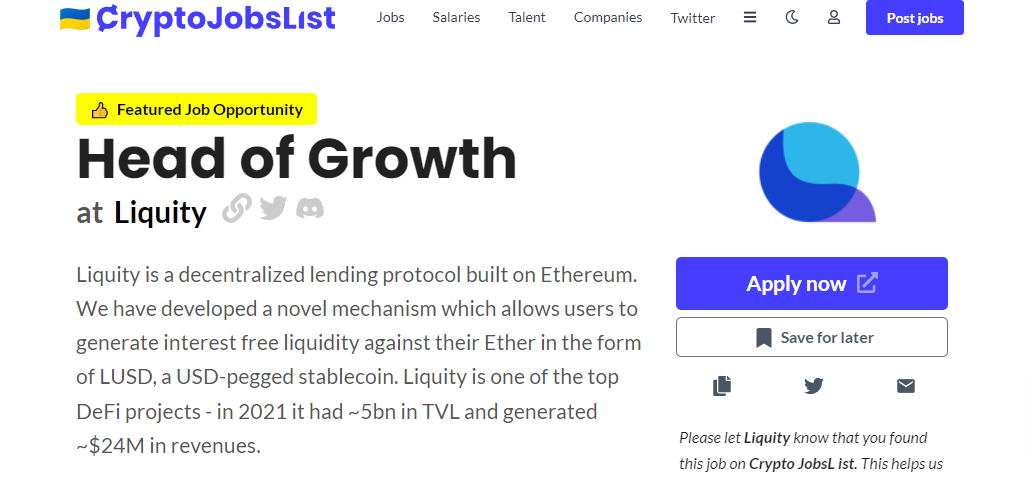 Candidates with immense interest in the crypto and blockchain field, but no experience in development need not fear. There are open positions for them too. Designed on Ethereum, Liquidity is a decentralized lending solution that allows users to enjoy interest-free liquidity against their ETH in the form of USD-backed LUSD stablecoin. The firm is  hiring a Head of Growth (remote) who will be delivering various responsibilities. The selected candidate will work in sync with other units within the liquidity field and in return expand the user cluster.
Recommendation: Check out the Ethereum developer certification offered by Blockchain Council.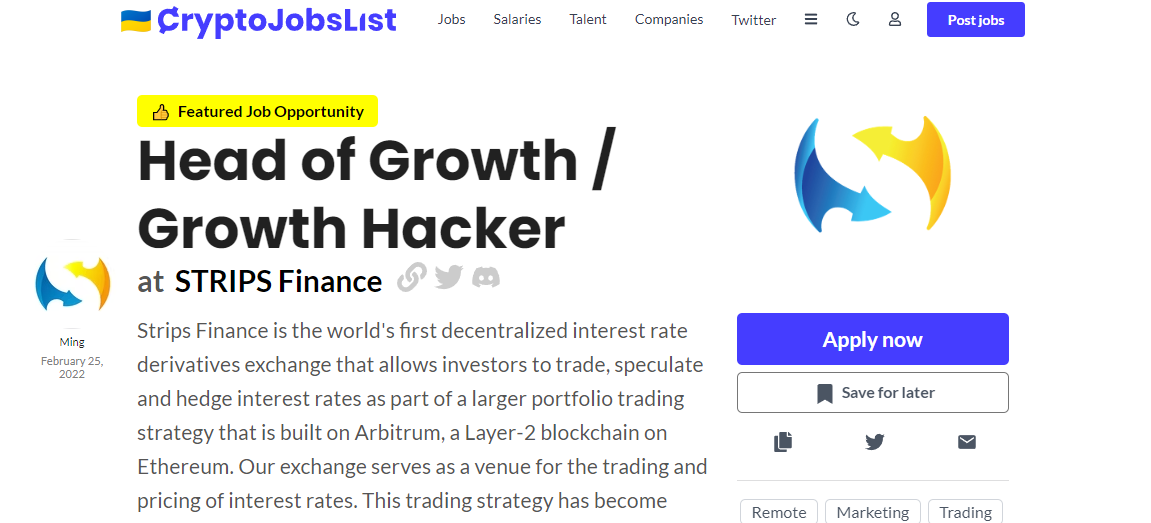 STRIPS Finance is hailed as the world's first blockchain-powered derivatives exchange that helps investors trade and hedge interest rate movements. The platform helps traders to hedge their risks by trading interest rates offered across multiple markets with leverage. The portal uses Arbitrum, a layer2 solution designed on Ethereum.
The firm is hiring a growth hacker to attract new customers to the platform from multiple ecosystems. One should possess strong marketing experience and entrepreneurial edge in the field of crypto and blockchain technology.
Recommendation: Check out the certifications offered by Blockchain Council under the head of Blockchain for business. You'll surely find the best suited certification for the job.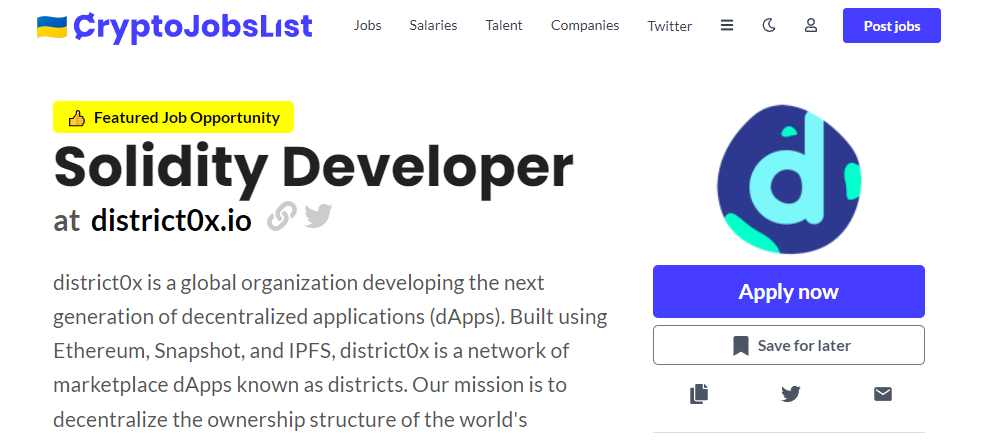 District0x thrives as a strong cluster of decentralized marketspaces that is willing to unravel new growth opportunities for next-gen DApps. Solidity developers need to have the right knowledge and experience in the field. District0x.io works on smart contracts. The platform is looking forward to hiring a Solidity Developer for a remote position who will be entrusted to create front-end interfaces for supporting its expansion to new realms.
Recommendation: Blockchain Council can help you become a Certified Solidity Developer™. Get an edge over your competition with these certifications.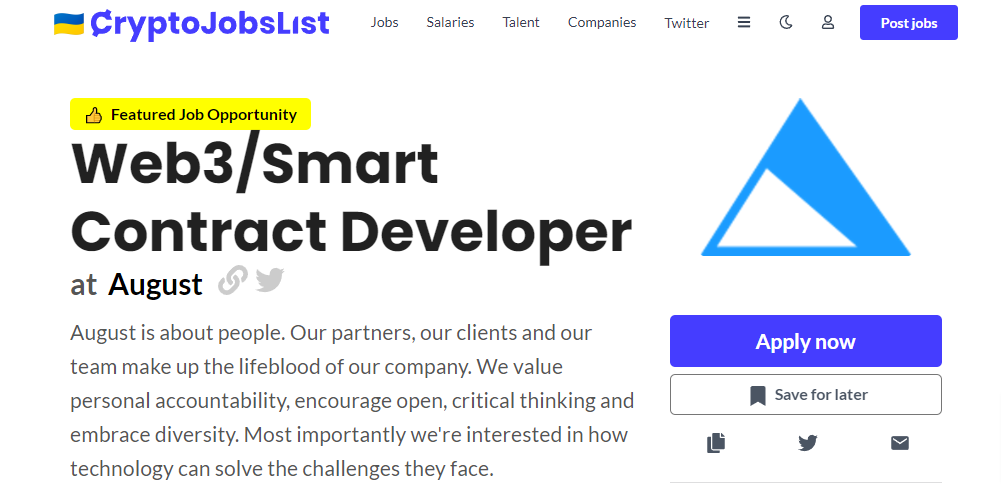 Working as a digital agency based in Toronto, August helps to design and develop mobile and web projects for users. The team is willing to hire a smart contract developer for its ecosystem. One should have experience in developing solutions on Ethereum Solana, and Fantom networks. They should have knowledge of token development, DApp infrastructure, and DeFi protocols to be selected for this remote opportunity.
Recommendation:  Blockchain Council can help you become a Certified Smart Contract Developer™. With these certifications, you can gain an advantage over your competitors.
Conclusion
With this list, we have tried to help you discover some of the hottest job opportunities in the world of crypto and blockchain solutions. The detailed information mentioned here will allow you to choose your desired job based on your preference. So, why wait, just pull up your socks, bring out the best in you, and start applying for your preferred position.