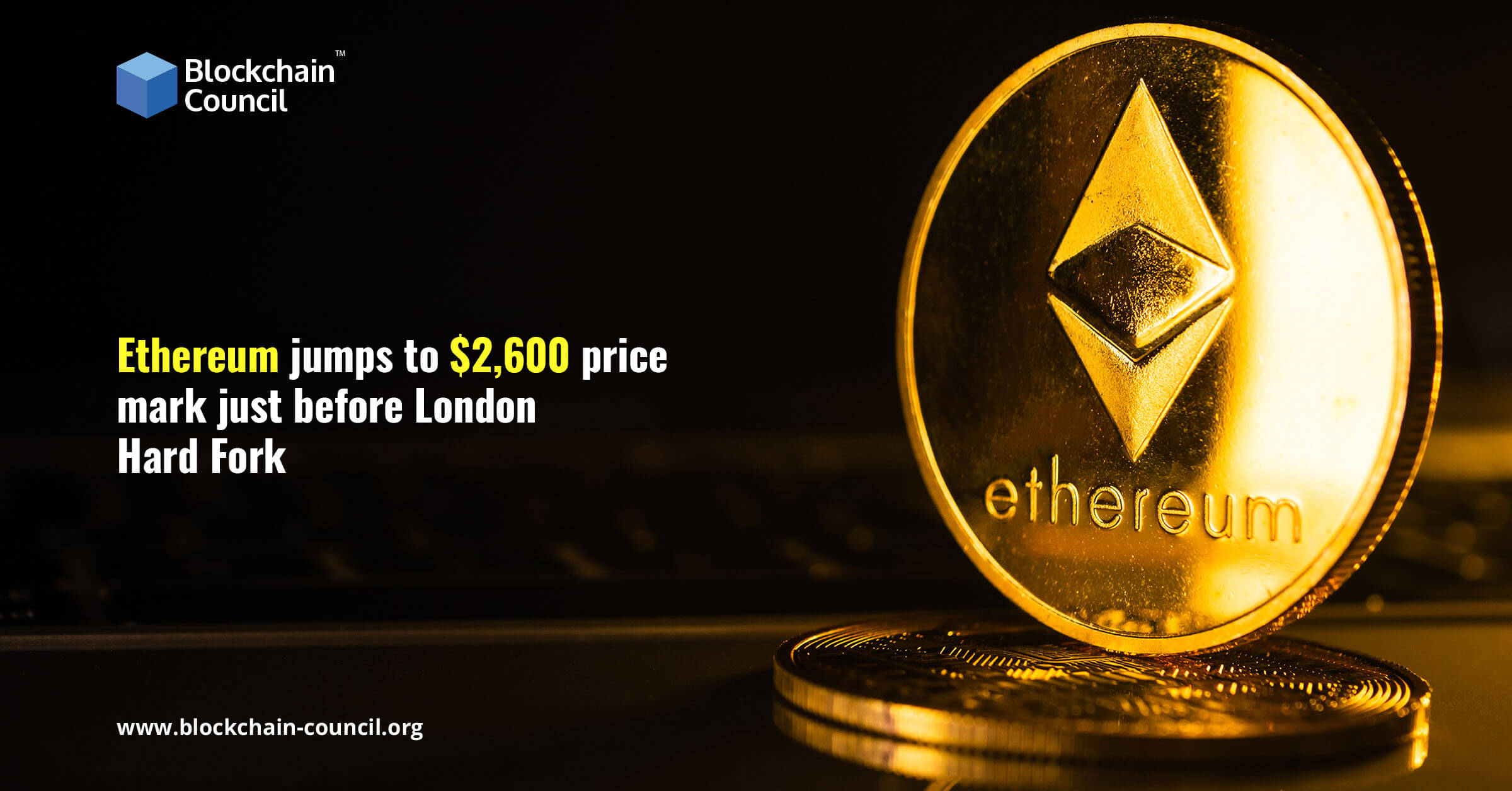 The price of Ethereum, the biggest and most popular cryptocurrency after Bitcoin, started rising gradually over the weekend and the transaction price was recorded as high as $2600. Meanwhile, the much-awaited Ethereum London Hard Fork upgrade is supposed to begin by the 4th of August, 2021. 

One of the most popular and widely used cryptocurrencies in the world, Ethereum has made some incredible profits throughout the weekend and has been able to surprise everyone. Even though during the later half of last week, there were speculations regarding a bearish dip in the Ethereum market leading to the prices falling as low as $2000, that prediction or speculation has been warded off by the incredible gains it has successfully made over this weekend.
The primary or initial upper limit of the famous smart contract token known as Vanguard is $2400. However, the downside is also secured by the lower partition of the channel which is ascending. This support line allows Ethereum to garner a trajectory of gains of more than $2400. 
This bullish trend continued for Ethereum and it extended above $2,400. On a few occasions, Ethereum was even seen touching up to $2,700 on some exchange platforms such as Coinbase. There was room for a certain small correction just as soon as Ethereum had sliced just below the mid boundary of the ascending channel. At the time of reporting, Ethereum was clocking in at $2,560 as once again the bulls had to go through a bit of struggle in order to tackle seller congestion prices which were ranging between $2600 and $2700. 
Ethereum prices rising up to $3000 feels imminent
As for now, the top priority for the bulls is to establish a higher support system as soon as possible. As per probability goes, perhaps keeping a hold on $2,500 will help in keeping the focus fixed somewhere between $2,600 to $2,700 on a respective basis. What is important to note at this point is that as the price of Ethereum gradually rises to US$2,700 and then if it rapidly soars to a price limit of $3,000, then another break of $2600 may directly result in generating more buy orders. 
The ETH/USD price chart as provided by stats from Tradingview from a specific fundamental perspective suggests that there is a very strong possibility that the cryptocurrency may be at its best point for rebound right at this moment. Just prior to the Ethereum London hard fork, the sentiment regarding the crypto and its possible status continually started improving a lot. Among the key upgrades that are supposed to take place, the notable and the much talked about one is the EIP-1559, which is built in such a way that it will be able to reduce the network gas costs and that too pretty significantly. It is evident and imminent. It is also believed by some experts that the widespread cost of extracting natural gas significantly hinders the competitive edge of Ethereum. However, experts are certain that once these barriers are lifted, it will give the cryptocurrency a much-needed boost and help it to rise to higher and better levels, thereby increasing the competitiveness of Ethereum.
Meanwhile, on the other hand, it is imperative to stay above the range of $2500, if Ethereum has to continually rise to the price point of $3,000. However, if somehow it does break and falls below that level, then the bearish momentum just might get hold of it once again and push the price down to $2,400, which indeed will not be a pleasant thing to happen. But the experts and investors are of the opinion that nothing of that sort is likely to happen anytime soon. They are pretty solid on their position on the future of Ethereum which they said undeniably is getting better every day. There have already been instances when Ethereum has outperformed even Bitcoin in many respects and it may even continue to perform the same way if it can maintain this streak.