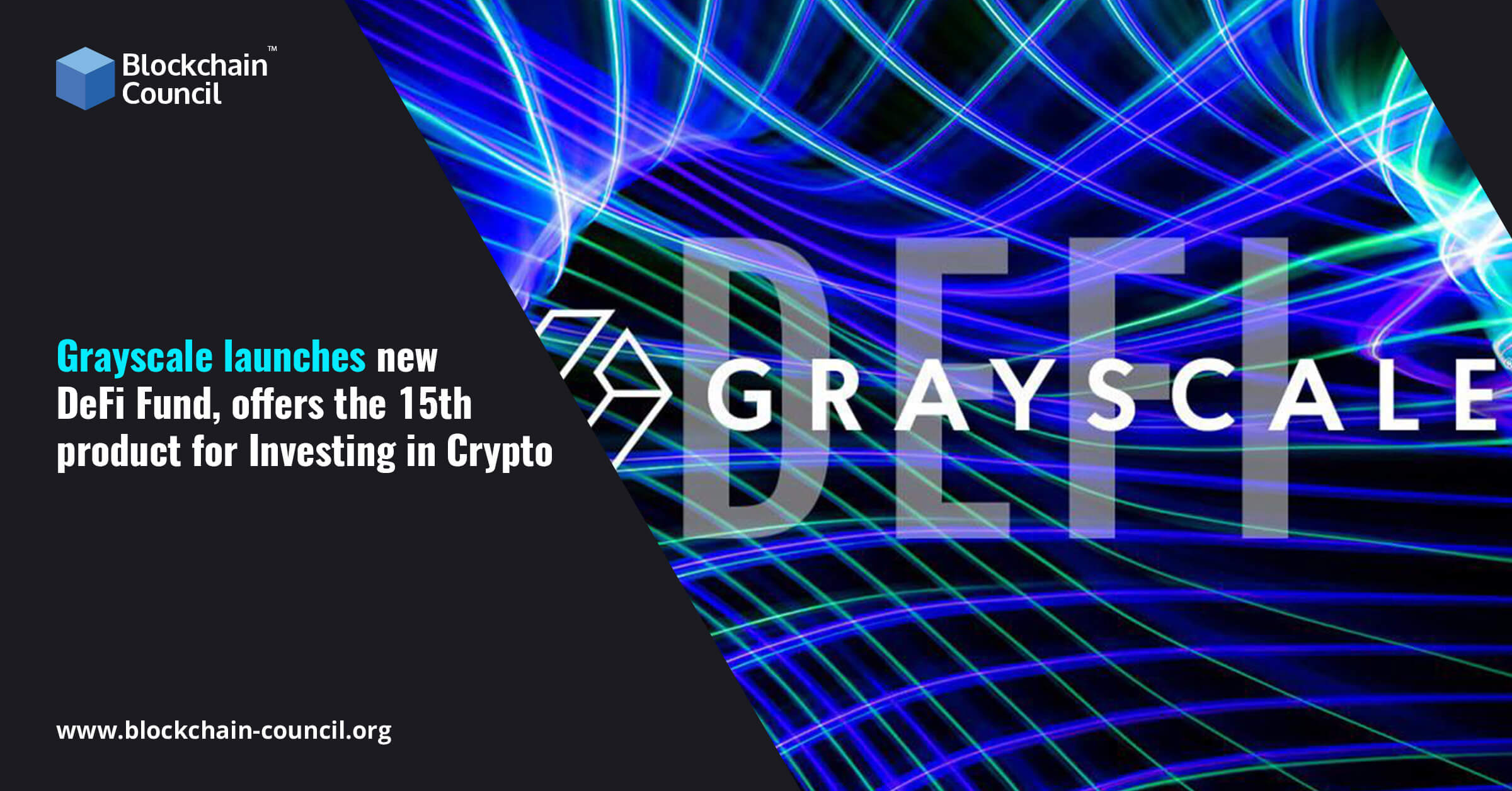 The world's largest manager of digital currency assets, Grayscale Investments, declared the launch of Grayscale Decentralized Finance Fund, which is their latest diversified investment product. The CEO of Grayscale, Michael Sonnenshein stated that the emergence of Decentralized Finance protocols give clear indications of what the future holds in store. He mentioned that the Decentralized Finance protocol is a revolutionary game-changer and that this technology is going to change the way financial institutions conduct their transactions.

The launch of the Grayscale DeFi fund has clearly outlined that this is their 15th product offering to the investors and also the second one with diversified offering of funds. The DeFi Fund basically will be offering investors a series of leading Decentralized Finance protocols in the industry. 
The Grayscale Large Cap Fund, which is the other fund from Grayscale of diversified nature, quite recently shifted their orientation to turn into a reporting company with the SEC or the United States Securities and Exchange Commission. The Grayscale Large Cap has also added the popular Cardano cryptocurrency. Also known as the ADA as their third biggest element. 
This recently launched DeFi fund has a portfolio which is market capitalization oriented. It is also designed to keep track on the Coindesk Decentralized Finance Index, which was also released and launched on Monday. Grayscale announced that the methodology of the Index is designed in such a way that it will portray liquid decentralized finance assets categorized on the basis of market-cap weight. The fund however is now open for all and ready to use on a daily subscription basis for individuals who are eligible and also for accredited investors from an institutional background. 
According to the latest reports based on July 14, 2021, the fund consisted of the following:
Uniswap or UNI at a weight of 49.95%

Aave or AAVE at a weight of 10.25%

Compound Finance or COMP at a weight of 8.38%

Curve or CRV at a weight of 7.44%

MakerDAO or MKR at 6.49%

SushiSwap or SUSHI at a weight of 4.83%

Synthetic or SNX at a weight of 4.42%

Yearn Finance or YFI at a weight of 3.3%

UMA Protocol or UMA at a weight of 2.93%

Bancor Network Token or BNT at a weight of 2.00%
The company as of now holds $30 billion dollars worth of assets that are under management. Presently they are willing to consider crypto assets for investment products.
Sonnenshein noted that their firm had been witnessing an increasing level of interest and growing demand for cryptocurrencies in the ecosystem of Decentralized Finance, especially among their existing investors. The CEO, hence claimed that this was the indicator that resulted in Grayscale launching its own institutional grade index and a Decentralized Finance Fund. 
He also noted that the development of Grayscale, extending their vision to become a reporting outfit for US Securities and Exchange Commission is an extremely vital move. The reason behind this decision is to make sure that Grayscale can take this a step further and make sure that they can provide their clients and investors with a higher and better level of disclosure and reporting besides the extremely stringent obligatory guidelines that their products already adhere to. 
In a recent announcement, Grayscale has also made it pretty evident that their vision is to turn their crypto products into Exchange Traded Funds or ETFs and that is how the products have been designed, keeping that in mind.  According to Grayscale, the process of becoming a reporter with the SEC (US Securities and Exchange Commission) is the final step for their products before turning into Exchange Traded Funds (ETFs). 
Apart from this new decentralized finance fund, Grayscale has fourteen other products. They are the Bitcoin Trust, Bitcoin Cash Trust, BasicAttention Token Trust, Chainlink Trust, Ethereum Trust, Decentraland Trust, Horizon Trust, Ethereum Classic Trust, Filecoin Trust, Stellar Lumens Trust, Livepeer, Litecoin Trust, Digital Large Cap Fund, and Zcash Trust. 
Just the previous week, the asset manager of Grayscale announced that BNY Mellon, which is the oldest bank in the United States, will be providing one of their flagship products, The Grayscale Bitcoin Trust (GBTC), with ETF and asset servicing services.