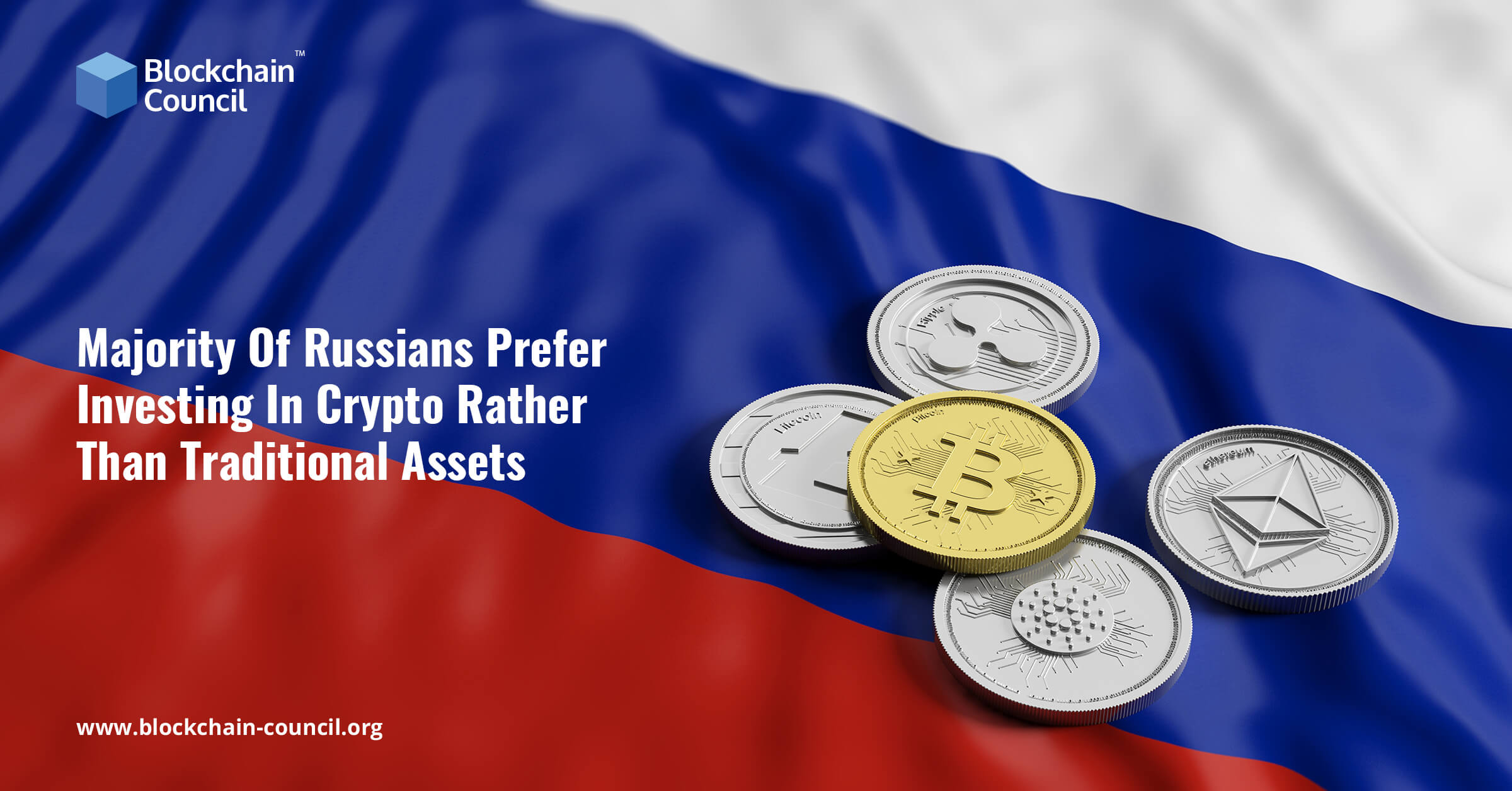 For a large number of people across the globe, cryptocurrencies are turning out to be a better area of investment when compared to traditional ideas of investing. Recently a study has been conducted by the AFD or the Association of Forex Dealers, and according to the poll that they have conducted, it shows clearly that the majority of Russians are now more interested in investing in crypto assets as they prefer crypto over traditional assets for investment purposes. The results of the survey also point out that the usual options like that of gold or fiat currencies do not share the same space as they previously did with the wider section of the investor population as both of them seem to have fallen out of favor. Even potential investors, who are basically individuals who have never invested prior, stated that they are willing to buy and invest in cryptocurrencies.

The survey was conducted in the month of August, between the 4th and the 24th of August, and a total number of 502 respondents upon whom the survey was actually conducted. The group consisted of 90 percent of males who were between the age group of 25-44 years. As the survey was being conducted, it was found out that most of these individuals had a supportive and optimistic perspective towards cryptocurrencies, and it seemed that they are, in general, quite favorable towards the entire crypto ecosystem. 
Many of these respondents firmly believe that crypto is a growing phenomenon and, over the years, will continue to grow even bigger and better. 8 percent of these respondents also believe that crypto is here to be a replacement for cash entirely. 
Breaking the numbers down
Russia has a considerably large population of 144.4 million people where the primary export is crude petroleum. The citizens of Russia are nowadays placing their trust and picking up investments in crypto over the traditional assets that they have in their country. Out of these respondents, only a mere 14 percent of individuals were the ones who had invested in fiat currencies, choosing them over digital assets. A mere 9 percent even mentioned that they do not see much prospects for fiat currencies in the future, and hence, they would like to place their bet on gold as an asset for investment.
Out of all the respondents who took part in the survey, a massive 76.9 percent of the group stated that they would like to invest in cryptocurrencies instead of investing in traditional assets such as gold or fiat currencies. 24.7 percent of the people who had actually voted for investing in crypto mentioned that they may not be carrying out trades in cryptocurrencies every month but also pointed out clearly that no matter what happens, they never go three months without doing some crypto trading activities online. Out of this group of respondents, about 17 percent of them mentioned that they had conducted transactions by using digital currencies at least once a month. 
Out of the respondents, a surprising 35 percent of the individuals revealed that they have been trading cryptocurrencies more than just once a month and that they are frequent in their attempts to trade cryptocurrencies, and finally it was the 23.1 percent of the group which revealed that they have not yet performed any such transactions through the using of digital currencies or assets.
Investing for the long term
A really interesting fact which emerged out of this survey is that out of the respondents who were being surveyed, none of the individuals who are investing in crypto do wish to do it just to make some quick money or profit. Over 51 percent of the investors who were polled clearly stated that they were investing in crypto thinking about long-term benefits. They made it very clear that the reason for them investing in crypto is simply to make sure that they can increase their savings over the long term. Only a mere 8 percent of this group of respondents replied that they are investing only to make some really quick profits.
The majority of the citizens of Russia are of the opinion that the entire crypto space is in need of regulations so as to make it a lot safer and more secure. While it is a fact that 40 percent of them strongly suggest that the intervention from the government is better left to a minimum, a population of 16 percent believes that the crypto assets can do away without the need for regulations. 
Finishing thoughts: Are you interested in developing your own DeFi based applications and Cryptocurrency projects?
Learning Blockchain, Cryptocurrencies and Decentralized Finance (DeFi) applications are easy now, all thanks to highly esteemed online courses and training sessions from Blockchain Council, which is one such organization that offers amazing and effective online training and certification programs to aspiring trainees while rendering them desired competencies so that they have a successful career in the Blockchain space. Keeping the rising demands of blockchain professionals in mind, Blockchain Council certifications are diversified to meet each aspirant's discrete needs. They have a host of training and courses on DeFi and Cryptocurrencies that provide world-class knowledge and support.
To get instant updates about Blockchain Technology and to learn more about online Blockchain Certifications, check out Blockchain Council.