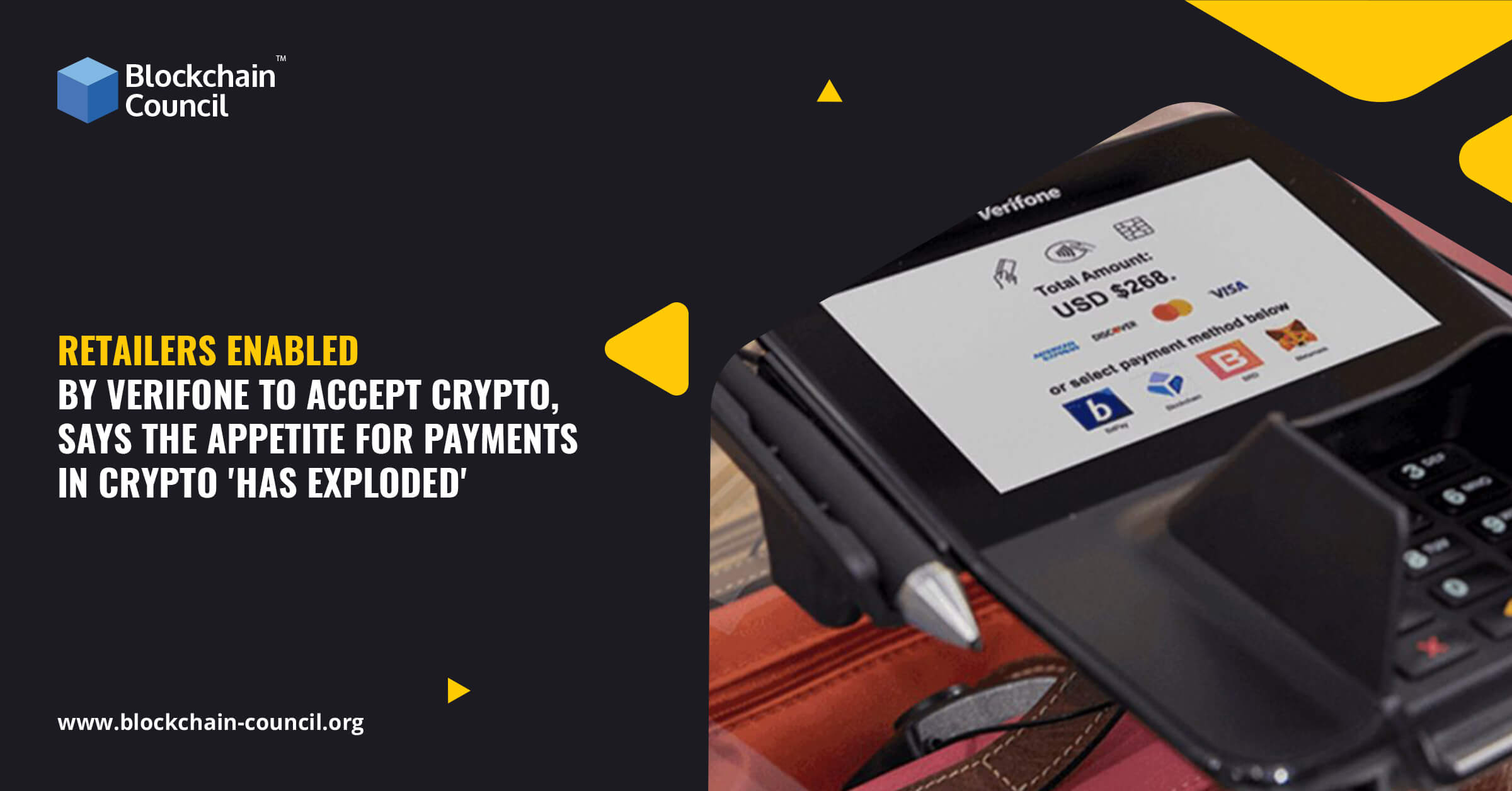 One of the biggest names among payment solution providers in the world, Verifone, announced on Tuesday that they had made a partnership with Bitpay in their attempt to enable their customers to start making payments by using cryptocurrencies on their in-store as well as their e-commerce services platforms that are operating in the United States.

Verifone is popularly known for being the provider of end-to-end services for some of the best-known major financial institutions and retail brands in the world. In addition to that, according to their website, they are supplying to more than a staggering number of 600,000 merchants alike. Moreover, the global platform of the company is reported to handle more than 10.4 billion in-store and online transactions on an annual basis, which sums up to a massive $440 billion. Surprisingly, more than 35 million devices owned by Verifone are in operation across 150 different countries in the world.
The payment solution for cryptocurrencies would require one of the new Android or Verifone's Engage line of devices to be connected to the Verifone Cloud. According to the announcement, the merchants will now be able to receive payments made in cryptocurrency directly from Verifone itself, and it will not even be necessary for them to have a separate account with Bitpay. The funds will be instantly settled in the bank account of the merchant and that too, in traditional currency, which is USD. In addition to that, the partnership enables Verifone to conduct strategic payments to Bitpay.
The merchants will be able to accept payments in the form of those cryptocurrencies which are supported by the Bitpay platform. These cryptocurrencies include Ethereum, Bitcoin, Dogecoin, Wrapped Bitcoin, Bitcoin Cash, Litecoin, and five other stablecoins, which are pegged to the USD. These coins are USDC, GUSD, PAX, BUSD, and DAI. 
Jeremy Belostock, who is serving as the Head of Verifone's APMs, stated that their merchant base is involved in enabling several advanced payment methods or APMs as they are commonly referred to, and it is worth noting that the appetite for payments made in crypto has exploded in the recent few months. He also believes that payments made in cryptocurrencies can potentially solve all the problems for merchants and that the payment process is extremely seamless.
In Conclusion: Are you interested in developing your own cryptocurrency wallet?
Becoming an expert on Blockchain and Cryptocurrencies is easy now, owing to a host of amazing courses from Blockchain Council, which is a premier organization offering superb online training and certification programs to aspiring individuals who want to have a successful career in the Blockchain space. 
Keeping the rising demands of blockchain professionals in mind, Blockchain Council certifications are diversified to meet each aspirant's discrete needs. They have a host of training and courses on Cryptocurrencies like Bitcoin and Ethereum, Blockchain systems, NFTs, Smart Contracts, and much more that provide world-class knowledge and support.
To get instant updates about Blockchain Technology and to learn more about online Blockchain Certifications, check out Blockchain Council.