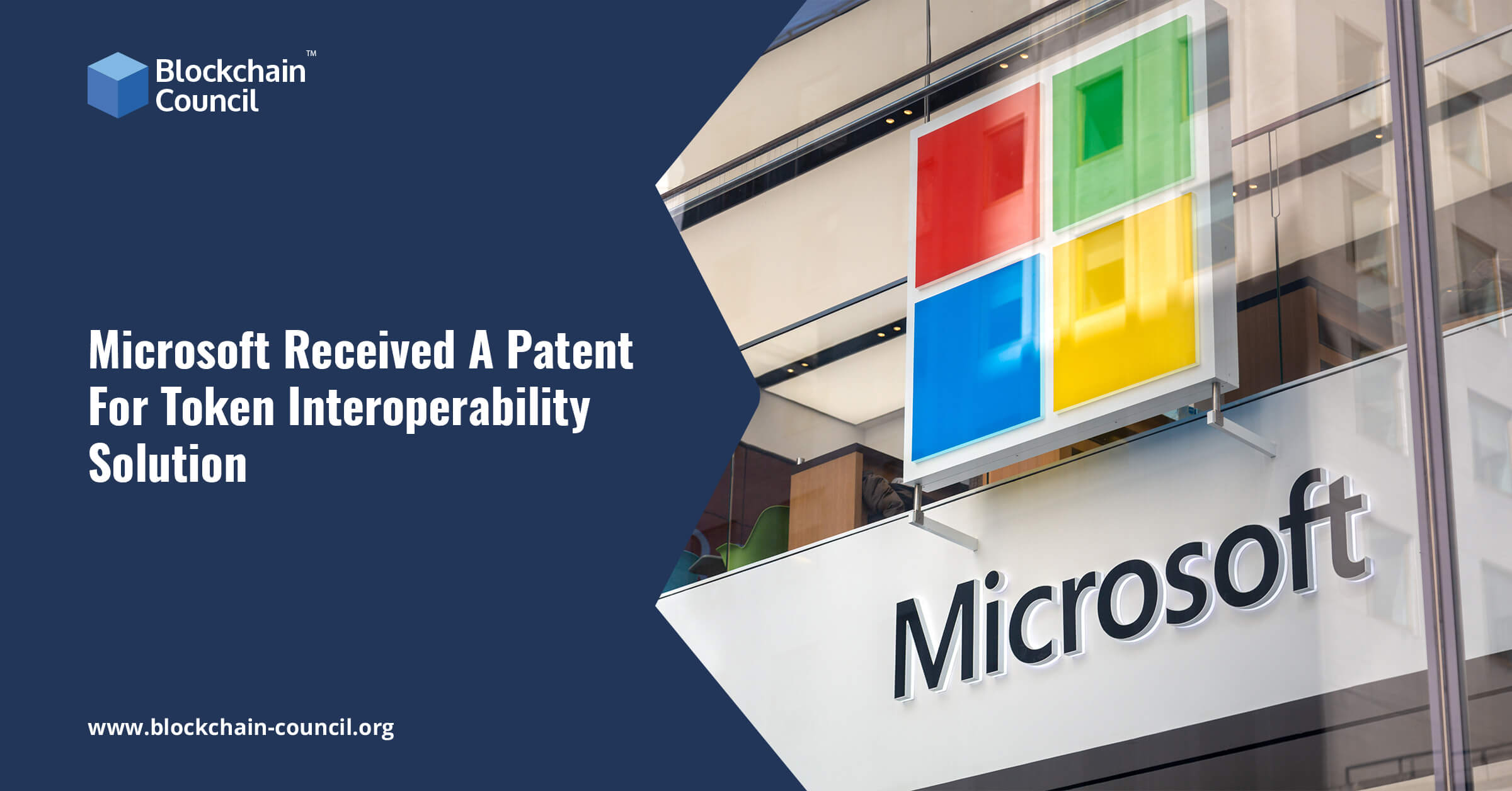 The giant of a technology firm, Microsoft has recently been awarded with a patent for devising a token interoperability solution that will be extremely beneficial and useful for blockchains that are of enterprise-class level. This interoperability solution will actually enable the team of developers to create assets that can function and operate cross platforms for the enterprise clients of Microsoft. 

United States Patent and Trademark Office which is also known as the USTPO in short,  explained in one of the files that they have documented on this product that this is a sort of a technology that can be defined as a token service which is also ledger-independent and on top of that, it will also make the process of creating cryptocurrency tokens a much more simplified process for the developers. 
The service tool from Microsoft is presented in such a way that it automatically provides the developers with templates for each token that they create and each of the tokens produced will be representing multiple types of digital or even physical assets. The developers will also have the ability to set the functions as well as the controls for each token after having determined the class or the type to which the token belongs. The patent from Microsoft is currently referencing some of the enterprise-class projects that are making good use of blockchain technology such as Quorum, Chain Core, Hyperledger Fabric and R3 Corda.
Microsoft has given out a statement where they said that the entire process of building applications that are concerned with the transactions happening on a multi-ledger platform and emphasizes on using or even reusing tokens, can be quite cumbersome and difficult, owing to the lack of standardization that exists across token implementations and Decentralized Ledger Technologies or DLTs. 
In order to provide some context, the tech giant has argued that there has been this specific roadblock in the path of development of applications that deal with token reuse or cross ledger transactions. The token creation tool developed by Microsoft which is also ledger independent , will enable the developers to code tokens simultaneously on different platforms at the same time.
The filing of the patent application was awarded to the Microsoft Technology Licensing, LLC. However, the tech giant has not yet made any official statements or announcements whatsoever that might indicate that this patent means that Microsoft already has a product ready for launch in their product pipeline that applies this technology. 
Back in the year 2019, Microsoft was engaged in a project that was based on a token standardization initiative and was named as the Token Taxonomy Initiative. It was a project that was launched in alliance with the Enterprise Ethereum Alliance. The whole initiative was chaired by the principal architect of Microsoft, Marley Gray, who is also serving as a board member of the aforementioned alliance. Also, quite recently the tech giant was involved in a research work that emphasized anti-piracy solutions that can leverage the use of blockchain technology.  
Finishing thoughts: Want to build your own Blockchain based projects?
Learning Blockchain, and Cryptocurrency are easy now, all thanks to reputed online courses and training sessions. Blockchain Council is one such organization that offers online training and certification programs to aspiring trainees to render them desired competencies so that they have a successful career in the Blockchain space. Keeping the rising demands of blockchain professionals in mind, Blockchain Council certifications are diversified to meet each aspirant's discrete needs. They have a host of training and courses on Cryptocurrencies that provide world-class knowledge and support.
To get instant updates about Blockchain Technology and to learn more about online Blockchain Certifications, check out Blockchain Council.