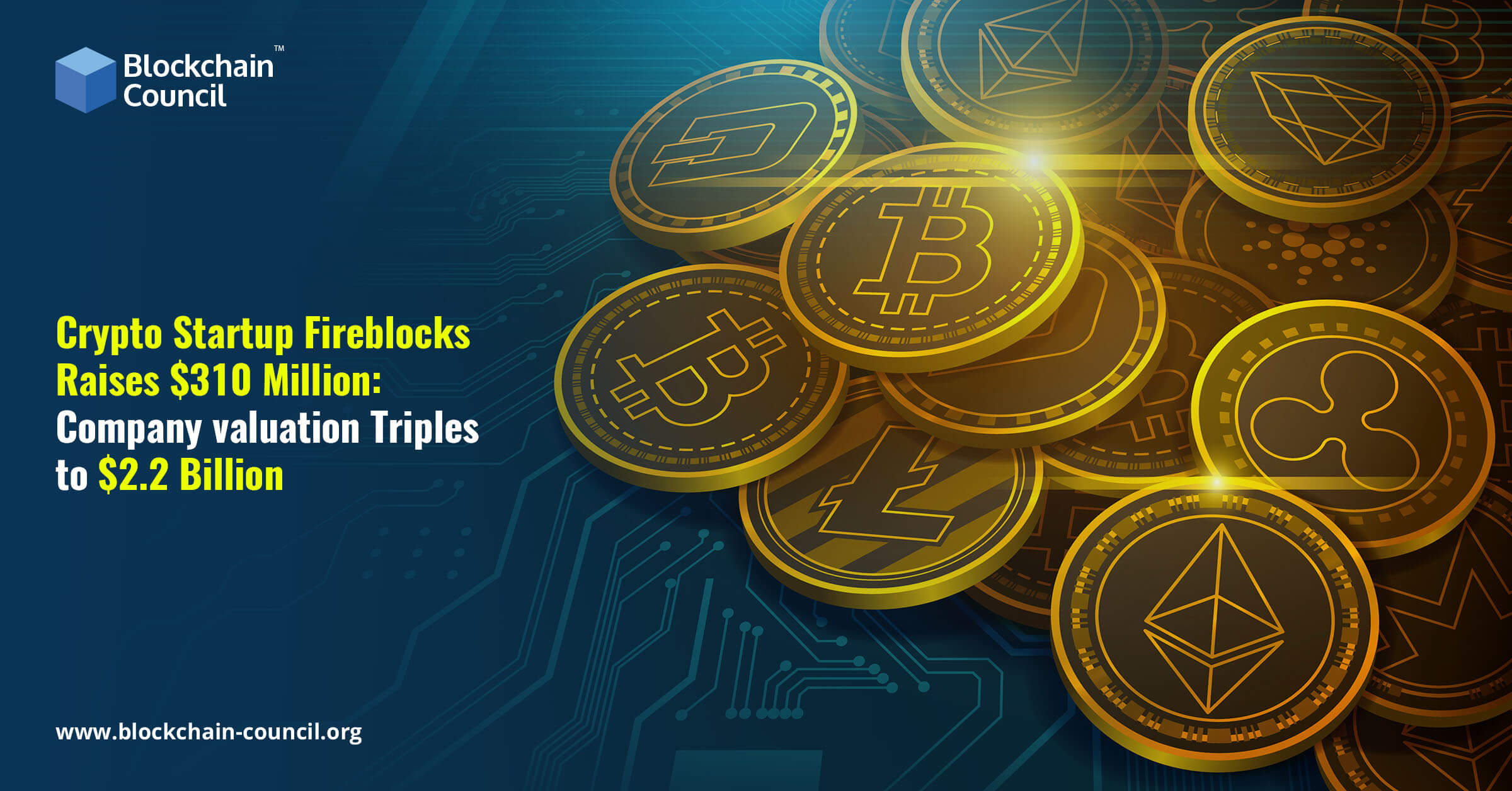 Fireblocks, which is a company famous for providing infrastructure for Digital Assets, has been able to raise over $310 million in a Series D round of funding. As a result the valuation of the company has tripled to a whopping $2.2 billion in just a span of five months.

Fireblocks' latest round of investment saw participation from SCB 10X, Coatue and DRW VC and was co-led by Spark Capital, Sequoia Capital and Stripes. The SCB 10X is the venture arm of the Siam Commercial Bank, which is also the oldest bank in Thailand. The Siam Commercial Bank is the third global bank to invest in Fireblocks apart from the famous Bank of New York (BNY) Mellon and SVB Capital.
Fireblocks, a New York based startup, had raised over $133 million in a Series C funding round at an estimated valuation of $700 million. The latest funding secured by Fireblocks brings their total valuation raised from funding events since its inception in 2018, to a staggering $489 million. According to the Chief Executive Officer and co-founder of Fireblocks, Michael Shaulov, their boost in valuation correlates directly with the sharply increasing customer base and ARR this very year.
Even back in January, Fireblocks used to have a customer base of around 150, which has now risen to an amazing 500 since then. Even their annual recurring revenue or ARR has also gone up by almost 350 percent in this year of 2021 compared to 2020. Previous year the ARR had gone up by around 450 percent when compared to 2019. According to Shaulov, they are expecting to end the year with an estimated revenue generation of over 500 percent. He also added that they have already changed their prediction models three times in order to get an estimate owing to the rapidly changing and escalating treds of the market and the growth of the company at the same time.
In simple terms , Fireblocks is aiming to provide financial institutions with a platform that offers an all-encompassing facility for a business concerned with digital assets management. Their aim is to offer a solution that will enable business owners to transfer, issue or even store any form of digital assets. As of now Fireblocks is providing custodial services to institutional investors and has already secured the transfer of more than $1 trillion worth of digital assets over the course of time. Back in June 2019, the company had emerged from the stealth mode and ever since then they have spread out their wings across the globe, opening several offices in the United Kingdom, Hong Kong, Israel, France, Singapore and in the DACH region, which comprises the countries such as Austria, Switzerland and Germany. 
At present, Fireblocks is hosting and catering to over 500 individual financial institutions in the capacity of customers, who are basically a mixture of companies already supporting and dealing in cryptocurrencies and other digital assets and another group of companies who are eager and willing to enter the digital assets space. Their customers include native cryptocurrency exchanges, global banks, OTC desks, hedge funds and lending desks, as well as companies such as Prime Trust, genesis Trading, Revolut, Celsius, BlockFi, Galaxy Digital, crypto.com and eToro and many others. 
According to Shaulov, out of the 500 companies that Fireblocks is working with, 70 of them are banks who are looking to expand into the space of digital assets and cryptocurrencies and begin to introduce platforms for building their infrastructure accordingly. For instance, the Sam Commercial Bank who has already invested in the company, is using the company's infrastructure to transform themselves into a blockchain-based banking system. He added that Fireblock specializes in creating extremely secure digital wallets for cryptocurrencies and various other digital wallets, which can be used by institutions and companies to store their funds, along with the funds of their customers. On top of that, Fireblocks is also providing them with security insurance as well. 
Shaulov further added that the company is actually handling all sorts of security and other compliances, the entire workflow and even all the policies that come with it. In simple terms, Shaulov explained that Fireblocks is offering all sorts of assistance and helping out with all the complicated processes that any business will have to undertake if they are willing to work with this new technology. He called Fireblocks as the 'Shopify for crypto'.
Ravi Gupta, who is the Sequoia Partner of Fireblocks, had maintained a pretty bullish outlook on the company and their services. He went on to describe the company as the provider of the leading back-end support and infrastructure for crypto products and other such digital assets. He further added that the company has outstanding potential to cater to consumer fintech companies, crypto-native companies and any such traditional financial institutions. According to him, the company has been growing exponentially and their growth is a testament to how amazing their products are and how brilliant their customer sentiments have been.