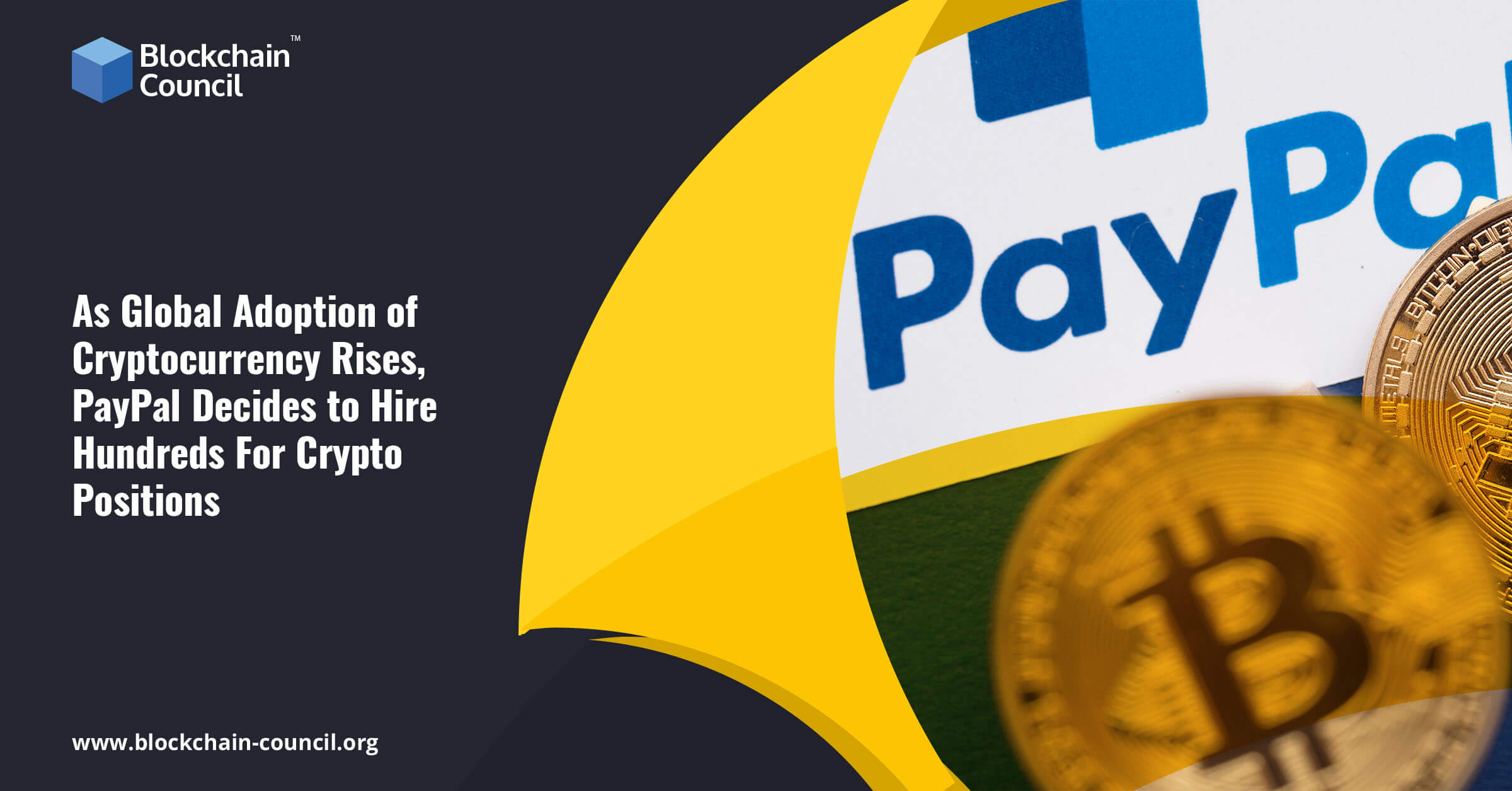 As the demand for cryptocurrencies continues to rise along with the soaring adoption rates in financial institutions and organizations across the world, PayPal, which is one of the leading payments giants globally, has decided to hire for more than a hundred positions related to cryptocurrencies. Dan Schulman, who is the CEO and President of PayPal stated that he is very pleased with the momentum with which cryptocurrencies are widely being adopted across the world. Hinting at future endeavours and expansion plans of the company, he also mentioned that PayPal will obviously be adding incremental functionality into the crypto space.

As the company is willing to expand into the crypto space, they are now hiring for more than 100 crypto-related positions in the company that will enhance their crypto services and offerings. According to the job postings on the website of PayPal, there are at least 102 job postings that were about vacancies for positions related to blockchain technology and cryptocurrencies at the time. 
The jobs are mostly for people who are residing in the United States. However there are different positions open in several different countries around the world. These countries include Tel Aviv where there are five different positions open, Ireland where there are six, one position open in Hong Kong, one open in Singapore and there are five openings in Guatemala City for Xoom, the online money transfer service from PayPal.
Majority of the positions are located and are available in the United States. There are twenty-two open positions in California. In New York, there are sixteen, thirteen open positions in Texas, nine positions in Arizona and in Illinois, there are 8. Less than five jobs are posted in each of the few other states. The positions range across different departments. PayPal is looking for crypto engineering managers, strategy managers, program managers, blockchain AML analytics managers, operation managers, investigators, crypto investigations specialists, crypto legal directors and crypto tax reporting managers. 
During the last earnings call, PayPal CEO Dan Schulman outlined several ways in which the payments giant is willing to expand their crypto services. He also talked about launching a "super app", expansion in the market of the United Kingdom, integration in open banking systems and third-party wallet transfers. 
According to Schulman, the company had garnered huge profits in the first quarter of the year. During the second quarter, he mentioned that, owing to the phenomenal rise in the adoption rate of crypto in financial institutions, organizations and businesses around the world, the company has seen growth rates in their revenue stream that was multiple times higher than what was initially predicted. 
The outstanding rate of business growth in the second quarter of the year has prompted the team to increase the crypto purchase limit to $100,000 on a weekly basis. On top of that, they have also completely eliminated the annual limit for purchasing crypto altogether. Previously the weekly limit was fixed at $20,000 which means that there has been an increase of 5 times that amount, which is a staggering hike. Even the annual purchase limit of crypto was fixed at $50,000 which is completely lifted now since they are offering double that amount not on yearly but on weekly basis. Therefore it is quite evident that the increase that has been made is extremely substantial, to say the least. According to experts, PayPal is looking for dramatic increases in their revenue as the crypto market is proving to be a really great revenue generator for the company. 
PayPal has been planning to extend into the UK market by this month and they are also planning to offer diverse services related to crypto to the global users. As announced by Schulman, they are intending to work on the architectural aspects of the crypto networks and develop the blockchain systems so as to provide optimum user experience during crypto transactions.
There is a rising trend globally among many central banks, regarding Central Bank Digital Currencies or better known as CBDCs, which are basically digital currencies rolled out by Central Banks themselves, and this trend is on a continual rise. So much so that even a year ago, analysts point out that globally there were around 40 banks that were probing into the matter of CBDCs and now that number stands at more than 100 banks, who are interested in adopting the system of digital currencies in future. PayPal wants to use this opportunity to the fullest possible extent and wants to play a pivotal role in the growth and evolution of this new technology. 
Recent reports have suggested that the number of global crypto users have surpassed 220 million in the month of June this year. What is more shocking is that the number had risen from 100 million to 200 million in just a matter of four months.