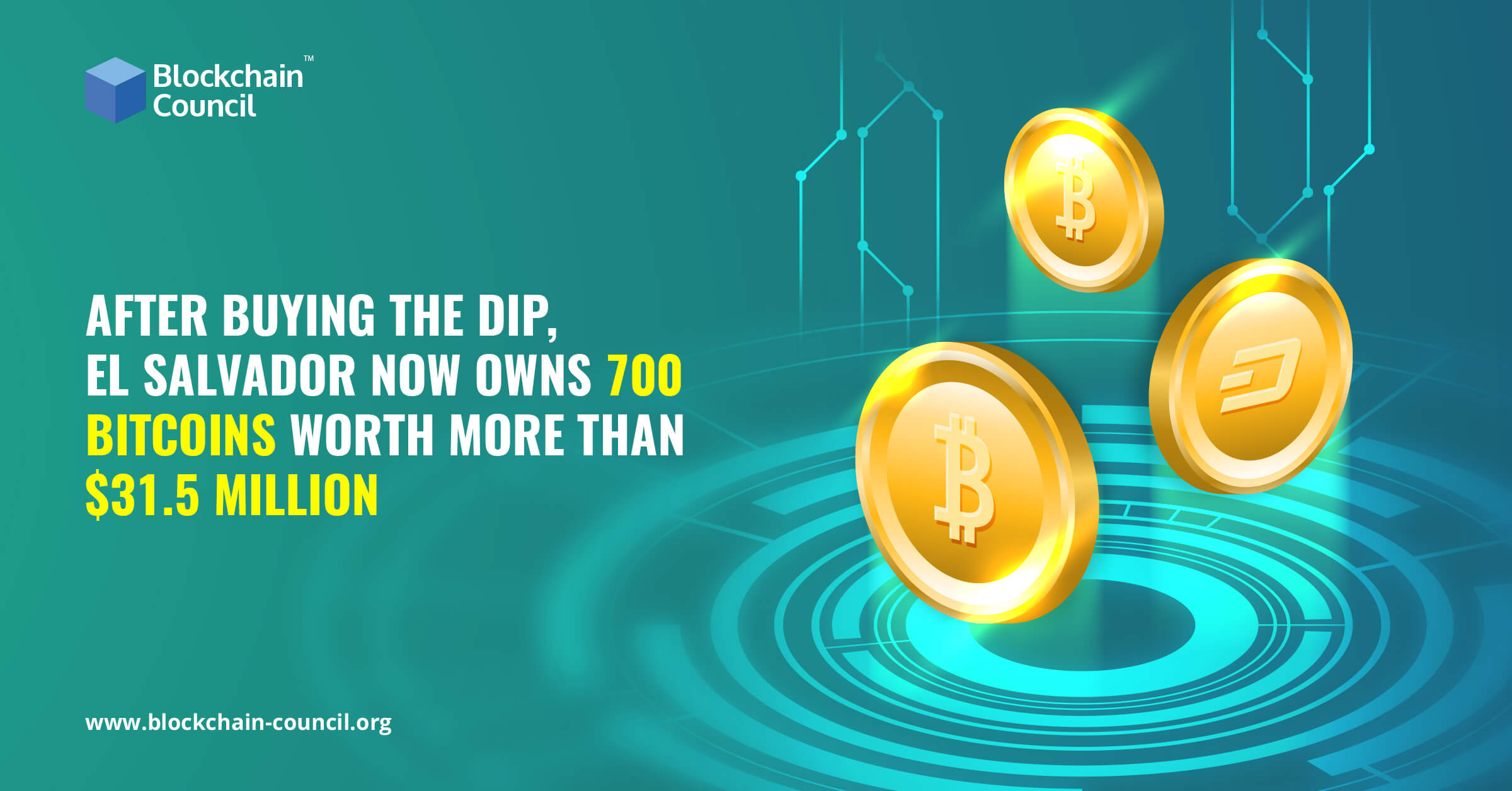 After having declared Bitcoin as the legal tender in the country of El Salvador, the country seems to be continuing to capitalize on the market opportunities of the biggest cryptocurrency in the world. The capitalization has been so straightforward and downright that the only silver lining in these days when the crypto prices are following a bearish pattern has been when the President of El Salvador, Nayab Bukele, who is also an avid crypto enthusiast, has purchased Bitcoins, stating that he has been "buying the dip".

On Monday morning, the price of Bitcoin had fallen below the level of the $46K mark, and right after that reporting, President Bukele had announced on Twitter that the country of El Salvador had taken part in this incident by "buying the dip" according to his words, and while doing so he has made sure that the country has added another 150 Bitcoins in their reserve, which was priced at a solid amount of $6.75 million at the time of purchase. This purchase has brought the total tally of the Central American Government to a total of 700 Bitcoins, which is now estimated to be worth over $31.5 million.
Presidential advice 🇸🇻

— Nayib Bukele 🇸🇻 (@nayibbukele) September 20, 2021
Along with the announcement that President Bukele had made on Twitter, he also added to it by sharing what he calls some "Presidential advice." It is a fact that it is not the first or the only time when the country of El Salvador has been seen purchasing Bitcoin when the prices are plummeting. The country had 400 Bitcoins in its reserve at the time when it declared that Bitcoin would become a legal tender in their country. El Salvador had managed to buy Bitcoin at two consecutive dips, and in doing so, they have significantly raised their reserve to 700 simply by purchasing at lower rates. 
However, even though the adoption of the biggest cryptocurrency in the world had made history for the country of El Salvador, it is a fact that the same did not happen for many of the world's leading financial institutions or even for the citizens of the country itself, for that matter. Moreover, according to the famous credit rating agency named Standard and Poor's Global, the rate of adoption of Bitcoin in El Salvador might have immediate negative consequences for the country's credit rating. 
According to them, this move from the country of El Salvador may have a direct consequence on their attempt to secure a loan worth $1 billion from the International Monetary Fund or the IMF, who also have been vocally criticizing the country's move to turn Bitcoin into legal tender. However, it must also be remembered that President Nayab Bukele is no stranger to crypto, and he has been keenly observing the events in the world of cryptocurrencies for quite some time now. Even back in the year 2017, President Bukele has been writing about crypto online, and because of this, many experts are of the opinion that he surely knows what he is doing.
Finishing thoughts: Are you interested in developing your own DeFi based applications and Cryptocurrency projects?
Learning Blockchain, Cryptocurrencies and Decentralized Finance (DeFi) applications are easy now, all thanks to highly esteemed online courses and training sessions from Blockchain Council, which is one such organization that offers amazing and effective online training and certification programs to aspiring trainees while rendering them desired competencies so that they have a successful career in the Blockchain space. Keeping the rising demands of blockchain professionals in mind, Blockchain Council certifications are diversified to meet each aspirant's discrete needs. They have a host of training and courses on DeFi and Cryptocurrencies that provide world-class knowledge and support.
To get instant updates about Blockchain Technology and to learn more about online Blockchain Certifications, check out Blockchain Council.