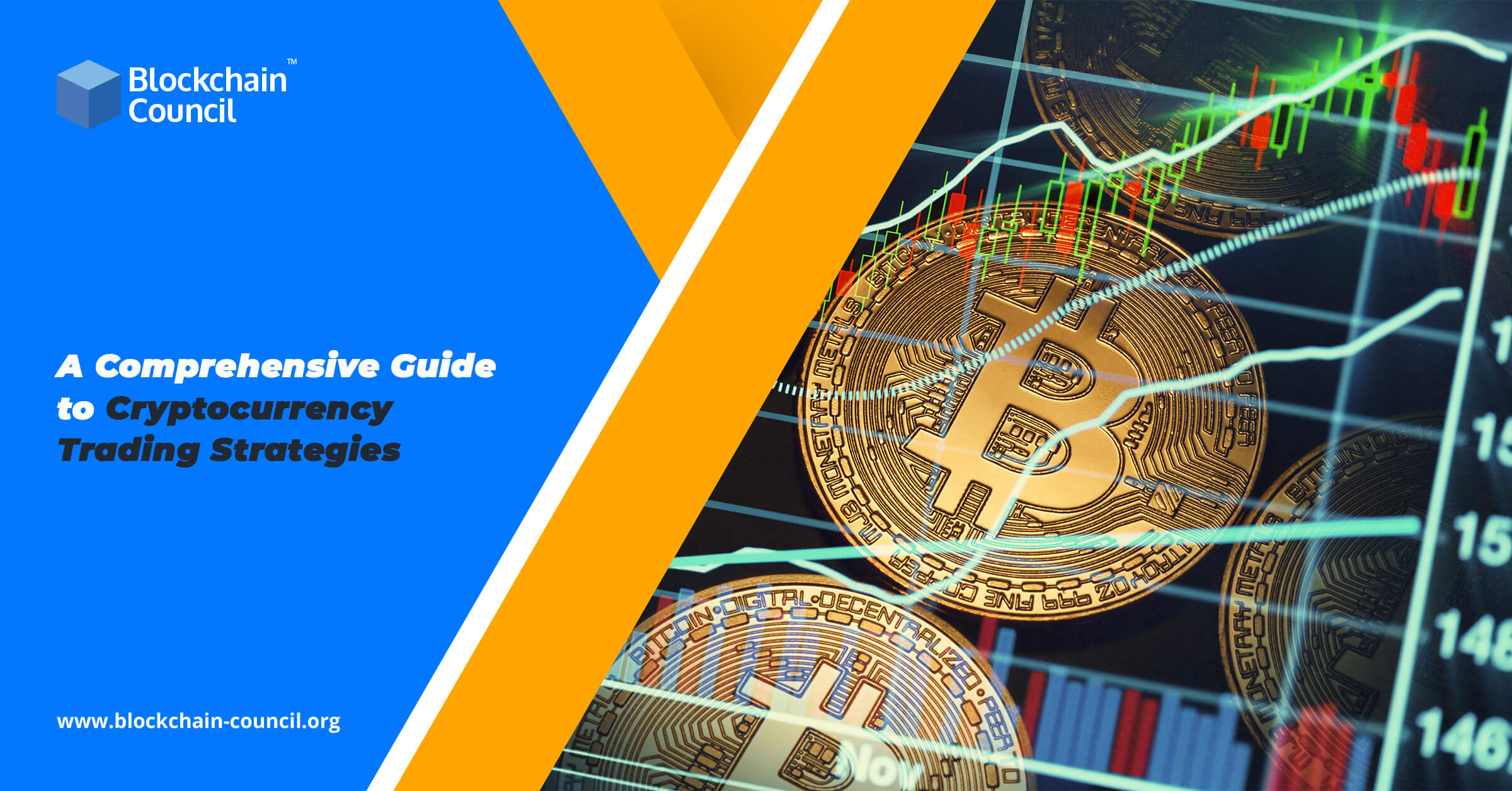 Are you a Crypto Enthusiast who wants to learn crypto-related trading strategies? Well, we have got you covered. This article talks about what crypto trading is, the most common trading strategies, and represents ways to learn the crypto market and trading strategies.

Table of Contents 
What Exactly is Crypto Trading?

Types of Trading Strategies 

Concluding Lines: Ways to Learn Cryptocurrency Market and Trading Techniques
What Exactly is Crypto Trading?
Cryptocurrency trading is the act of speculating on cryptocurrency price via buying and selling the underlying coins through an exchange. The market of Cryptocurrency is decentralized, meaning they run across a network of computers and are not backed by a central authority. The underlying technology behind Cryptocurrency is Blockchain which is a peer-to-peer, decentralized distributed ledger technology. 
Out of all the cryptocurrencies, Bitcoin is undoubtedly the first and most widely used one all across the globe and has the biggest market cap of $54,280.00 at the time of writing. 
Interested in learning more about cryptocurrency trading and becoming a Certified Cryptocurrency Trader? Get started today with Blockchain Council!
Types of Trading Strategies 
Scalping is a crypto-based strategy of taking advantage of small market movements, promptly entering and exiting trades during a day, or maybe even an hour or seconds. The major advantage of this technique is that it is relatively safer than other trading strategies. And since this strategy employs minimal time frames, therefore it is possible to exit the trade anytime, even in case if you have a series of bad trades. This technique empowers users to control how much they win and lose. 
While utilizing this strategy, the trader has to watch charts precisely and stay near the trading terminal in order to be able to react promptly to market change.
In comparison to day trading(that involves entering and exiting positions within the same day) and trend trading(that involves holding positions for a longer period of time), this trading strategy sits in the middle between the two. It holds positions for longer than a day(unlike scalping) but typically not longer than a few weeks or a month. This strategy uses a combination of technical and fundamental factors to formulate their trade ideas.  With this particular trading, decisions can be made with less haste and more rationality unlike day trading that requires fast decisions and speedy execution. 

This is another popular strategy for trading that is used widely. We can define automated trading bots as automated computer programs that can sell and buy cryptocurrencies independently. The primary purpose of such types of bots is to produce as much profit as possible for their consumers. The trading by these bots is done by constantly monitoring the market and reacting to the specific set of predetermined rules. Based on user preferences, these bots can analyze the various market criteria such as price, volume, orders, and others.
This one is the most common trading strategy in which a trader buys an asset when the price is low and sells when the price goes higher. 
Dollar-Cost Averaging (DCA)
Dollar-Cost Averaging (DCA) is a type of investment strategy whose aim is to lessen the impact of volatility when an investor purchases large financial assets like equities. In the UK, it is recognized as Pound Cost Averaging, whereas in the US, it is known as Constant Dollar. The major benefit of this trading strategy is that it eliminates emotional investing, reduces risks, and avoids bad timing.
In fundamental analysis trading strategy, traders use several different indicators to know if an asset is undervalued or overvalued. This strategy is used majorly by those traders who want to hold their assets for longer periods of time. The strategy is based on the idea that if an asset is undervalued, then its price and worth can be improved over time. 
Staking coins and tokens is the other technique that traders opt for. They perfectly align with the diversification goal, as they generate staking profits over time. The process is simple; you just have to buy them, lock them, and stake and become a validator node in their respective network.
The best part is that you need not require any additional maintenance, as after buying and locking the staking tokens, you can forget them until the next staking cycle. Also, you can sell them at any moment, and they don't devalue.
Concluding Lines: Ways to Learn Cryptocurrency Market and Trading Techniques
As we have explored some of the most common trading techniques, let's explore how to master the Cryptocurrency market and learn trading through online certifications. 
Certified Cryptocurrency Expert
This certification course provides an advanced level of training that provides you with profuse expertise on cryptocurrencies and digital assets. A cryptocurrency expert is one who has a wide knowledge of cryptocurrencies and the functioning of distributed ledger technology. He possesses expert-level knowledge about bitcoin protocols and can develop and integrate applications with the bitcoin network. The training covers all the fundamentals of Cryptocurrency, such as the concept of blockchain, Initial Coin Offering (ICO), educates how to trade, what to buy, wallets, and much more.
Certified Cryptocurrency Trader
This course is meant for you if you are one of those who wants to know all about trading rules and predicting markets. A Cryptocurrency Trader is a skilled professional who knows in-depth what Cryptocurrency is and how it works and uses the acquired knowledge to make new utility tokens and Cryptocurrencies. This certification is suitable for beginners and professionals who want to give their careers a boost specializing in cryptocurrency trading. This course will help you explore trading in-depth, understand risk management and trading psychology. Additionally, you will learn about candlestick charts and trading strategies. 
Online Degree in Cryptocurrency and Trading 
This cryptocurrency certification provides detailed information on cryptocurrencies, blockchain, the technology behind cryptocurrencies, the concept of trading, how to trade, and more deeply. An Online Degree holder works closely with cryptocurrency trading, investments, & crypto consultation. With the help of this course, you will also learn about spotting the current trends and analysis, which will definitely enhance your crypto-trading skills. After completing this Online Degree, you will be able to master the concepts of Cryptocurrency & trading that are commonly used across multiple industries to solve large-scale problems.
To get instant updates about Blockchain Technology and to learn more about online blockchain certifications, check out Blockchain Council.