Supply Chain Management is an umbrella term that covers a wide range of concepts related to the logistics of managing the entire manufacturing process of a product from sourcing the raw materials to the delivery of final goods. Efficient Supply Chain Management not only ensures timely delivery of goods to keep customers satisfied but also brings down costs for the manufacturer by reducing wastage.
Supply chain logistics is a complicated set of principles that are difficult to implement ideally because it is hard to coordinate efficiently between different entities involved in various stages of the chain. That's why blockchains can be very useful to successful supply chain operations as they allow the trust to be managed across the network. Let's take a look at some of the concepts like E2E in Supply Chain Management for a better understanding of how it functions.

How Can Supply Chain Operations Be Improved?
Since the entire manufacturing process consists of several steps along the way with different organizations, supply chain logistics involve a lot of paperwork. Usually, delays due to paperwork cost anywhere from 25-35% of the total delays in the process. The organization of cross-border paperwork has not seen any massive reworking since the mid-1960s. Blockchains can help reduce this paperwork tremendously and modernize this aspect of supply chains for more efficient execution.
Blockchains are especially useful in this scenario as they can help establish trust between different entities who are not familiar with each other. Typically, various entities involved in the supply chain do not like to share information with others in the fear that the information they shared could be used to undermine their business. By leveraging blockchains, these entities can share information on a case by case, permissioned basis. This eliminated the need for sharing all of the information while still making the shipping process more efficient. To have a clear understanding of how blockchain benefits supply chain, kindly refer to the image below: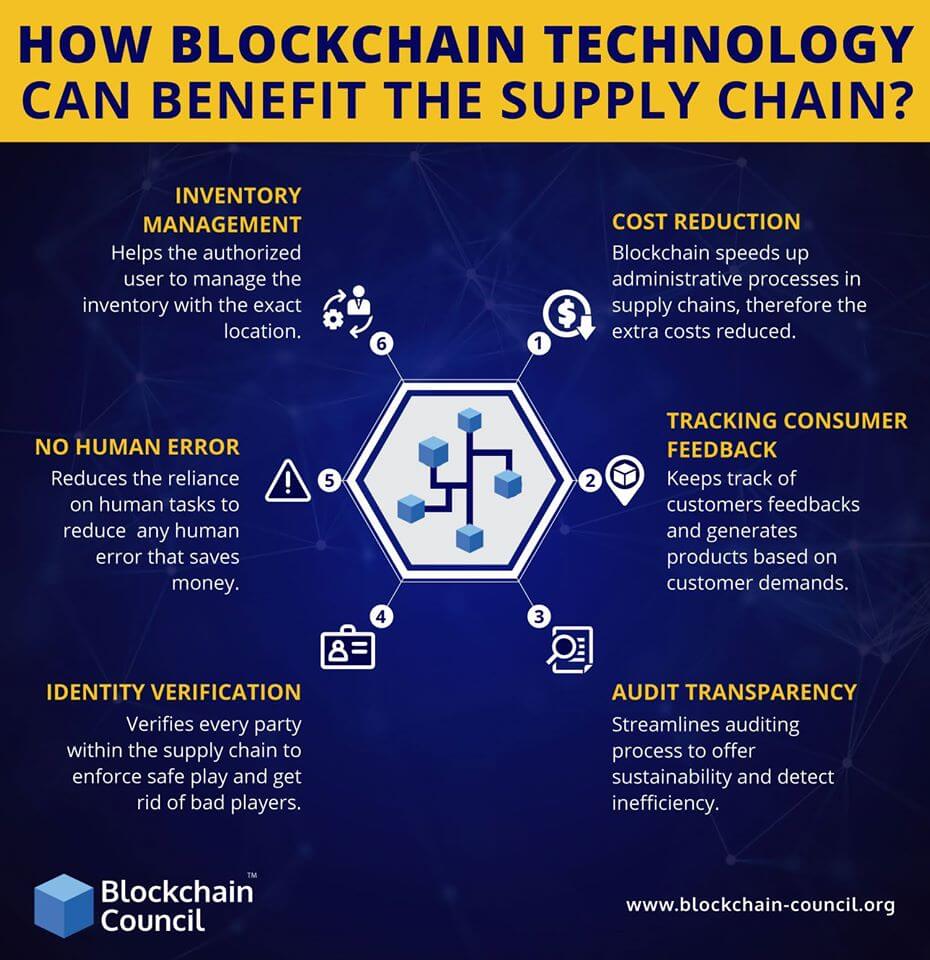 End to End: A New Approach
E2E or End to End supply chain management refers to the entire supply chain operation being designed so that there is greater interoperability among the different pieces of the supply chain puzzle. Lora Cecere, the author of the enterprise software blog supply chain Shaman, writes on her website that a lot of the companies get the fundamentals of E2E logistics wrong. She claims that while there is no doubt that these companies can benefit from E2E, they are just doing it wrong. E2E is very useful for big companies because it allows them to have much greater control of the workflow at any given time. If there is a team that is dedicated to the planning of E2E supply chains, it can make changes to the chain in real-time. For example, delays in one part of the shipment can be adjusted for in the following sections, such as comprehensive knowledge that exists with a team.
According to Cecere, businesses should instead begin with a clear goal in mind and refer to the following guidelines when designing their E2E systems: Companies should not get over-dependent on technology and use it without rethinking the planning architectures. In doing so, a certain amount of redundancy can be taken care of. Companies should be aware of the four distinct layers of planning functionality – strategy, tactics, operations, and executions. As these layers often work simultaneously and have different time horizons, planning cycles, and levels of data granularity, they can help with better planning.
For E2E systems, the supply chain begins at the channel and ends with the supplier. The flow of information, in this case, should go both ways. What most companies seem to get wrong is that they instead start in the middle, which makes for difficult planning further down the line. Each layer involved in the supply chain needs to be conscientious of the entire connection between the suppliers and the consumers and plan accordingly. This is called consumption logic. There needs to be consumption and synchronization between the layers.
Traditional supply chains comprise of individual, organizational silos that often result in constrained supplier relationships and inefficient performance. A holistic E2E supply chain system must integrate the entire revenue and expense streams. A complete supply chain's en-to-end view starts with supplier selection and management, and product design then moves on to scheduling, production, and distribution, and must also include after-sales customer service.
An effective E2E supply chain can be designed using an Enterprise Resouce Planning (ERP) system that includes top-level business processes such as Concept-to-Launch, Procure-to-Pay, Order-to-Cash functions, and Sustain-and-Retain and Hire-to-Retire human capital asset management processes that will help improve decision-making, organizational strategic planning and deployment, overall business growth, and workforce planning for providing a holistic view of supply chain operations.
The Best Practices of E2E Supply Chains
Customer demand planning that uses the customer's order history, market analysis, competitive landscape, seasonality, and other factors to help understand customer needs better, thus enabling a stable and predictable planning process. Human capital asset planning and management focus on an organization's strategic advantages and core competencies. It helps assess the current capacity and capability of the workforce with respect to strategic plans.
Inventory management through Lean principles to eliminate waste and reduce non-value added activities, thus helping reduce order fulfillment errors and lead times, thus improving customer perceptions of organizational responsiveness. A Lean Management System that deploys data-driven root cause analysis where everyone right from the intern to the CEO acts as a problem solver coupled with a stronger vendor and supplier collaboration can strengthen the ability of the organization to plan supply chain processes effectively and respond to changes with greater agility.
Conclusion
Supply chain systems are the lifeblood of any organization, irrespective of the industries they are used in. Everything right from the costs, quality, and delivery of a business's products and services to untimely profitability and return on assets to customer service and satisfaction. To know more about using blockchain for supply chains and to become a blockchain expert, check out the certifications offered by Blockchain Council.