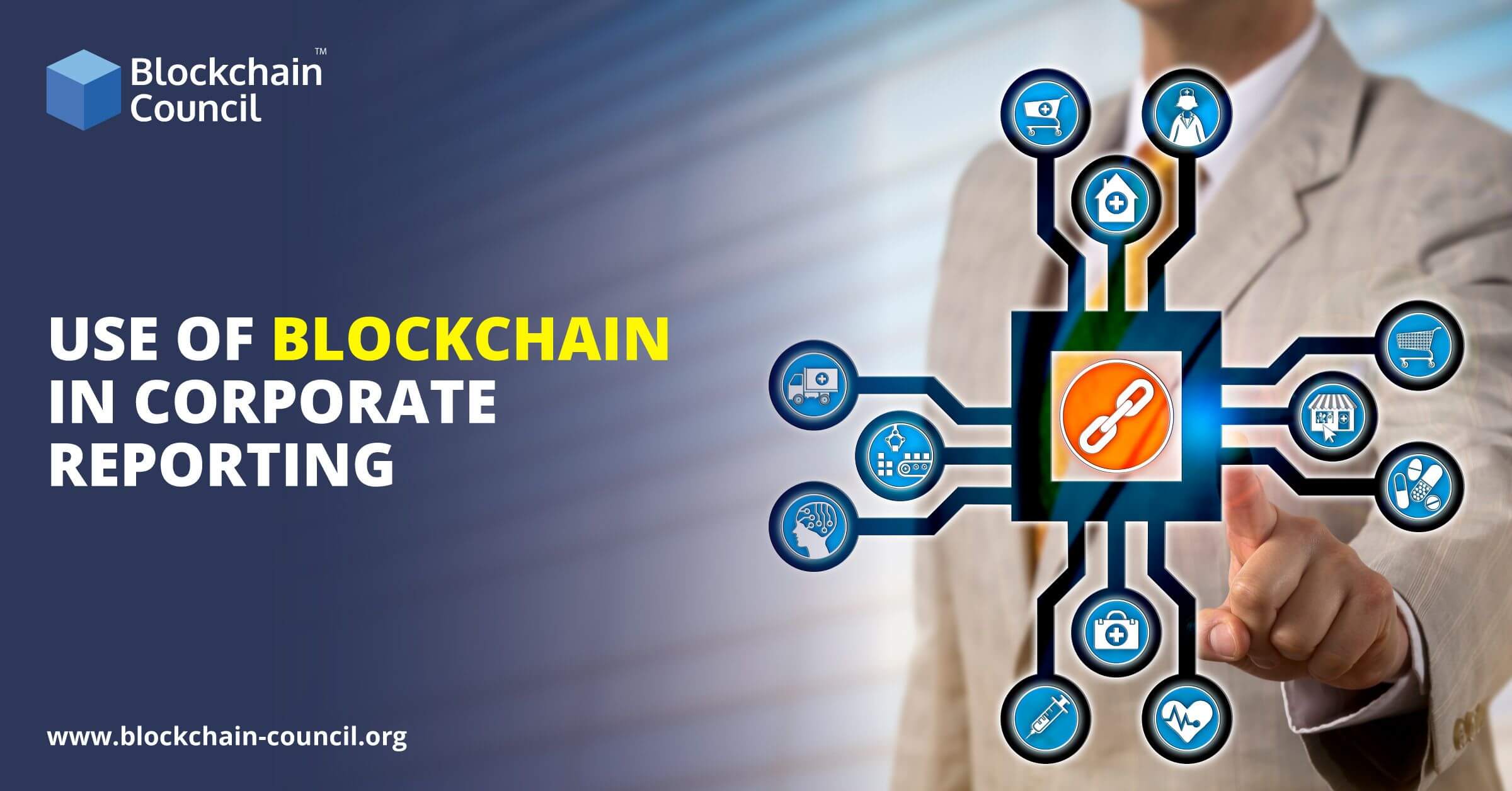 Wondering how Blockchain can be useful in corporate reporting? Alright, you have landed at the right page. In this article, we will explain what are the challenges in corporate reporting and how Blockchain can fix them.

Table of Contents 
What is Blockchain?

Challenges in Corporate Reporting

How Can Blockchain Help?

Conclusion: Does Blockchain Faces Any Limitations? 
What is Blockchain?
A blockchain is a shared database, or you can say a distributed ledger that creates a permanent record of transactions. It is a P2P decentralized distributed ledger technology whose purpose is to establish trust among untrusted parties by mitigating third-party involvement. Provided it has been designed and implemented correctly, it offers complete transparency, immutability, security, and privacy, unlike traditional databases. There is a myth-buster surrounding Blockchain, and that is all blockchains are the same. While many of the well-known blockchain iterations are undertaken on public ledgers, businesses are leveraging Blockchain uses private, permissioned chains to provide greater confidentiality. Technology has become the latest disruptive force that financial and reporting executives are considering when building their long-term plans. 
Challenges in Corporate Reporting
Corporate reporting is a process to create trust and transparency in a company's financial position through strict rules, regulations, and corporate communications ways. A fundamental component of reporting is an annual corporate report intended to give well-defined information to all involved people about a company's actions and financial performance during the prior year.
Now, as we have understood the concept of corporate reporting, let's figure out a few of its challenges.
Making corporate reporting engaging and flexible in a multi-stakeholder situation.

The expense and sophistication of transaction documentation and consolidation across multiple groups.

The challenge of finding a single source from which users can receive accurate, prompt reporting from companies across various jurisdictions and businesses.
How Can Blockchain Help?
As Blockchain is a P2P, distributed ledger, it allows every transaction to be spontaneously accessible to all the network participants. Having such a ledger ensures that records can never be destroyed/modified. 
The current corporate reporting system includes production, auditing, distribution, and consumption, and Blockchain can prove to be helpful in all these processes.
Production and Consolidation
The production phase includes recording and aggregating transactions and consolidating the desired information. The cost and difficulty of tracking and aggregating transactions from different entities from jurisdictions and consolidating the details are included in the processing of financial information. But Blockchain can provide a viable solution by providing a single structured location that enhances accessibility. 
Moreover, there can be issues with the difficulty of integrating financial details from multiple entities. This is because the process by which accounts are consolidated can be difficult, expensive, and time-consuming. For consolidation processes, blockchains could offer efficiency and reliability by acting as a central state ledger.
Auditing
Financial statements prepared by the companies need to be audited, and users have to trust the accuracy of that information as with the traditional process, the concept of trust is central. Due to its decentralized nature, Blockchain can prove to be helpful in confirming the accuracy of all transactions and balances by offering complete transparency. Technology also ensures that all the transactions stored on the network cannot be tampered and thus builds trust automatically into the company's accounting process.
Moreover, Blockchain can help with the validation and verification of transactions, tracking ownership of assets, providing traceable audit trails, and enabling automated audit processes.
Distribution
Companies are required to distribute information to their regulators, the markets in which they operate, and they have regulatory filing requirements for various parties across different jurisdictions. Blockchain's use in distribution could improve accessibility and immediate filing of multiple requirements of reporting at national and international levels.
Consumption
Companies want to access distributed information freely and smoothly. Blockchain technology intends to reduce the cost of reporting and act as a corporate communication platform that enables analysts, investors, and others to consume the information efficiently and effectively.
Conclusion: Does Blockchain Faces Any Limitations? 
Corporate reporting is basically an entity-based concept. But challenges remain in terms of costly yet inefficient reporting, error, and manipulation issues. Traditionally, where there has been a demand for aggregate systems, this can be done by requiring specific reporting by aggregating participants' reporting information to generate a single report, which is possible with the help of Blockchain.
But a single-entity blockchain, however, may suffer from various challenges. Foremost, there is no advantage unless the technology is chosen widely, and for its widespread adoption, there is a need for standardization, and sadly, at present, there is no standardized blockchain. Various chains are set up and function differently, which is not effective for investors. Compatibility is needed for investors, so they will not want to find out how different blockchains operate. 
For achieving Blockchain's standardization to support interoperability and data exchange among participating parties, more collaboration is needed. Apart from this, scalability and the need for regulations are other issues that Blockchain has to deal with. 
To get instant updates about Blockchain Technology and to learn more about online Blockchain Certifications, check out Blockchain Council.