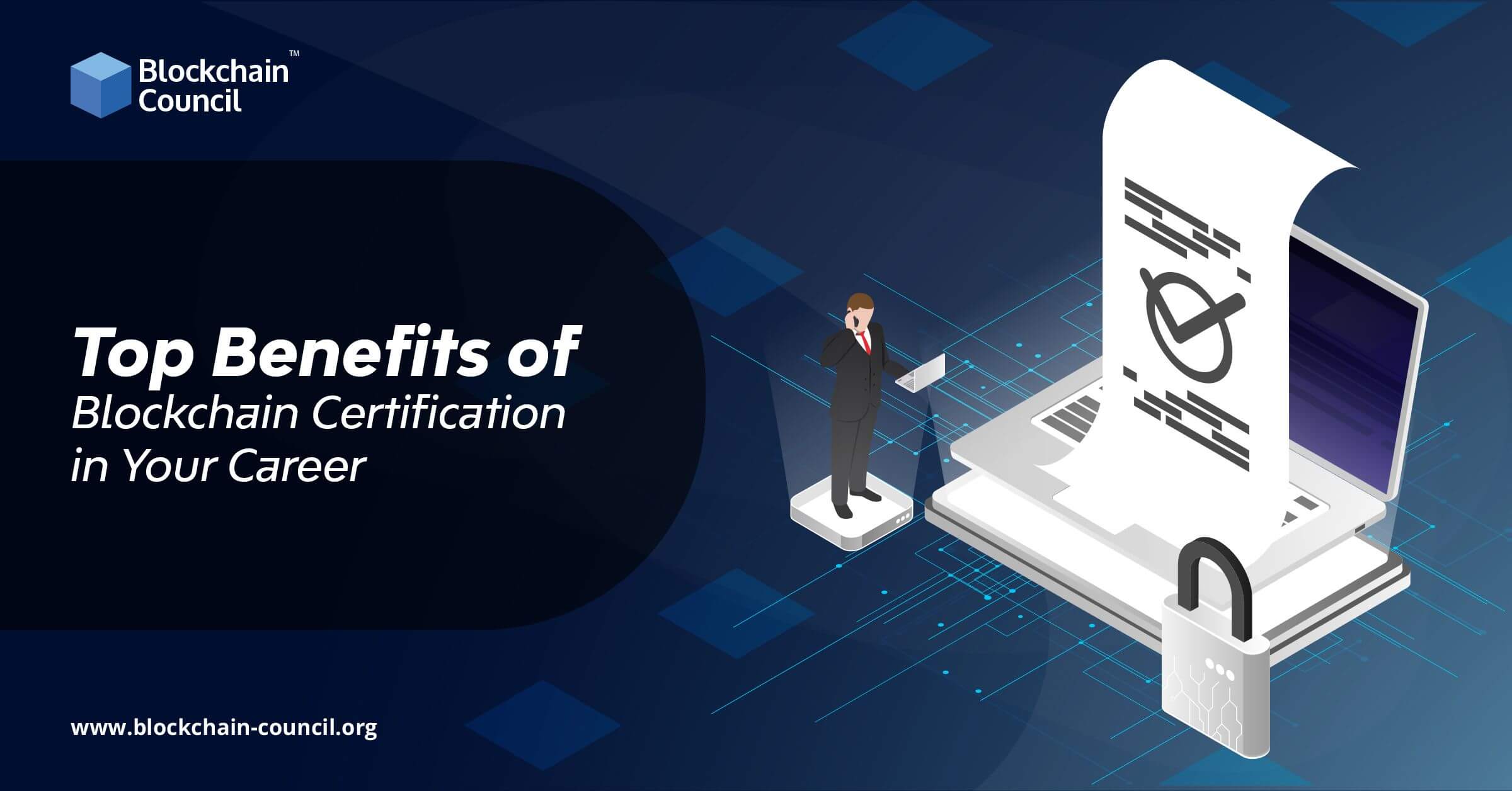 Are you confused if a Blockchain certification can take your career to the next level? This article enlists the top benefits of Blockchain certifications that will help you clear your doubts. 

Table of Contents 
Overview 

Benefits of Blockchain Certifications 

Concluding Lines: How to Become a Certified Professional?
Overview 
At present, Blockchain is considered one of the most revolutionary technologies as it transforms the way we interact, transact, and share information. Many technocrats and Blockchain Experts also believe that it is going to be the most disruptive technology in the next decade. Blockchain's concept of decentralization has brought finance, supply chain, healthcare, logistics, and many others closer to transparency, freedom from intermediaries, and heightened efficiency.
Today, this technology is not only used by tech giants, enterprises, federal agencies, and even startups have started adopting Blockchain. In fact, they are looking for Certified Blockchain Experts and are considering certified professionals over the non-credential peers.
Benefits of Blockchain Certifications 
In this section, let's explore some of the major benefits of Blockchain Certifications.
It is emerging as one of the favorite technologies of businesses of all sizes
There is no denying the fact that today Blockchain is emerging as one of the favorite technologies of businesses of all types and sizes. Before COVID-19, many organizations were already interested in digital transformations. The pandemic situation accelerated the pace of digital capabilities across the globe, while others implemented digital capabilities for the first time as a matter of survival. 
Large, well-established companies and crypto-startups are choosing Blockchain as a secure and transparent network for their efficient business operations. This adoption rate indicates that the job market for Blockchain enthusiasts would continue to expand in the years to come. 
Such Certifications help aspirants gain an in-depth understanding of technology, including its technical and functional aspects, and strengthen professionals' portfolios. 
Rising trend of job opportunities
According to the exclusive report by MarketsandMarkets published in May 2020, the Blockchain market size is expected to grow from USD 3.0 billion in 2020 to USD 39.7 billion in 2025. This suggests that the job market will see rapid growth internationally, and Blockchain developers and other related professionals will be in great demand. Some of the prominently demanded roles in this domain include Blockchain Experts, Architects, Ethereum Developers, Smart Contract Developers, and much more. These Certifications help individuals to prove their Blockchain skills & understanding, gain an in-depth understanding of technology & its implementation, implement their skills across any applications and build their own Blockchain enterprise with acquired knowledge.
Certifications can help people make better investments and trading in cryptocurrency
According to the Cambridge Center for Alternative Finance, cryptocurrency users have tripled from 35 million people in 2018 to 101 million people in Q3 2020. A study conducted by researchers from the United Kingdom's Financial Conduct Authority also revealed a 78% increase since 2019. Also, in October 2020, when Paypal announced that it would be introducing crypto transactions, it was reported that it was the best quarterly return in PayPal's history. Interest in digital assets is booming. 
Thus a comprehensive understanding of Blockchain through certifications can help you make better investments and trading in cryptocurrency. Cryptocurrency certification will enhance individual confidence and provide them with the necessary skills for better hiring opportunities as well.
Exceptionally high salaries of Certificate Holders
The salaries of Blockchain professionals are skyrocketing. In fact, it is the most demanding skill at present. 
According to Glassdoor, the national average salary for a Blockchain Developer is $1,01,689 in the United States, and the national average salary of a developer is ₹5,07,137 in India. Glassdoor also reports that the average salary of a Developer is £50,137 in London, UK.
But to earn high salaries, it is important to have the right skills in this space. Certifications help you with the right set of skills so that you can adapt perfectly to the rising trend of job opportunities in this space.
Blockchain Council, a globally-recognized online platform known for imparting world-class training with its own market research, found that people with the right skills and certification, on average, make 30% more salary compared to equivalent job profiles.
It is the technology of the future

.
Many technocrats and Blockchain Experts believe that it is a technology of the future. As large enterprises such as IBM, Microsoft, Apple, Google, and many more are incorporating decentralized technologies into their business models, it is clear that this technology is going to bring significant change and evolution. This represents another exceptional reason to pursue Blockchain certifications.
Concluding Lines: How to Become a Certified Blockchain Professional?
We have talked a lot about the benefits of Blockchain certifications. Such certification benefits are not limited to exploring jobs, but they also help build confidence and ensure a competitive advantage over other players in this space.
If you are interested in learning and upgrading your skills, you can get enrolled in Blockchain Council and become a Certified Blockchain Expert. Backed by the extensive practical-based sessions, this online organization offers online training and certifications to aspiring trainees to render the desired competence to have a successful career in the Blockchain space. 
So what are you waiting for? Get enrolled now!
To get instant updates about Blockchain Technology and to learn more about online Blockchain Certifications, check out Blockchain Council.