Choosing the right blockchain platform for your project can be a daunting task. In this guide, we are enlisting the top 5 blockchain platforms of 2020 for building blockchain-based applications.

Learning of Blog
Introduction to Blockchain Platform
Top 5 Blockchain Platforms of 2020
Conclusion
Introduction to Blockchain Platform 
With the increasing demand of blockchain, a distributed ledger technology, everyone has started to experience its potential in almost all domains. With the growing popularity of blockchain, blockchain platforms are gaining equal popularity. Blockchain developers are finding this technology attractive for bringing a new revolution in the digital era.  Now, what exactly are blockchain platforms?
Blockchain platforms enable the development of blockchain-based applications that are in great demand and useful for businesses and enterprises. Blockchain can be either permissioned or permissionless. The blockchain platforms such as Ethereum, Hyperledger, R3, Ripple, and EOS  are used widely by enterprises, startups, and SMEs.
Want to get in-depth practical knowledge in blockchain technology? Become a Certified Blockchain Developer now!
Top 5 Blockchain Platforms of 2020
Here is a list of best blockchain platforms where you can develop your blockchain applications.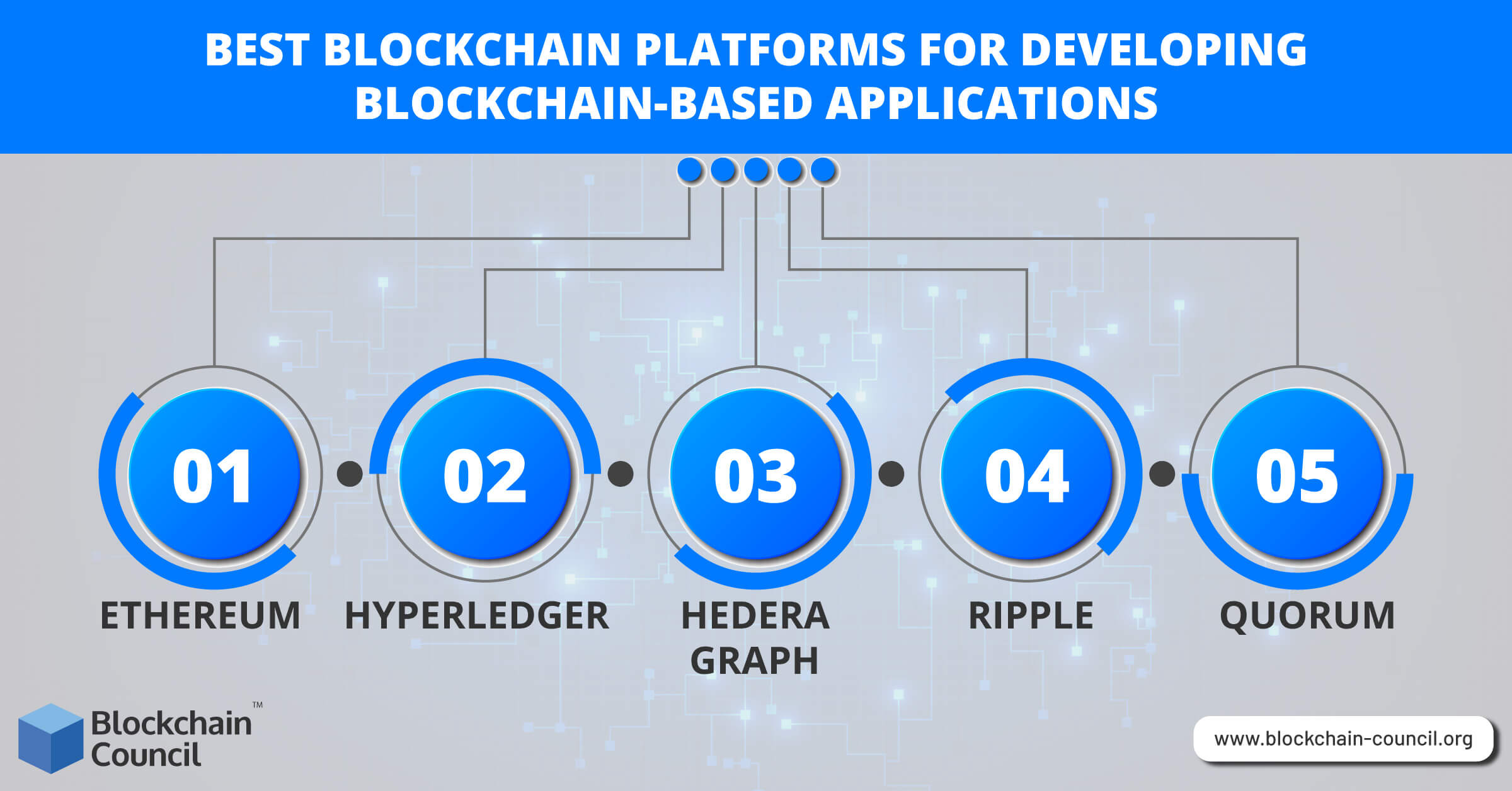 Ethereum 
Proposed by Vitalk Buterin, a Russian-Canadian programmer, it is an open-source blockchain platform, that is known for running and executing smart contracts on the custom-built blockchain network. It is one of the most known blockchain platforms as it allows developers to develop their own decentralized apps(dApps).  It follows a PoW (Proof of Work) consensus mechanism, which is comparatively slower in speed. But Ethereum might completely switch to Proof of Stake(PoS) consensus algorithm soon. Unlike the Bitcoin protocol, Ethereum facilitates secure trading of smart contracts and cryptocurrency.​
Hyperledger
Hosted by the Linux Foundation, Hyperledger is an open-source global collaboration that lets users create and develop enterprise-grade and distributed ledger frameworks to support business transactions and to advance cross-industry blockchain technologies. This known blockchain-based platform comes with several free tools and frameworks that allow Hyperledger experts to build their blockchain-based solutions. It came into existence in 2015, and now today, it has almost 15 new projects under it, although at present, only four of them are active.
Hyperledger is categorized as Hyperldeger Sawtooth and Hyperldeger fabric. Along with other differences such as security, privacy, consensus mechanism, the major difference between them is Hyperldeger Sawtooth supports both permissioned and permissionless blockchain networks, on the other hand, Hyperledger Fabric support only permissioned blockchain networks.
Looking for Hyperledger online training? You are just a click away.
Hedera Graph
This blockchain platform allows developers to build an entirely new class of dApps that are scalable. It has the capability to handle hundreds of thousands of transactions per second and authenticate more than one million signatures per second and offers the strongest level of security. Whether you are running a startup or an enterprise, this blockchain-based platform goes beyond blockchain for developers and help them to create fast, fair, and secure applications. It uses asynchronous Byzantine Fault Tolerance as a consensus mechanism.
Ripple
It is an open-source blockchain platform that is designed to allow fast and cheap transactions. It is not just a platform but a cryptocurrency known as XRP, but it also allows people to create their own currency via RippleNet. RippleNet enables users to find new customers in new markets, expand services, and deliver the best experience in global payments. Unlike traditional transaction methods, this platform aims at making the transaction process easier and quicker, especially for cross-border payments, thus creating a better ecosystem of growth and development.
Quorum
Quorum is an open-source platform designed to enhance privacy. It is an innovation based on Ethereum, developed in partnership with J.P. Morgan and EthLab, an Ethereum startup. It modifies Ethereum's core and, therefore, has much more exceptional added on features than the traditional blockchain technology. It can incorporate the Ethereum updates seamlessly and quickly. This blockchain platform supports pluggable architecture where a different consensus implementation can be plugged as per the need. It offers transaction-level privacy, along with network-wide transparency, and does not support global data sharing policy. Presently, Quorum blockchain is becoming an indispensable part of organizations such as banks and financial institutions where data privacy is crucial.
Conclusion 
Before deciding a blockchain platform, understand what type of blockchain do you need, how popular is the chosen platform, what kind of scalability does your solution need and ensure whether your preferred blockchain platform supports smart contract functionality or not. Although there are plenty of blockchain platforms available across the world, enterprises need to understand the right platforms to build highly scalable applications.
To get instant updates about Blockchain Technology and to learn more about online blockchain certifications, check out Blockchain Council.