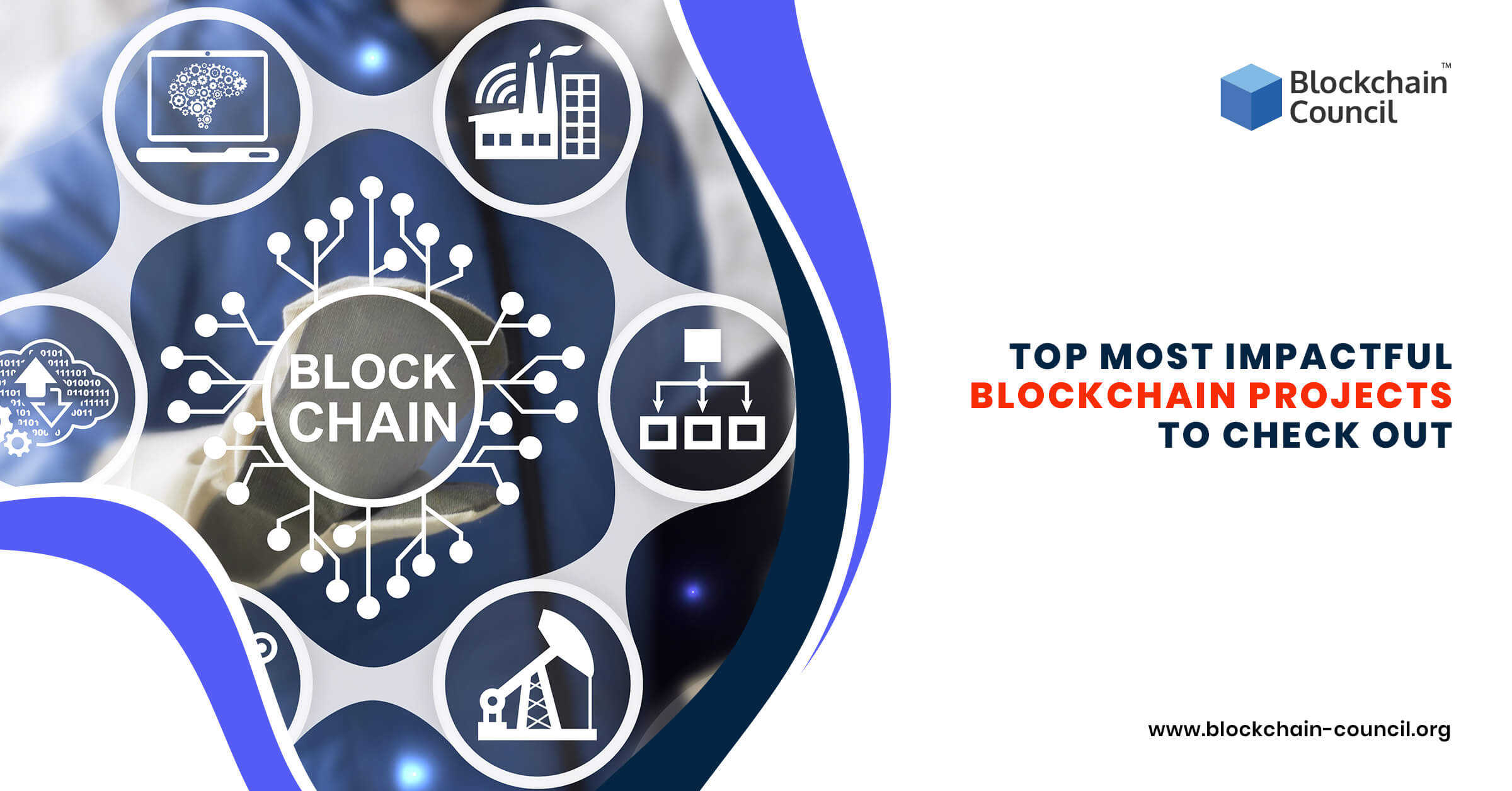 Interested in learning Blockchain technology? Wondering what the top most popular Blockchain projects to consider are? You have landed on the right page. This article talks about some of the top Blockchain Projects that will help you gain a better understanding of Blockchain technology.

Table of Contents
Boom of Blockchain 

Top Blockchain Projects of 2020

Concluding Lines
Boom of Blockchain 
The advent of Blockchain has taken the world by storm, and since then, thousands of new companies, including tech giants and startups, are working on aggressively discovering and implementing more use cases of the technology. Various projects are emerging and impacting people worldwide in a positive way. This does not mean that these projects are ending hunger but rather that they have genuine use cases that provide massive value to their communities. Even two of the major players, Amazon and IBM, have both pioneered blockchain solutions suited for direct and indirect consumers. This article highlights the few most encouraging blockchain-built innovations that you should know.
Interested in learning Blockchain Technology? Looking forward to Blockchain Certifications and training sessions? You are just a click away!
Top Blockchain Projects
In this section, let's explore some of the top Blockchain projects that will help you better understand this technology. 
Zelwin
Zelwin says, 'make purchases and earn money.' It is the first peer-to-peer online marketplace that allows stakeholders to make money. Zelwin offers a loyalty reward system where buyers are allocated ZLW tokens for every purchase they made, which can be transferred or saved as per buyers' choice. Recently, at the end of September 2020, the platform announced the launch of a new gaming service named zelwin.games.It was noted that the platform has already signed a cooperation agreement with the Allwin decentralized finance project and released the first game for the ZelwinGames platform.
The platform offers several ranges of goods that buyers and sellers can trade-in irrespective of their geographical location.  
KARMA 
Through the EOS blockchain, the Karma app was introduced in the year 2019 with an aim to provide a decentralized-based social network that promotes users to "do good" and document that good work online. This is one of the most used crypto apps that allow users to earn crypto by posting valuable content in a simpler way. All you have to do is sign up with your existing accounts like Email or Facebook and join KARMA, create a profile, and share content and earn KARMA for every like you receive. Moreover, you can also utilize this app to promote your content and get more attention.
AIDChain
AIDChain provides an ecosystem of services uniting the non-profit community while providing complete transparency and traceability of donations through a user-friendly interface. It allows websites to embed a widget into their website and accept donations in any crypto form. Any donated crypto is transferred into an AID token, which is also a stable coin.
It allows the internal exchange to convert major cryptocurrencies into AidCoin, a built-in wallet to store and donate, an explorer to track and trace donations, and tools to connect donors and smart contracts templates to operate fundraising operations.
Crypto Village Accelerator
This project has experienced tremendous growth in the past few months. Crypto Village Accelerator is a Blockchain project accelerator that aims to protect investors' capital, eliminate scams, and bring the best projects to market. It aims to eradicate scams and allow its users to grow financially. It follows two essential sights, such as it favors the speculators with a security system and budget widening and provides the best ventures toward raising capital and immediately arriving at the objective market. The platform is making rapid progress, and the entire ecosystem of platforms and services is expected to be rolled out shortly.
Augur 
Augur is a global, non-limit betting platform. It is a peer-to-peer, decentralized, transparent exchange with no max limits on the amount to bet with speed and ease. The best part of using this platform is that there is no single entity that controls the protocol, and therefore, it doesn't take a cut. It is a leading Ethereum project that can help you gain decentralized platforms and prediction market protocols. Compared to other platforms that are generally restricted to sports and politics, Augur markets on everything and charges less than 1 percent.
Concluding Lines
Blockchain is making a lot of these days because it not only slash the cost of transactions but can also reshape the economy, and it goes far beyond that. 
So, prepare to gain new skills and equip yourself by implementing one of these blockchain projects. If you are interested in learning Blockchain technology and become a Certified Blockchain Expert/Developer, we are here to assist you. 
Blockchain Council, a globally renowned online organization, offers most on-demand certification courses in the Blockchain and Crypto space. So what are you waiting for? Get started today!
To get instant updates about Blockchain Technology and to learn more about online Blockchain Certifications, check out Blockchain Council.