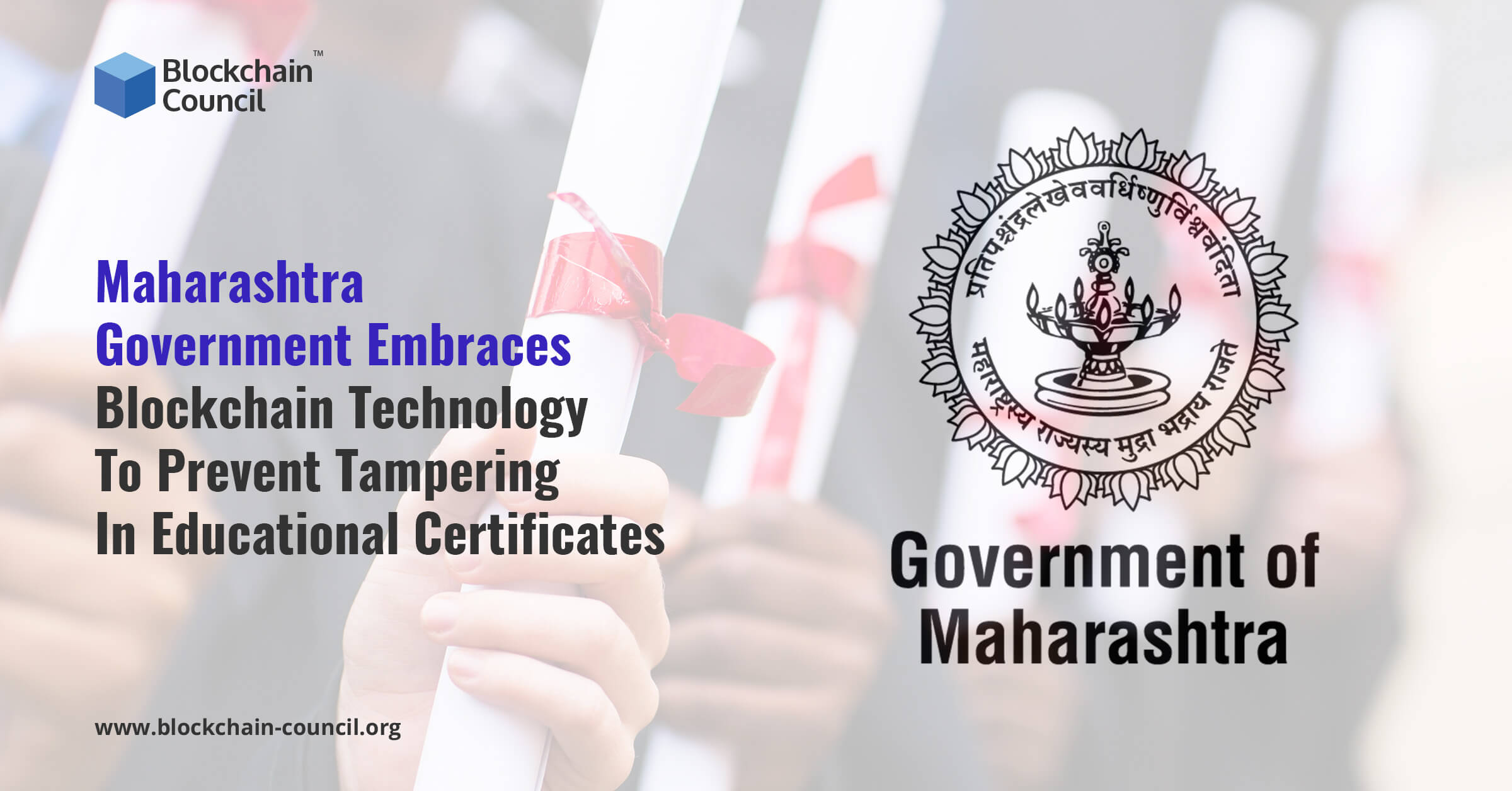 There is no denying that the world has been advancing leaps and boundaries when it comes to technological developments. The developments that we have achieved in the last couple of decades are simply phenomenal to think of. But then again, it is a true fact that these advancements do not come without their fair share of challenges. For instance, no matter how unfortunate it is, we have always seen that there are such miscreants who utilize these technologies to suit their vested interests.  

For instance, many of us have been witness to incidents, or rather this is a commonplace activity where we see people using sophisticated graphic tools so that they can forge documents that are mostly paper-based. However, the Maharashtra Government has announced that they will be taking appropriate steps to make sure that these incidents can be prevented from happening any further. For this reason, they have partnered with LegitDoc, which is an Indian Blockchain Startup, and through this partnership, the Maharashtra government has established faith in the new age technology of Blockchain in their attempts to fight such fraud and misuse of technology. This partnership will mainly help the government of Maharashtra to issue tamper-proof certificates of diplomas. 
This innovative step by the Maharashtra government is a bold one indeed, mostly because they have taken this decision at a time when the Union government is still pretty confused on their stance on blockchain technology and cryptocurrencies, on whether to ban or legalize them. This state of the art technology simply ignores solutions that are created on a centrally controlled architectural platform, for instance, DigiLocker. Solutions like that generally consist of a single point of failure despite the level of protection embedded in the system. 
However, this initiative from the Maharashtra Government comes right after a similar initiative taken by them only sometime back when the Maharashtra government officials partnered with another Indian blockchain startup named Polygon Network with the aim of tracking the RT-PCR Test results. These consecutive incidents only reaffirm the increasing popularity of blockchain technology in today's world.
The partnership between the Maharashtra State Board of Skill Development, which is also known as the MSBSD, and the Indian blockchain startup LegitDoc, will eventually enable the Board to tackle one of the most persistent problems of the Indian education system and that is the forgery of documents. The MSBSD intends to issue more than 10 lakh certificates that are tamper-proof, through the use of Blockchain technology.
The Indian startup LegitDoc takes pride in providing innovative, essential, and legitimate technologies that will help people in various ways, such as this one. In this case, they will be using a proprietary algorithm that they have developed on the popular Ethereum blockchain, and that is how they will be issuing documents and verifying them as well. 
In due course of the aforementioned process, the issuing department will initially develop and generate a certificate in the form of a PDF, and after that, they will assign a unique fingerprint to that particular PDF. For every single batch of certificates, the system will be generating a condensed fingerprint. After this process is over, the certificates will gradually be uploaded on the Ethereum blockchain, as against the public key, which will be securely kept with the issuer.
In addition to this entire detailed process, LegitDoc will also be generating a proof file based on the Ethereum blockchain for each and every single PDF that has been generated, and needless to say, this proof file is based on Ethereum is a unique one. The corresponding proof file, along with the original PDF, will then be securely compiled in a zip file belonging to LegitDoc. Finally, these zip files can be easily sent to a portal that is meant for verification, and there on that portal, the users can actually compare them in order to check the authenticity of the documents. 
The Indian startup, LegitDoc, is also in discussions with other governments of States in order to apply similar solutions. 
Finishing thoughts: Are you interested in developing your own Blockchain based applications and changing the world?
Learning Blockchain, Bitcoin and other cryptocurrencies are easy now, all thanks to reputed online courses and training sessions from Blockchain Council, which is one such organization that offers amazing and effective online training and certification programs to aspiring trainees to render them desired competencies so that they have a successful career in the Blockchain space. Keeping the rising demands of blockchain professionals in mind, Blockchain Council certifications are diversified to meet each aspirant's discrete needs. They have a host of training and courses on Bitcoin that provide world class knowledge and support.
To get instant updates about Blockchain Technology and to learn more about online Blockchain Certifications, check out Blockchain Council.