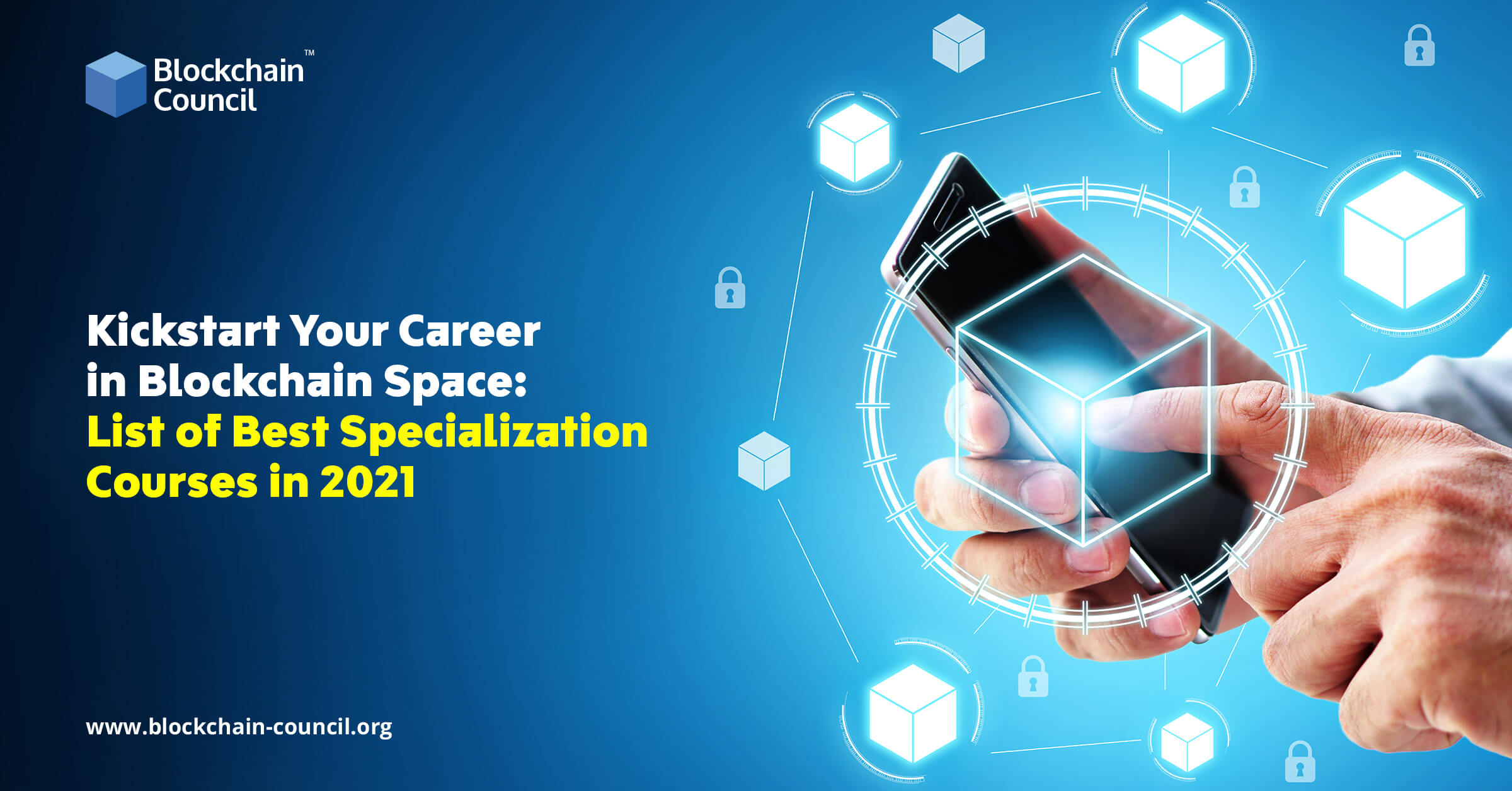 2020 has been a year of Blockchain. The high package salaries of such professionals indicate that this technology is no more a new buzzword. Tech giants and enterprises have started adopting technology, and for that, they are hiring skilled professionals. The major reason why jobs in this domain are paid so highly is because this space is young, and people with any experience in the space are rarely few.

If you are looking for the most-demanding certifications in this space, you have landed on the right page. This article includes the details of the most popular, top-rated specialization courses ideal for beginners and professionals looking forward to pursuing a professional career in this domain.
Best Specialization Courses to Become a Blockchain Professional in 2021
With any further delay, let's enlist the best specialization courses that will help you acquire a futuristic career in 2021.
This is another comprehensive online course and training program to become a Certified Professional in law domain. This particular training is primarily directed to guide an individual in creating solutions that can influence all the aspects of the law and deals with the assimilation of knowledge on how technology can be leveraged to speed up and streamline the process of tracing digital documents for evidence and automate the agreement process using smart contracts. You'll be benefitted from:
complete fundamentals of DLT

its advantages in law

its use-cases such as Chain of Custody, Litigation, and Settlements, and much more.
As technology poses incredible benefits to HR professionals in talent management, verifying the accreditation of potential hires, safeguarding employee health records, and performance evaluation, this certification is in huge demand. Tech giants and organizations are looking for skilled HR professionals who understand this technology profoundly. 
This is another comprehensive and hands-on course to learn this technology in the HR domain. The course provides a complete overview of this technology, technology's impact on human resources, and its varying use-cases. It educates learners to gain an accurate picture of the employees' overall performance and business, in general, using this futuristic technology. The best thing about this specialization course is that it covers almost every vital concept needed to become a pro in this particular sector. 
This is a globally acknowledged certification that helps learners to gain an in-depth understanding of the Blockchain for KYC Procedure and implement skills to optimize KYC Procedure. After completing this course, you will be able to implement Blockchain's understanding to speed up and simplify the process of digital identity verification, cross-border payments and to identify frauds in banking and other financial sectors. Acquiring this certification in your resume of the LinkedIn profile will help you showcase your skills and experience.
Informative and well-structured, the course is ideal for all those whose interest revolves around digital marketing. 
This is a unique training and certification specially designed to demonstrate how this technology can revolutionize digital marketing. This course covers all its fundamentals such as blocks, wallets, and addresses, public and private keys, Merkle Tree, and hashing, cryptography and algorithms, and much more. Moreover, it teaches how digital marketing will benefit from this technology and its various use-cases. The course will render expertise on eliminating digital marketing middlemen, eliminating online ad fraud, building trust, and transparency while giving customers full control of their information with the use of DLT.
This Digital Marketing Professional training will prove your USP and act as a catalyst to accelerate your career growth.
Through this outstanding course, you will be able to learn how DLT has the power to bring about a major breakthrough in the healthcare industry, especially in terms of Health Information Exchange, by improving data integrity, regulatory compliance, and privacy. The course details various problem statements such as Drug Counterfeiting, Clinical Trials, and Healthcare Records Management, focusing on technology fundamentals and its various use-cases in the healthcare domain. The course will help you learn about healthcare business needs, technology's role in healthcare, and how to build DLT-based healthcare systems.
Although anyone can avail this certification, this is best suited for system administrators, architects, developers, network security architects, cybersecurity experts, and IT professionals.
This certification aims at imparting a complete understanding of Blockchain's inherent security features and associated risk, in-depth knowledge of best security practices for DLT infrastructure, exploration of known cyber-attacks, ability to differentiate between various cyber-attacks and threats, and teaching how to transfer or mitigate security risk.
This program will solidify your basics and advance your knowledge in the featured topics and make you capable enough to handle relevant complex issues. This course enables you to implement your skills in any applications and build your own Blockchain enterprise with acquired knowledge. 
We all know that DLT has its implications in the supply chain domain for a long time. At present, the demand for DLT-based supply chain experts is surging. Such experts implement the understanding of Blockchain to increase revenues and decrease costs while improving overall quality.
This certification will offer you an in-depth understanding of the mechanism for blockchain technology functioning that will help you integrate this technology with supply chain management. By the end of the course, you will be able to create solutions that can impact all the facets of the Supply Chain.
This training is primarily directed to guide an individual in creating solutions that can influence all aspects of finance and deals with the assimilation of knowledge on how this technology can be leveraged to speed up and streamline the procedure of cross border payments and to reduce the cost undoubtedly.
Here are the key things you will learn in this program:
Overview of financial management and challenges in the financial system 

Understand the core concepts of technology and its ecosystem

Role of this technology in Financial System 

Vendor Perspective about Blockchain and its advantages in finance services

Use-cases including cross border payments, syndicate lending, digital identity verification, and trade finance 
Concluding Lines 
The Blockchain Specialization courses mentioned above are crafted by Industry Experts to make the scholars efficient in handling the different verticals of blockchain technologies. The best part about these courses is that they require no prior knowledge. After completing, learners will be proficient enough to engage with business executives and offer practical solutions for their specific needs. 
Blockchain Council gives you an opportunity to learn from top experts around the world, and courses are uniquely curated for professionals by premiers of multifarious industries. These are self-paced training ranging from 4 hours to 6 hours that require your attentiveness. It is as easy as it sounds.
To get instant updates about Blockchain Technology and to learn more about online Blockchain Certifications, check out Blockchain Council.