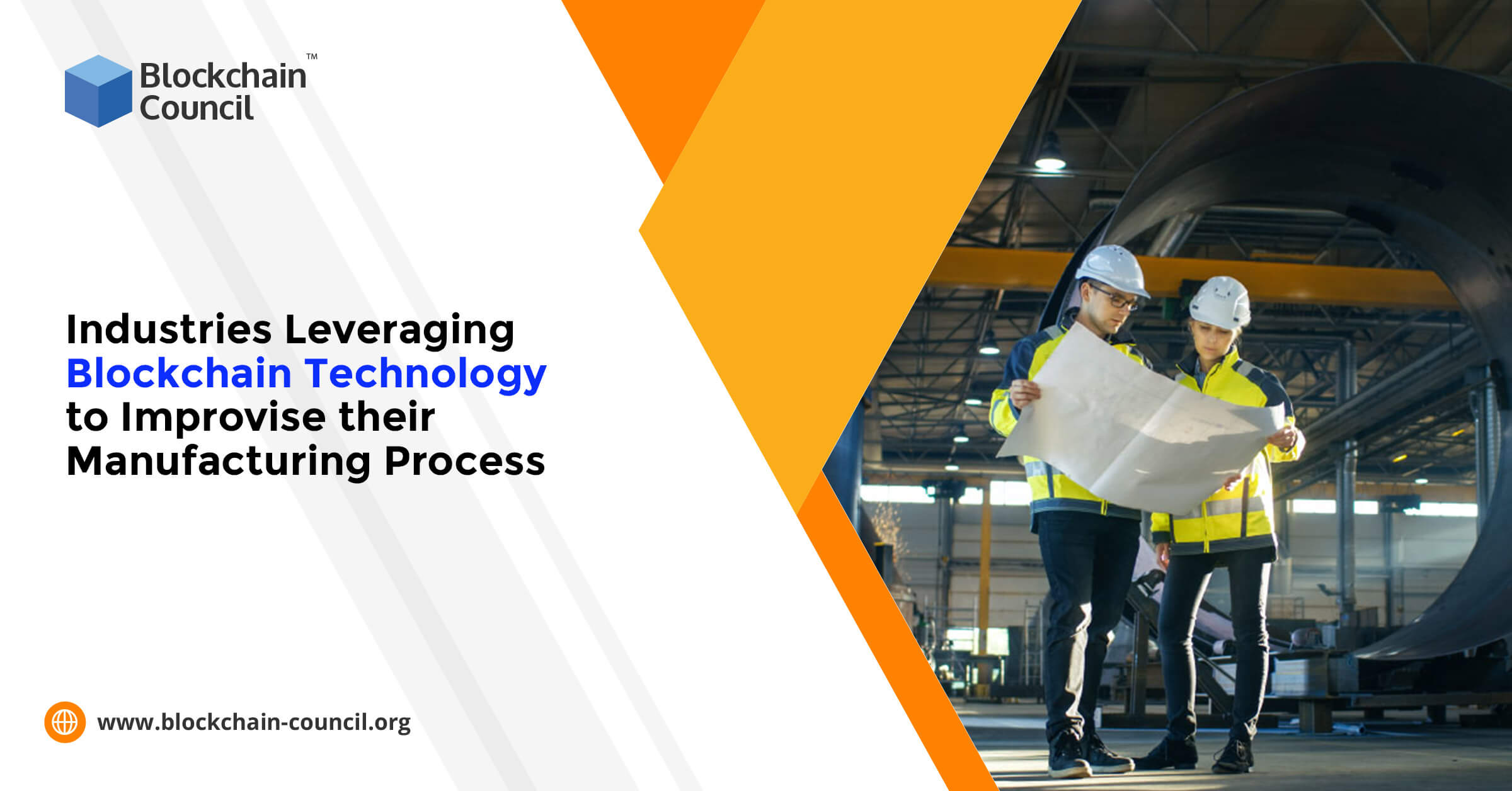 Wondering what role Blockchain plays in the manufacturing process and how this technology can be applied to this sector? You have landed on the right page. This article talks about Blockchain and its benefits, focusing upon its use-cases in manufacturing.

Table of Contents
Understanding Blockchain and its Benefits

Use-Cases of Blockchain in Manufacturing

Conclusion: Blockchain- The Future 
Understanding Blockchain and its Benefits
Blockchain is a P2P, digital ledger technology that is used to store and record transactions in an immutable manner. All records are stored and distributed across the network, thus making it is difficult for intruders to falsify records. 
Due to its potential to record transactions and service records in a secure and transparent manner, enterprises have started utilizing Blockchain in almost everything, including the manufacturing domain. The major benefits of leveraging this technology are due to its ability to enable:
Trust:

Unlike traditional databases, Blockchain holds a single version of the truth that all members of the network can trust.

Security:

Technology, with its cryptography encryption techniques and decentralized storage, make it impossible for hackers to tamper with the ledger.

Automation:

Technology can automate everything right from billing to shipping and every other repetitive process that would otherwise be done by manual work. 

Resilience:

Blockchain is resistant to network failures. This is because its database is distributed all across multiple locations. Moreover, if any party decides to leave a network, none of the data will be lost.
Want to gain in-depth knowledge of Blockchain Technology and become a Certified Blockchain Expert? You are just a click away!
Use-Cases of Blockchain in Manufacturing
As we have gained a clear understanding of Blockchain and its benefits, let's explore some of its use-cases in the manufacturing domain.
Enhancing Tracking and Tracing
The manufacturing process involves complex supply chains due to the involvement of multiple participants with independent IT systems. Due to Blockchain's potential, industries and enterprises use this technology to exchange data accurately and securely. As we already mentioned above, Blockchain provides an immutable, permanent digital record of everything, thereby empowering end-to-end visibility and providing a single source of truth to all participants. End-to-visibility makes it possible to track assets from production to delivery by end-users.
Maintaining Customers' Trust
Manufacturing companies deliver products, equipment, and service parts that go through various rounds of quality and integrity checks. This is where Blockchain can play a vital role. It has the power to build better and more secure supply chains by maintaining an identical copy of each node in the network, tracking the complete product's journey from producers to customers. The trail is examined with real-time visibility; thus, no consumer has to wonder when materials shipped out, how and who handled them, and when they will reach their destination. Such transparency makes network activities highly visible, thus automatically building trust. 
Enable Machine-Controlled Maintenance
The manufacturing process has to deal with a lot of complexities and technological sophistication at different levels. Blockchain can enable machine-controlled approaches that can lead to shorter maintenance times. Moreover, technology can enable automated execution and payment for scheduled maintenance. For example, a machine that needs maintenance can trigger a service request and generate a smart contract for a replacement part. Upon fulfillment of the order, payment processing can occur automatically. Moreover, Blockchain records can serve as proof to equipment providers in this context.
Maintaining Financial Assets 
Maintaining Financial assets is another use-case of Blockchain in the manufacturing domain. Companies that produce heavy machinery tend to repair their equipment often because they are susceptible to wear and tear and need to be repaired for continuous quality production. And for this, strong financial management is needed for these spendings. Blockchain can help maintain these transactional records on an immutable and secured ledger, which is accessible by the top management for industry regulations.
Looking for the best Blockchain Certifications? Get started today with Blockchain Council.
Conclusion: Blockchain- The Future
We have just discussed a few use-cases of Blockchain in the manufacturing domain, but there is no denying the fact that technology has a long way to go before it is widely adopted. But one thing that is sure is that technology has the potential to transform how manufacturers run their businesses.
To conclude, we can say that Blockchain is truly a disruptive force that is revamping a lot of industries, and soon, it will revolutionize every single marketplace worldwide.
Wondering how Blockchain can be applied to various other domains? Get enrolled in Blockchain Council today!
To get instant updates about Blockchain Technology and to learn more about online Blockchain Certifications, check out Blockchain Council.