Blockchain technology has been developing at a rapid rate and so is its adoption in various markets. Initially, Blockchain was introduced as a solution to manage financial transactions. However, Blockchain is now something completely different and offers major services for individuals and enterprises alike. However, blockchain technology is still new and unknown to many due to the different and unique technical requirements it has. Blockchain technology is still developing and there are very few professionals who are good at this. It is one of the reasons why companies are hesitant when it comes to adopting blockchain technology for complete operation. 

Another reason is the cost to upgrade these models as it would require much more powerful and completely new hardware and software. However, the fact that blockchain technology is much superior and can provide much better results is already known in the market. It is why many enterprises are now looking to adopt technologies like blockchain IaaS, PaaS, or SaaS. These services were earlier associated only with Cloud platform or cloud computing, however, the same is now also applicable in the blockchain. Blockchain IaaS, PaaS, and SaaS services bring the functionality of blockchain with the flexible and agile computing environment of the cloud. Infrastructure as a Service (IaaS), Platform as a Service (PaaS), and Software as a Service (SaaS) are complete solutions for any enterprise based on their requirements. There are now courses on blockchain technology that can help the employees in understanding the technology before making a leap to upgrade it completely.
Blockchain IaaS
It is blockchain technology delivered as Infrastructure as a Service or IaaS which offers very similar services to that of cloud-based IaaS, but only better and based on a decentralized environment. It basically implies the delivery of services through a complete on-demand computing infrastructure. Simply put, the enterprise can use this service and use the hardware infrastructure without having to buy or own it. The on-premises computing hardware is a major advantage for the companies; they do not have to worry about things like deployment, maintenance, and operations of the infrastructure. 
It is like renting the hardware components, storage, and other computational hardware, but in this case, it is a company rather than an individual. This not only helps in saving the cost of purchasing new hardware that supports blockchain development but also helps companies to move to the blockchain platform at an affordable cost. Since the entire IaaS is based on a cloud platform, the companies can simply manage and control the infrastructure through a dashboard or API. 
Features
There are a lot of features associated with Blockchain Iaas which will surely make an enterprise think about using this platform for all operations.
The entire process does not require any installation and setup and is easily manageable using a dashboard.

The requirement of necessary hardware can be increased or decreased as per the requirements without having to directly invest in the hardware. 

Although companies are renting the infrastructure which supports

blockchain development

, they have complete control over it. 

Enhanced security between channels that transfer data from hardware to the company's dashboards due to a decentralized platform.

More powerful hardware reduces time in operations and the cost associated with it.
Pros 
Limited investment in expensive equipment improves cost-effectiveness

It is a more flexible solution to move on the blockchain platform, leading to a better platform for creating new solutions. 

All the required resources are easily available on-demand

Setup and Maintenance cost is removed as the IaaS provider takes care of them. 

Improvements in scalability and flexibility of business
Cons
Migration policies and tools are still not as flexible as they should be, leading to vendor lock-in

Some security threats are prominent in data communication

Knowledge of handling a blockchain-based environment is needed for the company, until which they will not be able to use all the resources completely and properly.

Legacy systems do not have the leverage of the full potential of blockchain IaaS solutions without any kind of radical modifications. 
Blockchain PaaS
Next in the Blockchain services is PaaS or Platform as a Service. It mainly provides a platform for the developers where they can easily create, run and manage applications. In this case, it will be decentralized apps based on blockchain technology. Companies can rely on Blockchain PaaS for the management and maintenance of blockchain infrastructure. Using Blockchain PaaS, companies can easily enhance and expand their functionalities using the decentralized platform. It makes it easier for any company to adopt the blockchain-based system, without otherwise taking a lot of resources and time to adapt. With the use of Blockchain PaaS, companies do not need to follow the complete integration and installation process. As a developer in the company, you do not have to manage the infrastructure, software, upgrades for the software, or storage. You can simply use the platform and create Blockchain-based apps for the enterprise. 
Features
With the help of Blockchain PaaS, companies are able to access a lot of software features that otherwise would make a company invest in both supported hardware and software. Here are some of the other features that Blockchain PaaS provides
Easy adaptability to the blockchain-based platform

Easy to use platform for developers with all the necessary tools to create blockchain apps.

No requirements for upgrades to the software on a regular basis

Easier to manage and create Blockchain apps

Enhances the Core functionality of the enterprise and makes it easier for them to move on the new platform. 
Pros
Faster creation and deployment of apps, including a faster testing process leading to reduced or no bugs.

Reduces cost of hardware upgrades and Maintenance

Helps in easy adaptability to the

blockchain development

platform

Allows for better scalability depending on the workload and is a lot more flexible.

Helps the developer to focus only on core functionality which provides the solutions to improve them.
Cons
Just like BIaaS, it also has a possibility of vendor lock-in

The data controller is given to the service provider which might be a big security concern for some companies and they will also be sharing the data of their apps in development with the service provider.

Legacy systems cannot be aligned effectively with this platform or require a lot of customization which could take a lot of time and resources. 

Limited transparency to the process that happens in the backend and is not visible to the actual enterprise who are working on the development of the app.
Blockchain SaaS
Hardware is one of the important parts of setting up a business based on a blockchain platform. However, it is not good enough if you do not have the supporting software. It is why Blockchain SaaS or Software as a Service model helps in providing companies with the delivery of on-demand software. These are the same software that is used by users to connect with the application over the internet. It is one of the most common services used by companies that have shifted onto the blockchain development platform. 
It is one of the most crucial elements when it comes to expanding the scope of blockchain applications. It provides the management, development, and maintenance of cloud-based infrastructure which is used for the design, development, and deployment of blockchain technology, based applications. With Blockchain SaaS, it becomes easier for companies to develop and host applications for the users based on a blockchain platform. In simple terms, Blockchain SaaS is very similar to a web hosting company, with the only difference being it supports blockchain-based apps.
Features 
No matter what kind of application you are developing, you would always need a platform to host, and BSaaS is one of the most feature-rich platforms to do so.
It runs all the backend operations for a blockchain-based app or platform.

It is very cost-effective and completely flexible and scalable as per the ever-changing requirements. 

Provides the leverage of cloud-based blockchain solutions to build, host, and operate apps.

Blockchain SaaS services keep the infrastructure agile and operational.

The adaptability to BSaaS is very easy and does not require a lot of resources.
Pros 
The entire process is very cost-effective when we look at the hosting cost of the app and the requirement of hosting hardware for a blockchain app. The cost of servers, storage, components, upgrades, and a lot more are saved by an enterprise.

It makes sure that the application is always available online and that there is no downtime.

Ease of effective maintenance

The deployment time of the apps is reduced drastically.
Cons
Although it does not cost a loss, it might lead to heavy expenses when it comes to changing the vendors. Also, the process of changing the vendors is very time-consuming.

Does not provide a lot of scope for customization

Users do not have complete control over their data.

Limited integration option for on-premise services and applications.

There are notable security issues as it depends completely on the vendor as to what kind of hardware, software, and data security they are providing. 
IaaS Vs PaaS Vs SaaS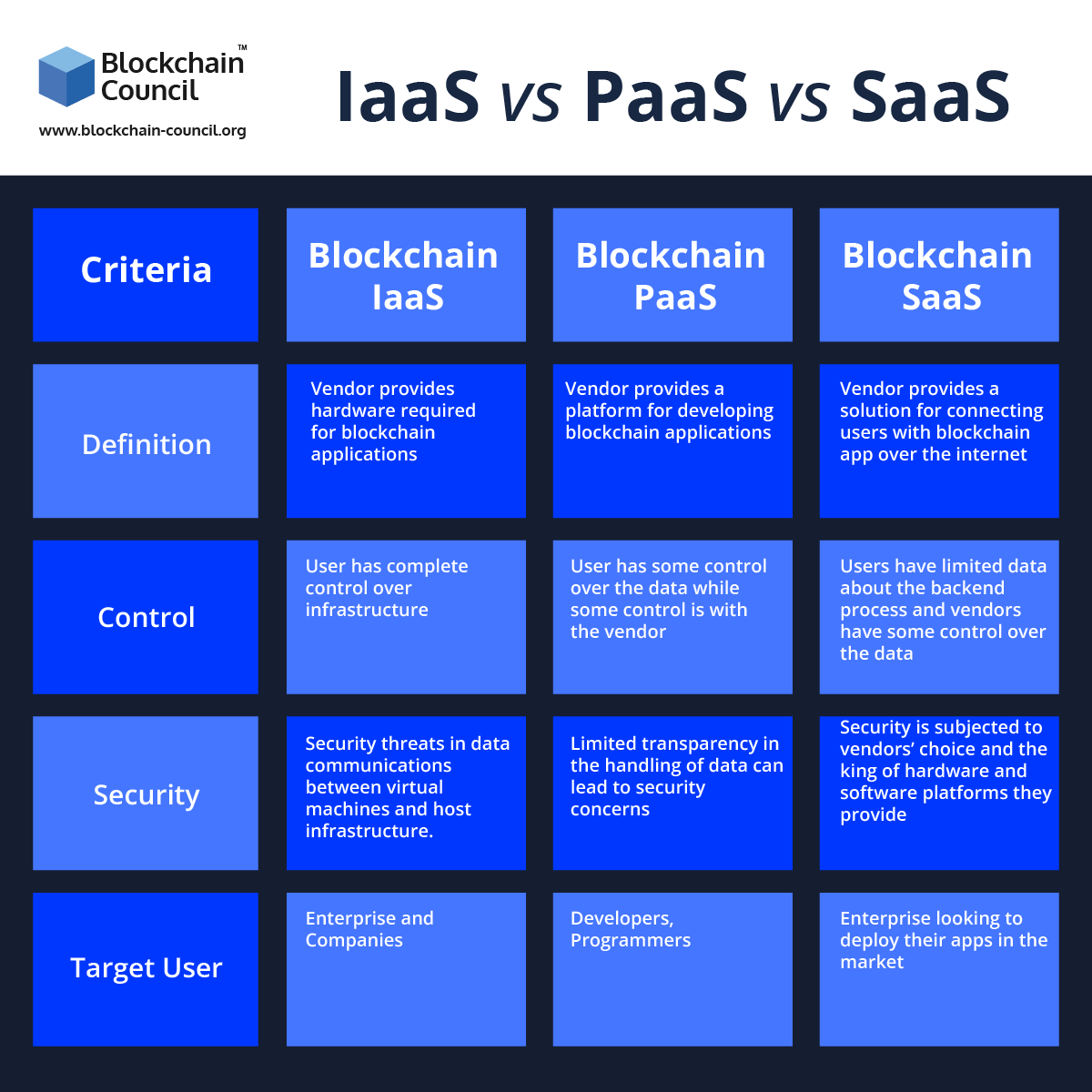 Definition
When we talk about IaaS vs PaaS vs SaaS, all three provide a complete solution for an upgrade to blockchain technology, but still provide a different service when compared to each other. While IaaS provides the necessary infrastructure or hardware to the business(just like renting the services), PaaS provides the platform for the developers with the necessary tools that will help them in creating blockchain apps. Finally, SaaS can be thought of as a hosting service for the blockchain application which connects the end-users with the app through the internet. 
Control
Of the three, only IaaS provides complete control to the users as they are provided with the hardware as per their requirements and it is as per their choice on how to use it. In PaaS and SaaS, the vendor has some control over the data and the users do not have all the details about the process that is running in the backend, except the vendor.
Security
When it comes to security there is some issue that lies in all three types of blockchain service. While IaaS has a security issue that might occur in data communications between virtual machines and host infrastructure, PaaS has limited transparency for the user to see how their data is being handled in the backend. Therefore, there will always be a change in data leakage or privacy issues. SaaS on the other hand has a different security issue where it completely depends on the vendor and the kind of security and privacy they provide to the user. It will change from vendor to vendor.
Target User
When it comes to the target users IaaS and SaaS mainly target companies and enterprises and they are the ones who are looking for hosting for blockchain apps and the infrastructure required to move their business to blockchain technology. PaaS is mainly targeted toward developers and programmers as they are the ones looking for a platform with tools where they can develop the apps.
Conclusion
Although IaaS vs PaaS vs SaaS are three different blockchain services, the aim is to help the enterprise adopt and move their business completely on the blockchain platform. It also shows how blockchain technology is expanding its roots in the market and the opportunities it will provide in terms of business growth. Many companies have already adopted this platform, however, some still have questions about the complexity of shifting to this technology. It might be an issue for some companies to shift to blockchain platforms in the short run. However, blockchain is the technology of tomorrow and in the long run, it is clearly visible that all the companies will move to blockchain platforms and use all the services mentioned above with different service delivery models. Also, there are courses on blockchain technology that give a good amount of information about the three technologies, which would help the companies to understand it completely before upgrading to it.
If you want to keep up with the trends of blockchain industry, join our communities on Discord, Reddit and Telegram.