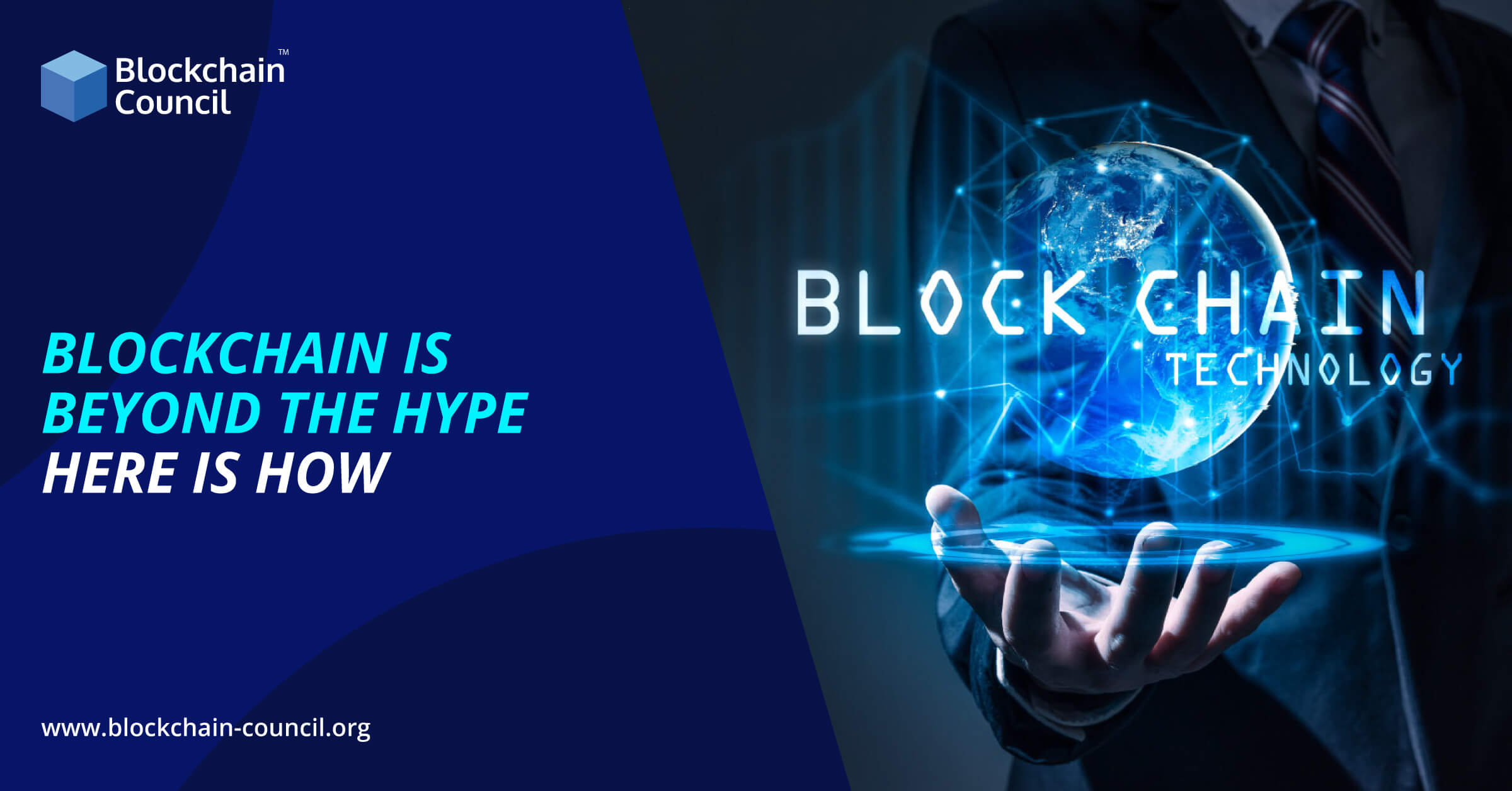 This article will look beyond the hype of Blockchain and will talk about the continuous development of Blockchain. 

Table of Contents
Overview
Watching Blockchain Beyond Hype

Blockchain is Not Just a Cryptocurrency

Advanced Ethereum-Based Blockchain Applications

The rise of Private Blockchains 

Smart Devices can be Incorporated with Blockchain

Blockchain for Running Smart Cities

Concluding Lines
Overview 
Blockchain technology has always been the most controversial topic since its advent. Few technocrats believe that it is a revolutionary technology that holds a promising future, and a few consider this technology an over-hyped one.
Technology holds several misconceptions that need to be addressed in order to bring its mass adoption. So let's see Blockchain beyond the hype.
Want to learn more about Blockchain technology and become a Certified Blockchain Expert? You are just a click away!
Watching Blockchain Beyond Hype
As technology is maturing and the number of practical use cases grows, Blockchain is no more a hyped technology. Let's explore why.
Blockchain is Not Just a Cryptocurrency
Soon after Bitcoin's launch, people started considering Blockchain as a cryptocurrency that can be used for exchanging digital assets securely. They define Blockchain as the technology that powers Bitcoin. Although this definition is accurate, it's not very instructive. Blockchain is a peer-to-peer, decentralized technology that uses cryptography to verify and secure information stored on the Blockchain network without involving any third-party. 
The technology can reasonably be synonymous with cryptocurrencies, but its applications are widespread in almost all sectors, including supply chain, finance, healthcare, logistics, among others.
Advanced Ethereum-Based Blockchain Applications
When blockchains first started with Bitcoin as its first-ever cryptocurrency, the technology was not taken seriously by the majority of people. Now that the technology has been vetted and verified, organizations, enterprises, and even government institutions have started using blockchains for building their own Blockchain-based applications depending on their requirements.
Ethereum, which is also recognized as the king of smart contracts, is a perfect example of an advanced use case. Ethereum is evolving rapidly, enabling businesses to build viable solutions at a lesser cost. It offers Ethereum Developers a decentralized platform to build decentralized applications(dApps) that run on the Ethereum blockchain. Ethereum introduced the concept of smart contracts that are automatically executed when predetermined terms and conditions are met. The foremost benefit of smart contracts is that they are decentralized, offer complete accuracy, transparency, trustability, robust backup, and much more.
The rise of Private Blockchains 
If you are considering Blockchain as a hyped technology, you must consider private Blockchains.
Initially, public Blockchains (that lacks privacy) were the only options that were available to individuals. This is because every node can join the network in such networks and access the information without needing to take any permission. But as technology is maturing, private Blockchains have started gaining a lot of public eyes, and enterprises and businesses have started utilizing them for their efficient operations. The significant advantage is its high transaction speed because they have fewer participants, unlike public Blockchains; thus, it takes less time to reach a consensus. Hyperledger and Ripple (XRP) are examples of such Blockchains. 
Smart Devices can be Incorporated with Blockchain
It was never imagined that Blockchain could be incorporated with other futuristic technologies like IoT. IoT devices are prone to security, and there are various other arguments regarding such devices. Since the deployments of IoT devices are tedious, distributed ledger technology is best suited to provide IoT device identification, authentication, and seamless, reliable data transfer.
DLT is making continuous efforts in this direction. IOTA is a cryptocurrency based on open-source technology specifically meant for recording and executing transactions between various devices in the IoT ecosystem. IOTA is believed to solve several issues, such as low network speed, high transaction fees, scalability issues, etc.
Blockchain for Running Smart Cities
Yes, you read it right. Right from the introduction of Bitcoin in 2009 to Blockchain-enabled decentralized apps, introduction to private Blockchains, and much more, Blockchain has gone through several development stages. Tech Experts believe that Blockchain has the potential to revamp smart cities as well by offering enhanced transparency and connectivity, direct communication, integrity over information, and efficient management. 
Blockchain-enabled cities/countries can provide a conducive investment climate for enterprises, better lifestyle to residents, and maximization of resource utilization and transparency for government institutions. 
Concluding Lines 
If you have ever considered Blockchain as an over-hyped technology, I am sure you must have realized that it is not. We have already discussed a lot about its development and in the near future what all it can bring still needs to be discovered. At this time it is appropriate to expect the fact that Blockchain is a booming and revolutionary technology that holds a very promising future.
What do you think about this technology? Is it hyped or it holds a real potential? Let us know in the comment section.
To get instant updates about Blockchain Technology and to learn more about online Blockchain Certifications, check out Blockchain Council.