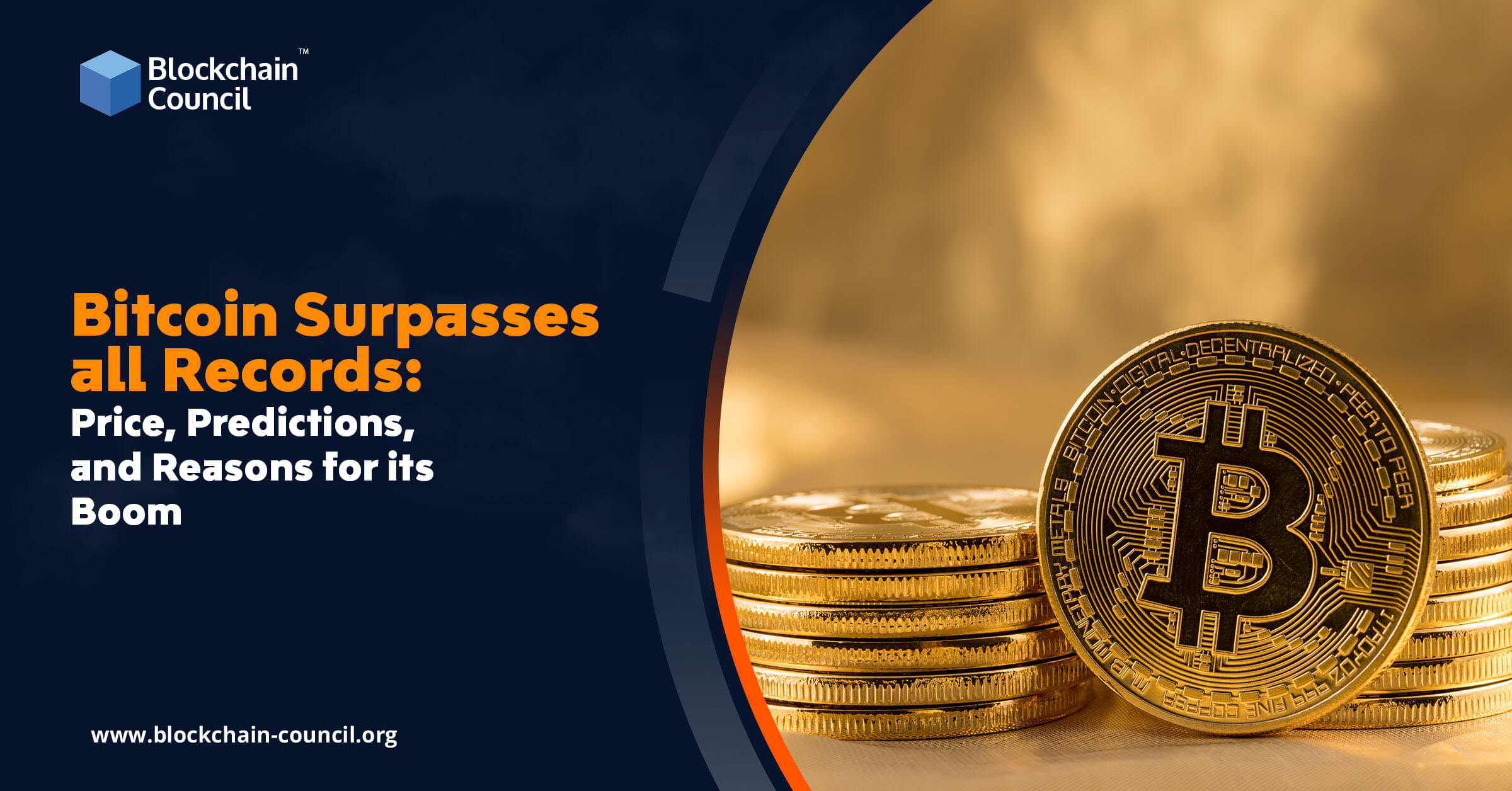 Are you a Bitcoin enthusiast? Want to know why it is exploding, and what you can expect in the future? You have landed on the right page. This article talks about Bitcoin's latest price, predictions by top experts, explaining why BTC is booming.

Table of Contents
Bitcoin: From Unstable Assets to Mainstream Adoption

Why is BTC Exploding?

Bitcoin's Future Price Prediction by Top Experts

Concluding Lines- Is This a Way to Mass Adoption?
Bitcoin: From Unstable Assets to Mainstream Adoption
Despite so many cryptocurrencies in the market, Bitcoin still remains the leading digital crypto asset that was introduced by the presumed pseudonymous Satoshi Nakamoto. Since its introduction in 2009, Bitcoin(BTC) has seen significant ups and downs. Its first price growth took place in July 2010 when a bitcoin's valuation went from $0.0008 to $0.08 for a single coin. Last month, in Dec. 2020, it was announced that Bitcoin's price reached a peak of just under $24,000, giving it a year-to-date increase of 224%. Most interestingly, now, only a few days into 2021, the price of bitcoin has unexpectedly crossed USD 40,000.
Want to learn more about cryptocurrencies? Enroll in one of the most popular cryptocurrency certification courses and become a Certified Cryptocurrency Trader or a Certified Cryptocurrency Expert.
Why is BTC Exploding?
Now comes the question, why does Bitcoin's price keep going up? The infrastructure built around BTC has shown immense maturity over recent years, making it easier and far safer to invest than ever before.
High inflation and lowering of purchasing power among extensive stimulus spending are both responsible for encouraging people to store value assets such as Bitcoin.

The introduction of Bitcoin crypto debit cards is another crucial factor contributing to Bitcoin's boom. Such credit cards aim to transform financial services while introducing major improvements in terms of transaction speed, privacy, and cost. 

Bitcoin is attracting audiences worldwide, and few acknowledge this crypto asset as 'digital gold' as it has many properties as gold and serves as a globally recognized store of wealth. 

Another reason for its upsurging is that it has the highest liquidity in the crypto space. The higher the liquidity ratio, the easier it is to sell a cryptocurrency at market price. 

Apart from all these factors, the active use of the Lightning Network may also change the BTC ecosystem as it could increase the Bitcoin network's scalability by allowing "off-chain" transactions.
Bitcoin's Future Price Prediction by Top Experts
Mark Yusko once noted that he predicts the price of Bitcoin between $100,000 and $500,000 by the year 2030. He believes that its price will reach gold equivalence, focusing on venture capital. Another top expert, John Pfeffer, a partner at London-based family office Pfeffer Capital set a price target for Bitcoin of $700,000. Anthony Pompliano, a founder and partner at Morgan Creek Digital, made predictions in February 2020, stating that BTC will hit $100,000 by the end of December 2021.
Bobby Lee, the co-founder of BTCC, also predicted Bitcoin's price and suggested that BTC could reach $1 million in the next 20 years. According to him, the Bitcoin price might pick up from late 2020 and could reach $333,000 in 2021. 
Concluding Lines- Is This a Way to Mass Adoption?
Undoubtedly, blockchain and cryptocurrencies are making sense globally, but does it mean that bitcoin will become mainstream?
From the above discussion, we can conclude that Bitcoin holds a very promising tomorrow. The confidence showcased by large institutional players indicates that Bitcoin is here to stay.
If you are wondering whether to invest in Bitcoin or not, I would recommend you to invest your time in performing deep research before making any decisions.
To get instant updates about Blockchain Technology and to learn more about online Blockchain Certifications, check out Blockchain Council.