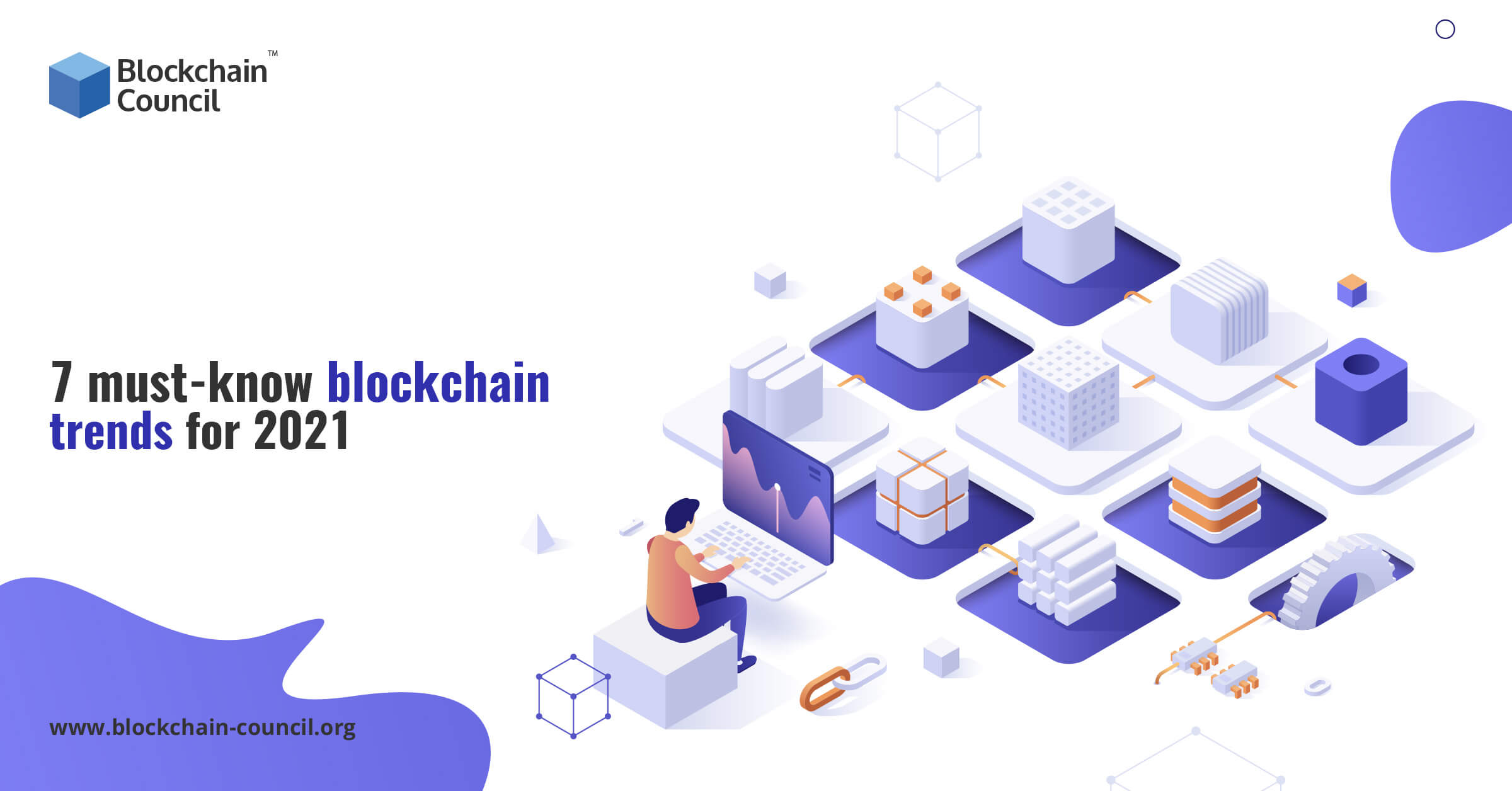 Blockchain has innovatively emerged into various industries in this digitally transforming world, including IT, Retail, Finance, Healthcare, Fintech, and many more. In the coming years, blockchain technology will somehow be completely adopted. Here, we will discuss top Blockchain trends in 2021 that can create secure and faster network systems. Currently, companies are ongoing massive development projects globally. Therefore, To be a part of these innovations or work on Blockchain technologies, one must have the proper knowledge about the latest technology and be aware of the blockchain trends. Also, you can opt for a blockchain certificate or a blockchain degree of your choice at the Blockchain Council.

Table of Content
Overview

Top Blockchain Technology Trends 2021

Conclusion 
Overview
Blockchain technology has shown positive results in every sector whether it is used to securely store and record data, making transactions, cryptocurrency, and much more. This reliable, decentralized platform offers great opportunities in terms of innovations and providing careers to blockchain experts. Every blockchain aspirant must now blockchain trends in 2021 which includes Blockchain-as-a-Service (BaaS), NFT, DeFi, Central Bank Digital Currency, and much more which we will be covering in this article. 
Top Blockchain Technology Trends 2021
Blockchain-as-a-Service (BaaS) 
One of the most trending Blockchain technology is BaaS, it offers a third-party cloud-based infrastructure to the companies operating in the blockchain or building blockchain-based applications. Companies like Microsoft, IBM, and Amazon are offering and adapting Blockchain-as-a-Service modals for enabling better businesses and running end-to-end operations, and building DApps. BaaS provides huge benefits to the customers and to the developers and it offers fast processing in blockchain-developed apps. Also, the maintenance cost is reduced, and adopting blockchain technology becomes fast. 

Verifiable Credential & Self Sovereign Identity (VC & SSI) offers data privacy protection, user verification, keep the credentials secure. Blockchain technology has implemented a universal identity that is providing various benefits in financial, health care, insurance services. Banks are also utilizing this blockchain technology for achieving a high level of security of the bank and loan account credentials.

Non-Fungible Tokens (NFT)
Tokenization is one of the blockchain technology that is in high demand. Non-fungible Token (NFT) is a unique token that can not be interchanged. These digital assets have gained popularity and are hyped up in the market. The NFT can have only one owner and huge prices. NFT's are generated using blockchain technology called cryptography. Last year it was observed that NFT trading reached the highest level which is $250 million and incoming year NFT will have an incredible market and every artist, professional will be creating and investing in NFT.
Decentralized Finance (DeFi)
Another hyped Blockchain technology, DeFi, is a Decentralized Finance offered by the blockchain. Here, no central entity is involved like banks, brokers, exchanges, etc. DeFi uses Smart contracts of blockchain platforms like ethereum to create a system that provides better financial transactions and offerings to the user. 
Central Bank Digital Currency (CBDC)
Most people have heard about Blockchain after the popularity of  Bitcoin. Now cryptocurrency is in high demand. However, the new blockchain technology which is creating a lot of news is Central Bank Digital Currency. CBDCs are digital tokens from the central banks that can be utilized instead of real money. In Jan 2021, the Indian government has recently introduced National Blockchain offering a bill for launching a digital currency. 
Blockchain Meeting Artificial Intelligence
Blockchain is contributing to every sector, including Artificial intelligence. With blockchain technology, Verifying data moving through multi-organization networks can offer great opportunities in the field of Artificial intelligence (AI). Also, public and private blockchain helps in identifying complex Artificial Intelligence and Machine Learning algorithms. An example of AI and Blockchain is Bext360, a supply chain digitalization company that analyzes driving efficiency in a few industries and crop growing prediction. 
Blockchain taking over Social Media 
As we know, Social media is taking over everybody's mind, acting as the most significant influencing platform. In the coming years, Blockchain technology will take over the major social media platforms. Over the top (OTT) media services like Netflix and Hulu will incorporate blockchain technology to record and securely store the customer's data. Utilizing blockchain technology in Social media will create a reliable and quickly assemble platform for the users. Content streaming over the internet becomes secure and user-friendly because of blockchain technology. 
Conclusion
As blockchain has many online trends, some of which we have discussed in this article, blockchain is an emerging technology that can change the world and save data for anty cyberattacks. Few benefits of blockchain include low transaction fees, robust systems, security, reliability, etc. To start your career in this emerging blockchain technology, candidates need to learn blockchain from experts like the blockchain Council. 
Check out more Bookchin certificates and courses online at Blockchain Council.