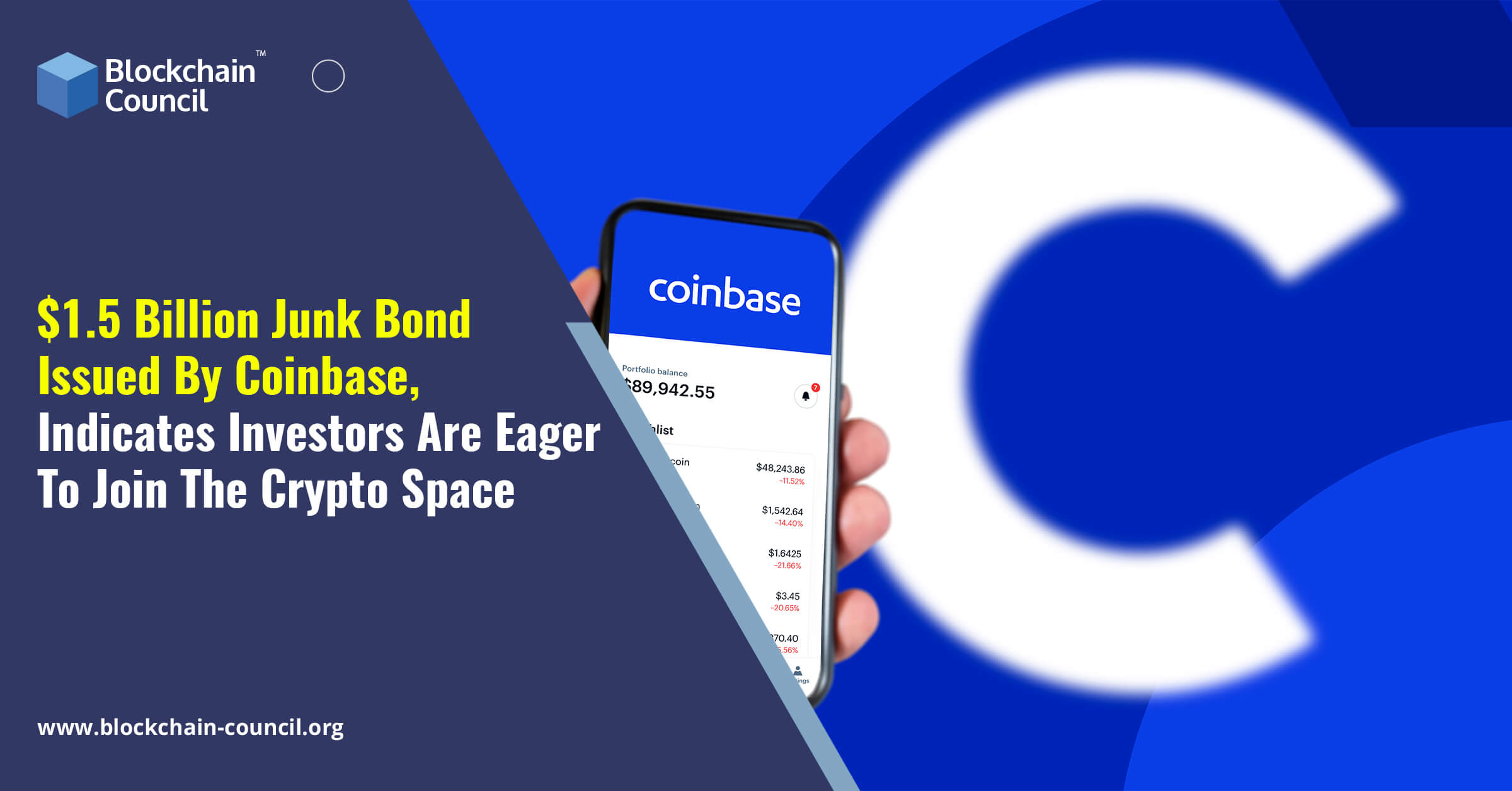 Coinbase, a popular company operating in the domain of cryptocurrency and Blockchain ecosystem, has recently conducted a sale of a junk bond which was valued at an estimated $1.5 billion. According to experts, this clearly indicates the fact that cryptocurrencies have already become mainstream in the market.

According to the experts, the bond, which is valued at $1.5 billion, is actually expected to sell. However, one of the leading credit rating institutions in the world has set the rating of Coinbase Inc.'s debt issuer to junk grade or commonly known as non-investment grade, only because of the fact that there is future competition and uncertain regulatory environment around crypto at the moment.
Several analysts who belong from Moody's team, for instance, Donald Robertson, Fadi Abdel Massih, and Ana Arsov, presented a report this Tuesday where they have stated that the profile of Coinbase surely points to a certain credit strength which can easily be labeled as fit for investment or investment grade. But as of now, the conditions regarding regulations and competition are not favorable, and hence the strength factor is getting offset.
As of now, Coinbase is selling two different types of bonds where one bond is for seven years which is available at a coupon rate of 3.375 % and is due for 2028, and another one is available for 3.625%, which is basically a ten-year bond and is due at 2031. 
According to the experts, this issuance of bonds is actually an extremely favorable event which means a great deal for the greater cryptocurrency and blockchain ecosystem and, of course, for Coinbase. This is a type of product through which individuals can directly connect with the benefits of the cryptocurrency market without having the need to purchase cryptocurrency directly and simply earn interest from that purchased amount of crypto.
However, just because of the fact that the bonds are only just a grade lower from becoming investment-grade bonds, the company could not manage to get their hands on the lowest cost of borrowing. To speak in general, the average returns from bonds that are rated similarly are about 2.86%, which is even lower than the rate of interest, which at this point in time is stuck at 3%.
Finishing thoughts: Are you interested in developing your own DeFi based applications and Cryptocurrency projects?
Learning Blockchain, Cryptocurrencies and Decentralized Finance (DeFi) applications are easy now, all thanks to highly esteemed online courses and training sessions from Blockchain Council, which is one such organization that offers amazing and effective online training and certification programs to aspiring trainees while rendering them desired competencies so that they have a successful career in the Blockchain space. Keeping the rising demands of blockchain professionals in mind, Blockchain Council certifications are diversified to meet each aspirant's discrete needs. They have a host of training and courses on DeFi and Cryptocurrencies that provide world-class knowledge and support.
To get instant updates about Blockchain Technology and to learn more about online Blockchain Certifications, check out Blockchain Council.