The Global market is going through a bearish phase, and the results are pretty easily visible in the form of an economic slowdown. Investors are not interested in investing during the slowdown, and still, there are debates about learning Web3, irrespective of the bearish market. It is the best time to sharpen your Web3 skills and gain expertise in working with different Web3 technologies, including Metaverse, NFTs, and Blockchain primarily. The crypto winter is still intact, and there are few possibilities of securing results, irrespective of the slowdown. You might be wondering why you would upskill, train and learn about different Web3 technologies if the market is not growing and there are not enough opportunities due to a lack of development in the industry led by the economic slowdown. This article will help you clear your doubts and provide you with strategic planning to start learning and exploring Web3 when the market is going through the bearish phase.

Why is a bear market an opportunity to invest in yourself?
The most crucial part of a bear market is the comparatively low pressure to produce results in an ecosystem. You can easily understand the concepts without any hurry to complete the learning process and start making results from the learning process. Web3 is not a single technology you can learn through course sources and gain the complete understanding and knowledge required to work in a Web3 ecosystem and develop innovative products and services. It is a collective technology encompassing technologies like Metaverse, Blockchain, AR, VR, and others. A bear market allows you to gain the opportunity of acquiring valuable insights that are required to plan your learning journey. To answer the question, it is the best time to learn key technologies like Web3, as they will transform the entire ecosystem once the markets get some pace. Apart from learning Web3 technologies, it is the time to network and collaborate with prospects that can help you grow better when the global market rebounds.

Benefits of learning Web3 technologies in a bearish market phase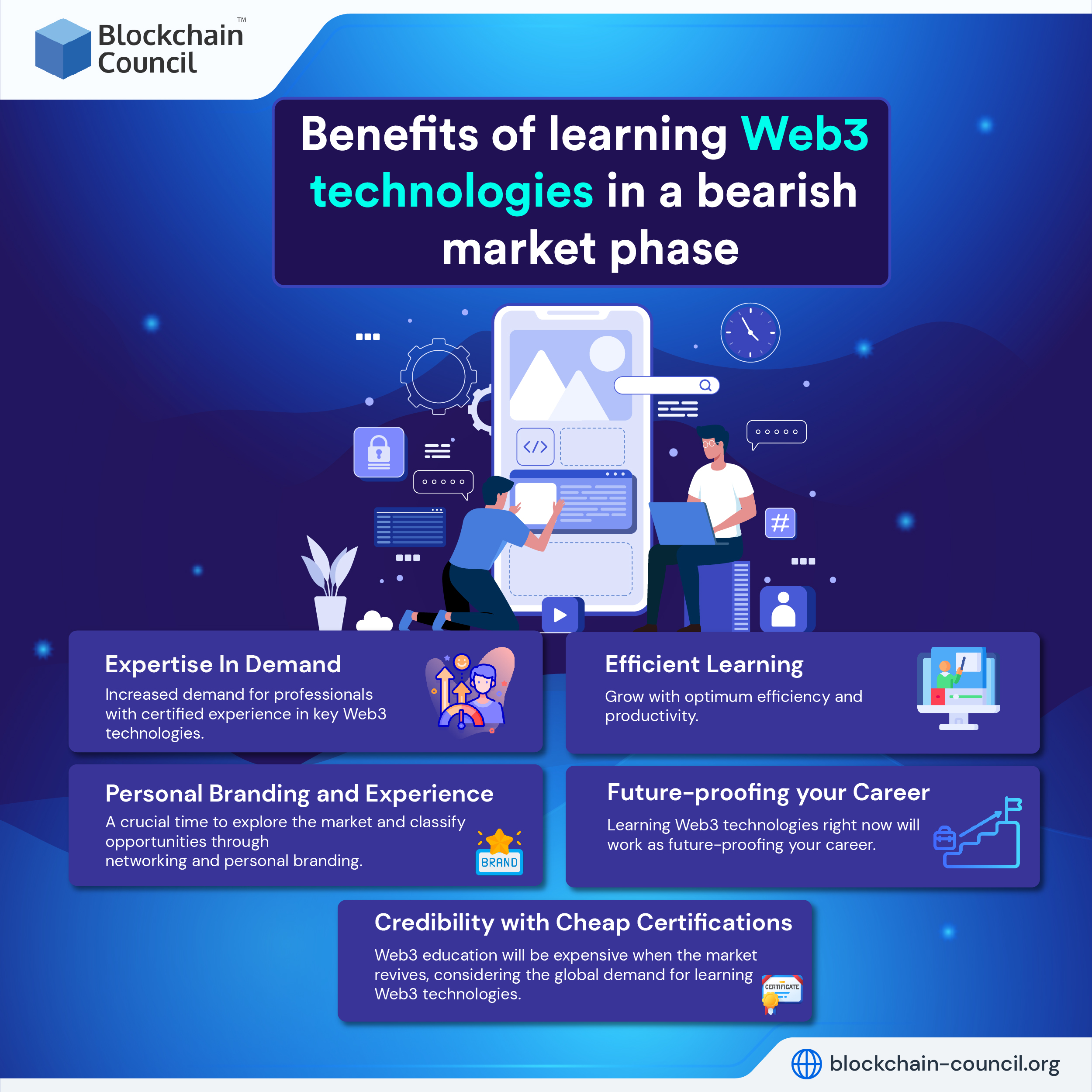 Here are some of the most crucial benefits of learning key technologies like Blockchain, Metaverse, and other Web3 technologies:

Expertise In Demand 
The demand for Web3 professionals has spiked recently, especially in 2022. The year has been full of industrial collaborations to develop innovative Web3 ecosystems and successfully keep up with the pace of the global market. Brands like Volvo, Gucci, and Suzuki have entered the Web3 Market with select collaborations and partnerships with Web3 industry leaders. Metaverse, one of the most popular Web3 technology, has seen the most engagement with brands, whereas NFTs (Non-fungible Tokens) have successfully outperformed the global economic slowdown and come out stronger. These collaborations have projected increased demand for professionals with certified experience and expertise in key Web3 technologies.
Personal Branding and Experience
A bearish market is a wholesome opportunity for your branding and experience of networking with people who can support and help you grow once the market settles and gets on the way. However, you can utilize this crucial time to explore the market and understand and classify opportunities through networking and personal branding.

Efficient Learning
Since the market is facing a global slowdown, there are mass layoffs from the top global brands. Many individuals may change their career perspective and get on their way to building a career in a different domain. Thus allowing you to grow with optimum efficiency and productivity.

Future-proofing your Career
The market might be in a bearish mode right now, but it is set to rebound after a particular time and will grow on Web3 technologies primarily. The bear market is an opportunity to prepare for tomorrow. Learning Web3 technologies right now will work as future-proofing your career for the opportunities the market will develop once it sets sail toward growth. When most individuals start learning these key technologies like Blockchain, Metaverse, NFT, and others, you will be an expert in these technologies. Rest you can figure.

Credibility with Cheap Certifications 
Learning Web3 technologies is different from learning traditional technologies. While many colleges and universities offer conventional technology learning and grant you a degree in the same, Web3 technologies are learned slightly differently. You can get Certifications to certify your ability and knowledge of working and developing systems on Web3 technologies. These certifications are nowadays available for comparatively low prices due to the bearish market. But, when the market revives, Web3 education will be expensive, considering the global demand for learning Web3 technologies. It is one of the main reasons experts and leaders believe the bear market to be the golden time for upskilling and learning Web3 technologies.

Read More- Top Web 3.0 Interview Questions And Answers You Should Know
What are the popular Web3 technologies that you can learn? 
Web3 technologies like Blockchain, Metaverse, and NFTs are the most popular right now in the bearish phase of the market. However, there is no certainty that market sentiments won't budge once the revival starts. Considering the current scenario, technologies like Blockchain and Metaverse are not going anywhere, that's for sure. You can start with understanding the concepts of a decentralized ecosystem as the basics. You can move further toward Metaverse and other Web3 technologies after getting a basic knowledge of the Web3 ecosystems

Summing up
Web3 technologies are growing, and undoubtedly this is the best time to start learning about these key technologies that will transform the industry in the coming years. The global economy is in a bearish phase, and education is relatively cheaper than it used to be in a bull market. Start learning with our Web3 expert certification to get an in-depth and complete understanding of different technologies and their use cases to develop Web3 products and solutions.