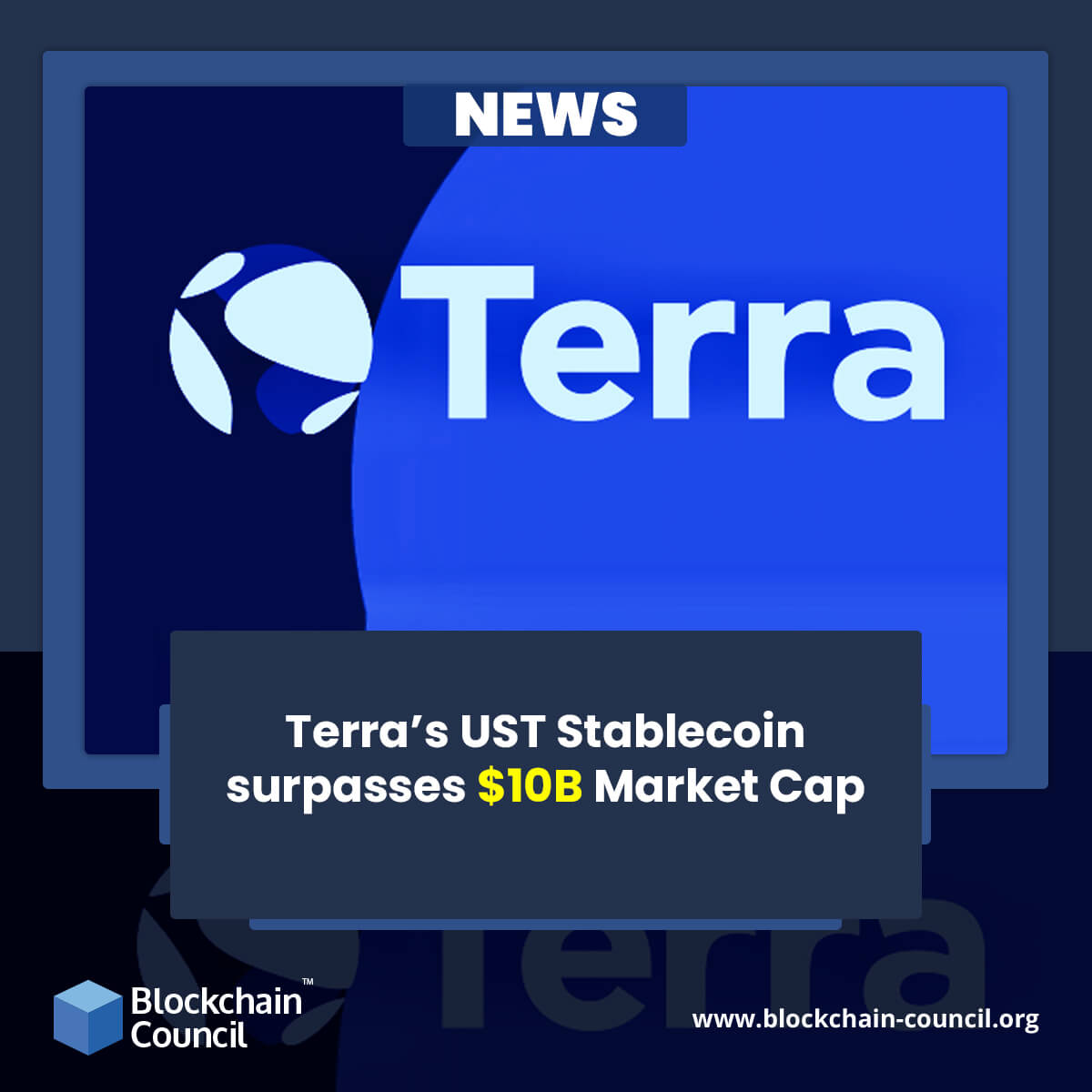 Working as a powerful decentralized platform offering high-class trading services to users, Terra has announced that its UST stablecoin has reached $10B worth in market capitalization. This celebratory news can be seen as the second phase of the success streak maintained by the UST stablecoin ecosystem. The first striking achievement was recorded when UST surpassed its competitor firm DAI to emerge as the largest decentralized stablecoin project across the industry.
As per the announcement, the UST market cap witnessed one of its biggest surges in 2021 as it rose from $200M worth at the start of 2021 to reach the $10B figure by the end of the year. Recently in December, UST gave stiff competition to DAI and eventually left it behind to emerge as the market leader in the stablecoin space. Launched in 2017, DAI has a market capitalization of around $9.4B and has a strong presence in the sector.
The sudden rise in the UST market cap can be attributed to the growth in popularity of the Decentralized Finance industry. Terra has become a strong player in the field of DeFi and this has played a significant role in pushing UST's value. Stablecoins are quite essential for the DeFi space as they facilitate liquidity management, staking, and yield-generating for the investors. The native currency of Terra blockchain, LUNA has also given good performance in the digital assets sector. The coin enjoyed a 15-times rise in its price to reach a market capitalization of $34 billion mark.
The previous week's reports revealed that Terra surpassed Binance Smart Chain and stood second in terms of Total Value Locked (TVL) mechanics. The TVL module is used for comparing the DeFi operations occurring on multiple blockchain networks or for individual DeFi projects. Terra has $17.9 billion in locked assets against the $17.3 billion of BSC. The list is topped by Ethereum that has more than $162 billion in DeFi TVL. The most significant DeFi project on Terra is the lending platform Anchor. The portal has $9 billion in TVL that accounts for more than half of all the DeFi operations on the blockchain channel.
The Terra ecosystem allows users to deposit their UST holdings into the Anchor protocol securely. These tokens are then pooled and lent out to interest-paying lenders. The accrued interest earned is disbursed to the users on pro-rata. The annual percentage yield is 20% for those willing to deposit their funds. The reports suggest that nearly $3 billion of all UST funds have been deposited into the Anchor portal for earnings. The decentralized cluster of Terra is likely to sustain its position in the market with its strong and user-friendly trading interface.