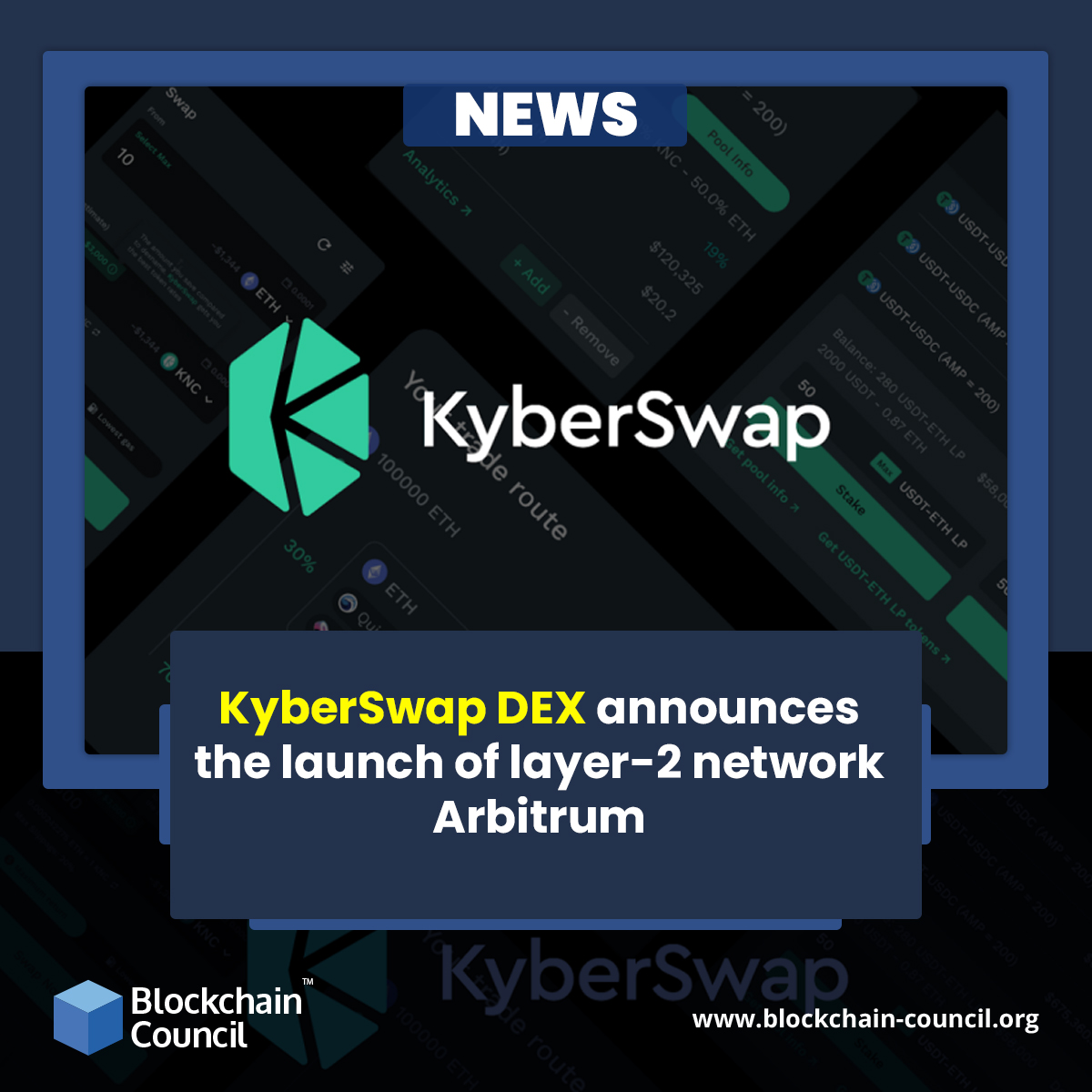 Serving as a globally-trusted decentralized exchange (DEX) aggregator platform, KyberSwap has launched its ecosystem on Arbitrum Network to enhance its service portfolio. The integration between the two popular decentralized platforms will help KyberSwap to strengthen its core infrastructure and offer high-end scalability and trading experience to the customers. The Arbitrum Network is a powerful layer-two scaling solution that allows Ethereum users to execute transactions outside the Ethereum mainnet to avoid congestion.

According to the report, the collaboration has brought KyberSwap to its seventh scaling solution alongside top-tier networks like Ethereum (ETH), Polygon (MATIC), Fantom (FTM), BSC (BNB), Avalanche (AVAX), and Cronos (CRONOS). On the other hand, Arbitrum also supports a wide range of decentralized exchanges such as Balancer Labs, Curve Finance, SushiSwap, SwaprEth, etc. The Kyber Network team released an official Twitter post to broadcast the news about its launch on Arbitrum's revolutionary scaling ecosystem.
The KyberSwap firm is hopeful that with Arbitrum they can resolve the issues of network congestion on Ethereum blockchain and hefty expenses related to on-chain transactions. The average charge for a transaction on ETH is quite low and stands at 28 gwei or $1.48 as per the data released by Etherscan, Ethereum's network tracker.
However, the fee can surge to more than $100 during congestion periods. As per the report by the L2 data aggregator, L2 Fees, the gas charge on Arbitrum falls between a value of $0.50 to $0.69. Popular DApp data aggregator, DappRadar places KyberSwap at 76th position in comparison to other DEX portals. The platform has witnessed a surge in its activity since March 5, 2022, with user volume increasing by 350% to reach a 19,870 figure. The daily transaction activity has surged by 31% to reach $610,000 worth.
The present Total Value Locked or TVL on Arbitrum is $3 billion as per the data extracted from the L2Beat portal. The last week of February had 46,200 total unique addresses on Arbitrum indicating a rise of 12.7% in comparison to the last week. The TVL has witnessed a slow trend across the global DeFi ecosystem.
The crypto space can be a tough nut for those who do not have any prior knowledge about the industry. To help investors gain an edge, Blockchain Council has prepared a wide range of certifications aimed towards crypto and blockchain technology. The courses are designed by experts to offer in-depth knowledge to the customers so that they can sharpen their skills prior to exposure to the thriving sector.