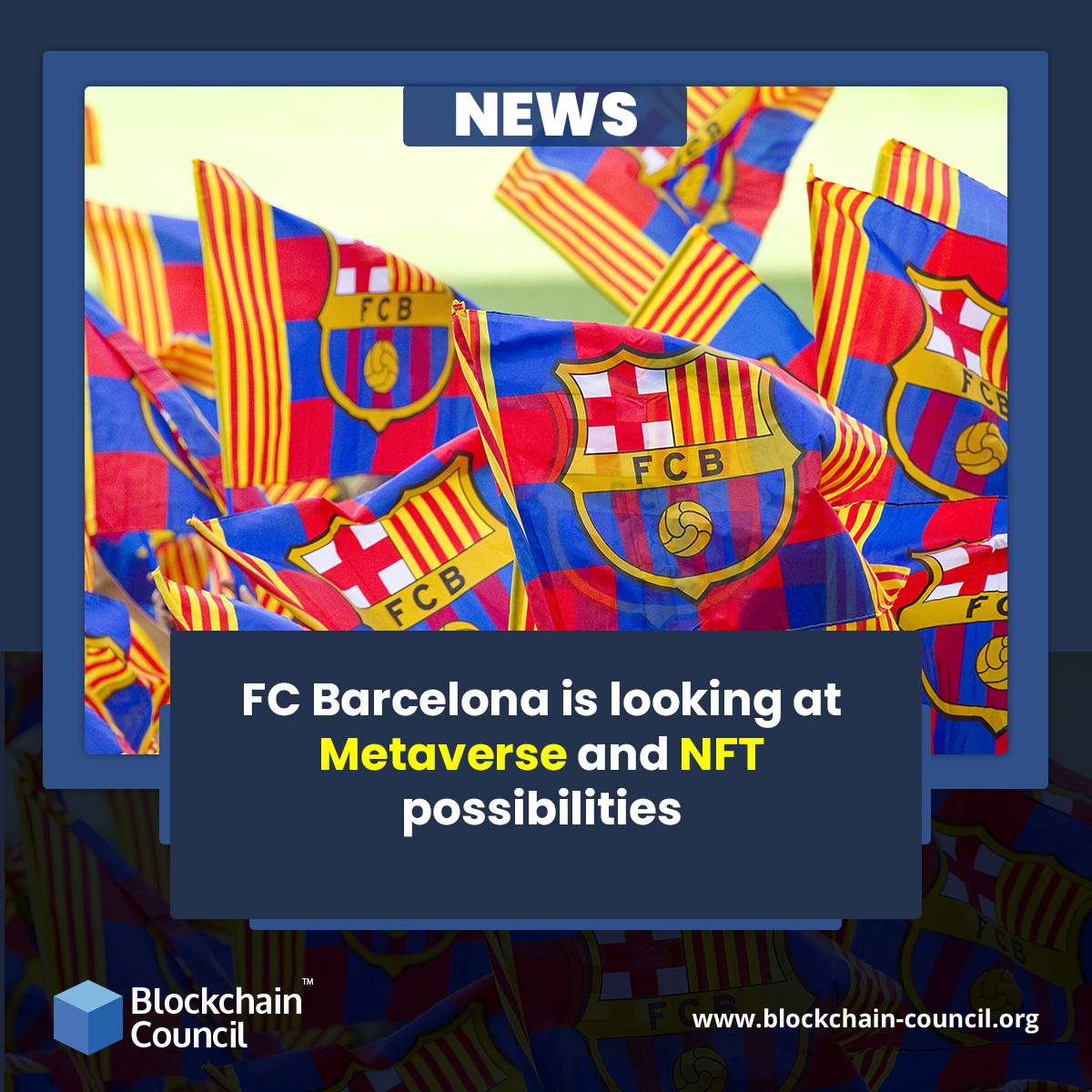 FC Barcelona, a Spanish football club, is no stranger to playing in cryptocurrency. Earlier this year, we highlighted the club's investigation into Polkadot as a prospective shirt sponsor. Although Spotify concluded the contract with the club, prominent players like Palkadot are in talks with the sport's largest clubs, encouraging crypto engagement in general. 

FC Barcelona is looking for new possibilities
The newest news to break the wire this week is that the Barcelona soccer team, one of the most well-known globally, is considering several blockchain-based initiatives. It includes a Barca Metaverse, NFTs, and perhaps their coin. 
Joan Laporta, the club's president, claimed during the Mobile World Congress 2022 that the club would prefer to develop its cryptocurrency to survive financially. They will be the first big sports organization to create its crypto coin. Laporta went on to explain: We really would like to make our cryptocurrency, and we'll have to do it on our own. We're unique in that we rely on the revenue generated by the sports business to make ends meet.  
According to Laporta, the club has turned down cryptocurrency business proposals for Jersey collaborations since they are working on their Metaverse activation. Even though it is a tall task, it appears that FC Barcelona's top brass views complete ownership of Metaverse involvement as important. A factor that most certainly influenced choosing Spotify over these possible crypto partners. 
Recapping Barca's recent activities 
Apart from the action mentioned above, with Finance and Polkadot offering to sponsor Barcelona's jerseys, the club's involvement with crypto hasn't been all sunshine and rainbows. The club had previously negotiated an agreement with NFT marketplace Ownix. Still, it withdrew after only a few weeks due to Ownix management's links to Moshe Hogeg, detained on suspicion of crypto-related fraud. 
FC Barcelona was one of the first clubs in sport to establish their fan token with Chiliz before all of this. Hundreds more football teams from all around the world have followed suit. It will be a big ask to release a wholly-owned cryptocurrency and engage in Metaverse activity, especially with so many regulatory questions to answer. The most up-to-date information, keep an eye on Bitcoins, as well as our monthly sports report, The Sports Slice, published every week last of the day. 
Cryptoassets soar in South Korea, with a market cap of $45.9 billion
At the end of 2021, the crypto asset market in South Korea saw significant growth. The market was valued at 45.9 billion dollars. The Financial service commission, the country's principal financial regulator, revealed this information. The financial regulator performed a one-of-a-kind investigation based on data gathered from a total of 24 approved Bitcoin exchange companies. The average daily transaction volume for these Bitcoin exchange companies increased to $9.4 billion. 
Despite strict regulation, the crypto asset market continues to grow
It's no secret that South Korea has stringent restrictions in place when it comes to policy execution. The country has dominated the news for most of 2022, with stories about knowing your company and travel restrictions. The digital asset market is expected to increase significantly by 2022.