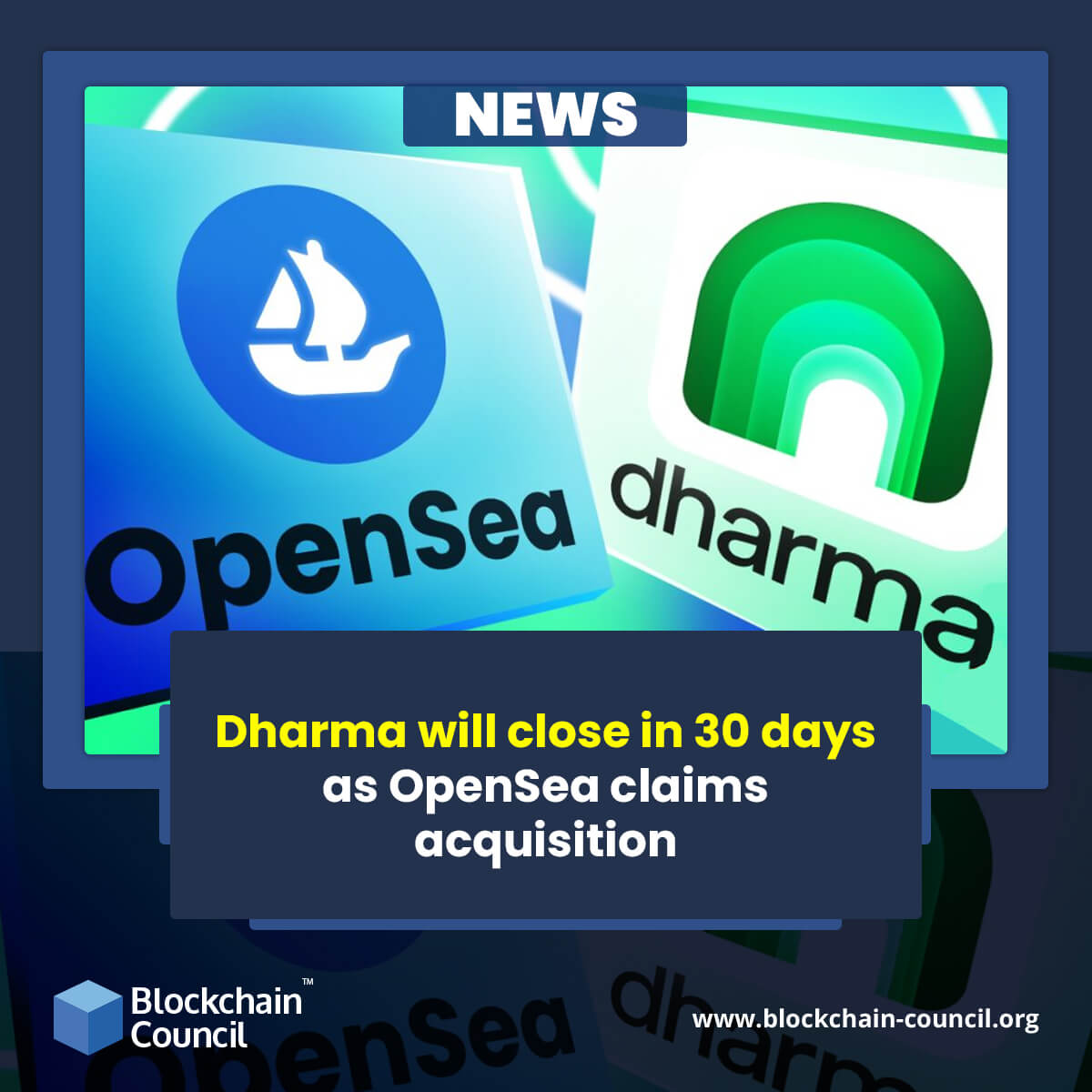 Taking the Non-Fungible market space in a storm with its skyrocketing trading volume records, OpenSea is all set for a new coloration to expand its ecosystem. In the latest development, the world's leading NFT trading channel has acquired onramp wallet developer firm, Dharma Labs to further its expansion plans that form part of the 2022 roadmap curated by the OpenSea community. With this acquisition, Dharma Labs is poised to shut down its service cluster in the next 30 days span, restricting users from swapping or purchasing tokens on the portal.

For the unversed, Dharma Labs is a well-known decentralized platform that facilitates a secure link between fiat and blockchain technology. The interface allows customers to connect their bank accounts to a decentralized network for purchase and swapping of tokens. The U.S-based wallet solution also works like a fiat onramp for decentralized finance hubs by supporting integrations for bank accounts of customers. The teams will work together to provide seamless DeFi services to the users thus fueling crypto adoption in the financial space. The exact amount involved in the deal is not disclosed, however, some reports suggested that the investment is likely to be between $110M and $130M by OpenSea.
According to the blog post released by OpenSea, the firm invested in Dharma Labs because of the latter's strong potential in connecting fiat money to blockchain clusters. The decentralized wallet designed by Dharma Labs is a popular facilitator for crypto and DeFi integrations. OpenSea is looking forward to expanding its NFT operations to more investors with the powerful mobile app of Dharma Labs. The top-tier NFT marketplace recently broke its previous record of $3.4B worth trading sales in August 2021 by reaching a whopping $3.7B since the January 2022 start. This makes OpenSea the most prominent and trustworthy name in the NFT space with a striking $13.3B valuation.
Talking about the pact, Dharma Labs' spokesperson stated that the team is happy to focus on the fast-growing NFT industry. The NFTs became the catalyst for cultural adoption of crypto in the past year with a huge number of goods garnering mainstream cultural popularity in the sector. The team is looking forward to helping OpenSea in providing a more secure interface for buying, selling, and minting NFTs through its knowledge and expertise.  
With Dharma Labs stopping its services, the platform has requested its users to transfer or sell the tokens held by them in their wallets at the earliest. The firm has promised to pay any network fee charge to the customers. Those customers who will fail to empty their wallets in the given timeframe will be able to access their wallets via an open-source DApp portal and will have to pay their own gas fees for transactions.