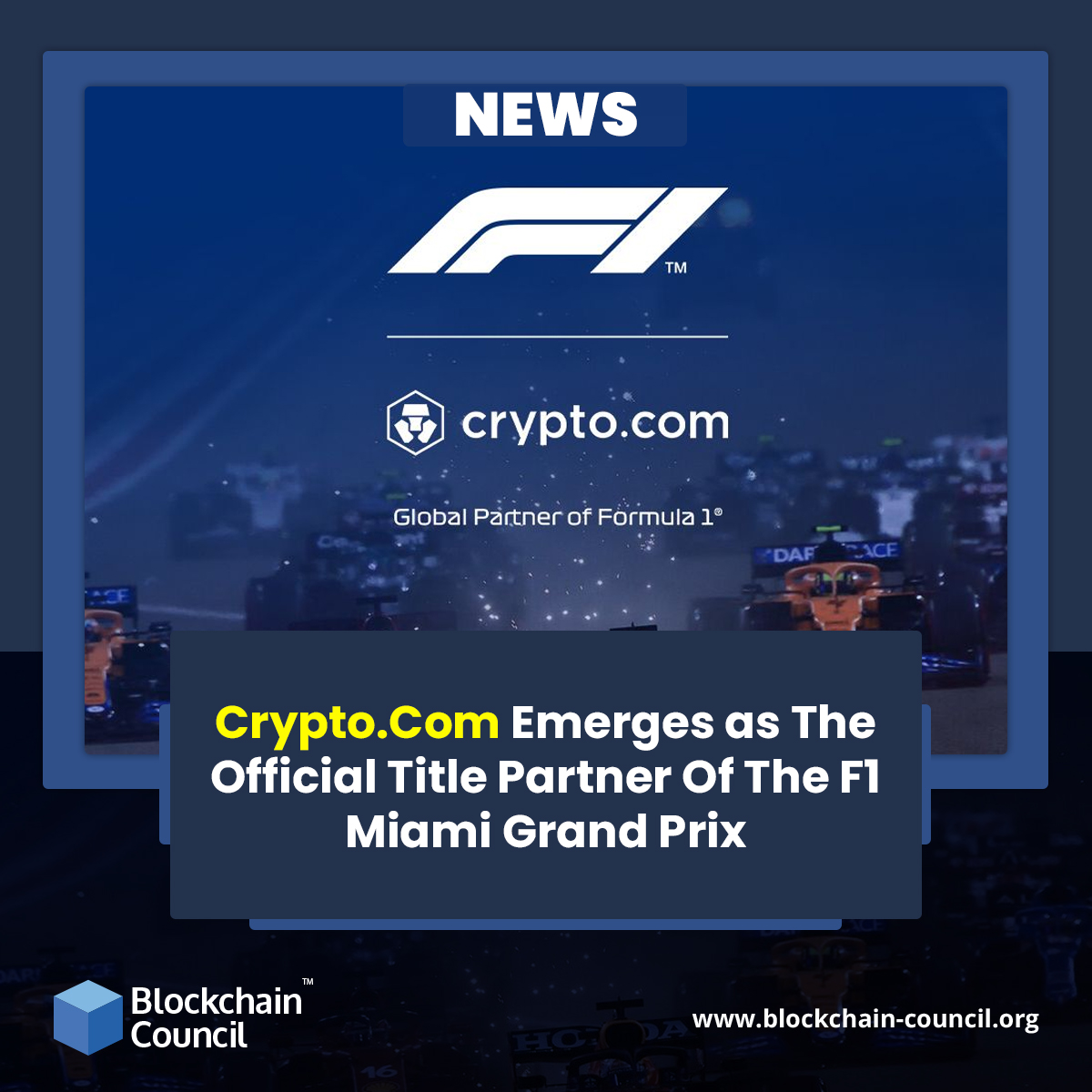 Working as a globally-acclaimed exchange portal offering a safe crypto trading experience, Crypto.com has cracked a strategic deal with Formula 1 to strengthen its hold in the sports sector. The popular cryptocurrency exchange has become the official title partner of the forthcoming Formula 1 Miami Grand Prix. With this collaboration, Crypto.com is looking forward to expanding the scope of cryptocurrencies and promoting its trading cluster by earning support from the global F1 racing fan community.

As per the official announcement, the racing event will be named Formula 1 Crypto.com Miami Grand Prix to highlight the pact signed between the two firms. The deal is locked for nine years wherein the official logo of Crypto.com will be displayed on the track, title, and podium of the Miami International Autodrome venue. The logo will also be integrated into the event logo as well as on the winners' trophies. The partners have decided to curate an exclusive Crypto.com Fan Zone for the entertainment of the visitors and spectators. The special zone will be placed in the center of the Hard Rock Stadium and will play host to a plethora of interesting activities outside of the Grand Prix itself. The partnership will play a significant role in bringing Crypto.com to the focus of racing fans from across the world.
Deepening our global partnership with @F1,
we're proud to be the first official title partner of the
🏎💨 Formula 1 https://t.co/vCNztATSCO Miami Grand Prix 🏎💨

See you in Miami May 6! https://t.co/uOOqNqThNT@f1miami #CryptoF1 pic.twitter.com/W96S9EWxxn

— Crypto.com (@cryptocom) February 9, 2022
Interestingly, the latest announcement can be a well-planned step taken by Formula 1 as it comes right after the recent achievement of the Crypto.com exchange during the Super Bowl LVI. The exchange purchased a spot to air an advertisement to be seen by at least 96.4 million viewers during the Super Bowl LVI event which apparently is one the most viewed sports tournament in the United States. Earlier, Crypto.com joined hands with F1 to become the inaugural global partner of the 2021 Sprint Series.
The recent developments have shown a growth in partnerships and collaborations between gaming firms and crypto-related projects and exchanges. Crypto.com has been quite successful in hitting some of the biggest deals with top-tier sports companies and global events through its potent marketing strategies. The exchange has managed to expand its cluster quickly across the crypto domain while giving stiff competition to the giants like Binance, FTX, Coinbase, etc. The recent reports signaled that the exchange might have spent nearly $6.5 million for the Super Bowl LVI event.