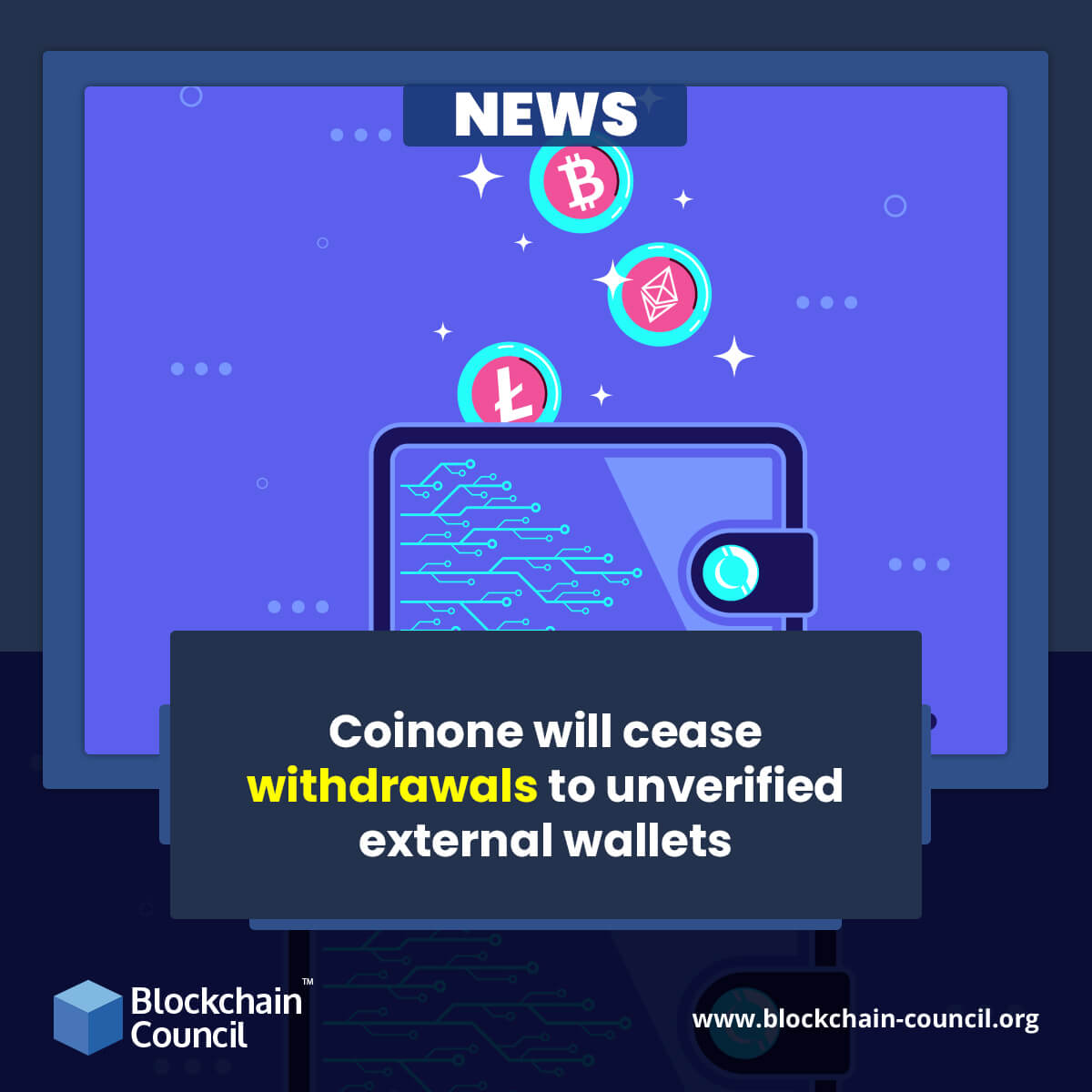 Leading cryptocurrency exchange hailing from South Korea Coinone has announced that the platform will not support withdrawals of crypto tokens to unverified external wallets from January 2022. In this regard, the Coinone team has opened a window starting from December 30 and stretching through January 23 to facilitate the registration of external wallets by users. The authorities have clearly mentioned that any external wallet left unverified post the scheduled period will not be allowed to execute withdrawals on the Coinone ecosystem.

As per the announcement, crypto investors could only register their own respective external wallets on the exchange. The verification process is likely to take some time and is subject to change in the future. The Coinone exchange users will not be able to withdraw funds to wallets without fulfillment of satisfactory Know Your Customer or KYC requirements. The new guidelines will also be applicable to the customers using the renowned hardware wallet Ledger.
The team stated that it is striving to verify users' names and resident registration numbers that are issued to all the native residents of South Korea. These sincere steps to ensure customer verification will help Coinone to keep track of illegitimate transactions. The guidelines will help the team to make sure that the crypto transactions taking place on the exchange were not related to illicit activities such as money laundering.
Earlier in March, the government of South Korea passed a bill concerning the work operations of cryptocurrency exchanges. The statute required local crypto exchanges to satisfy various regulatory guidelines including the requirement for a real-name account and ISMS verification. The law compelled exchanges to report about their operations within six months to the concerned authorities. In January 2022, the South Korean crypto investors will be subjected to a new tax rule that would inflict capital gains taxes on all profits over $2,300 earned from crypto trades.
The strict actions taken by the government have forced crypto exchanges to impose stringent policies related to user verification and money handling on their respective platforms. Top-tier exchanges like Bithumb announced stricter KYC norms and AML restrictions following the government plans to regulate crypto trading. The Coinone exchange will support wallets offered by exchanges complying with KYC requirements such as those from Binance and FTX.