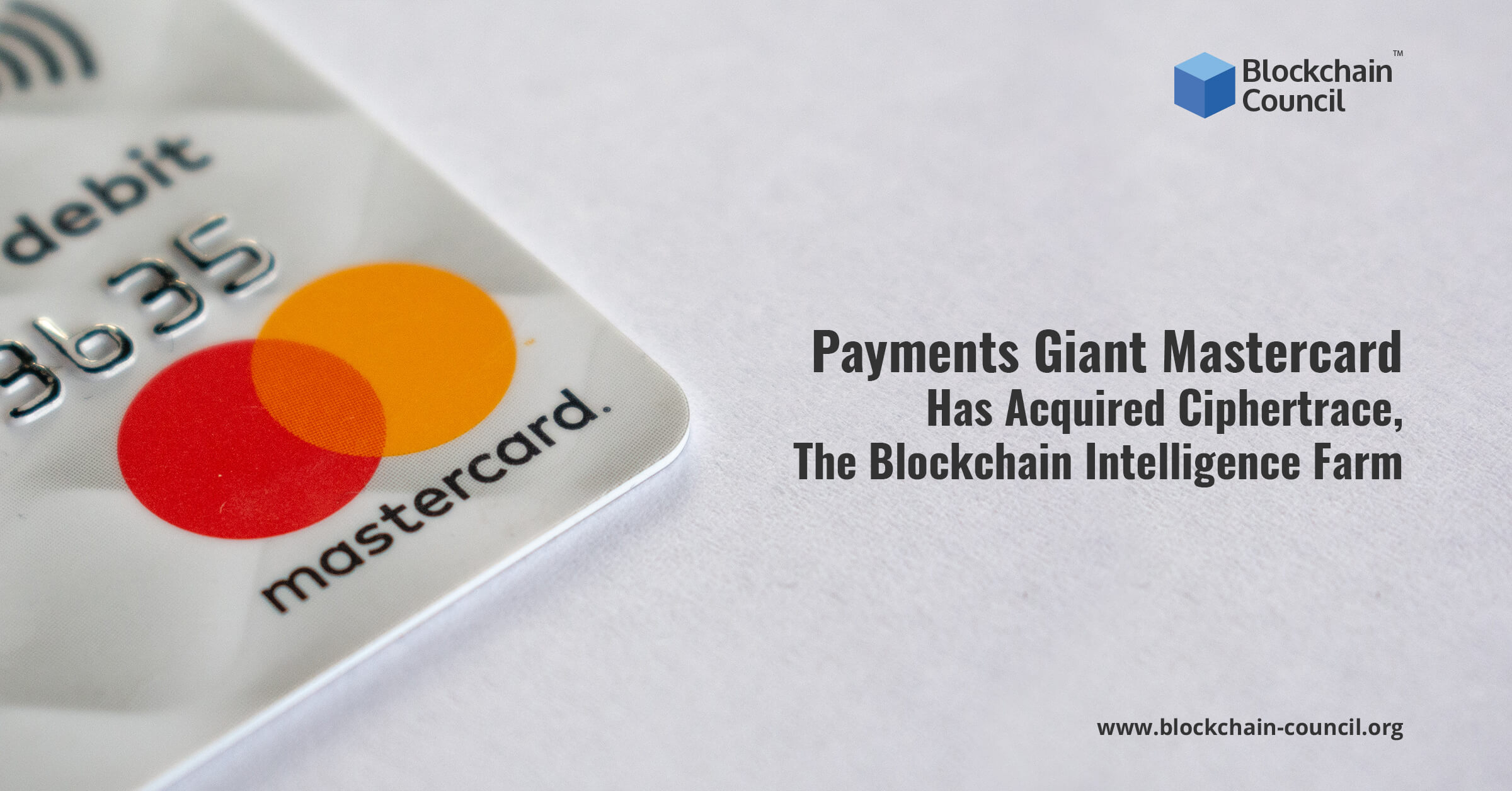 Mastercard, the giant multinational payment processing company from the United States, recently announced that the company is on its way to dipping its toes further in the world of digital and crypto assets through its acquisition of the popular Blockchain Intelligence firm that goes by the name of Ciphertrace. The announcement after the partnership between the two firms stated that this collaboration would be beneficial for both the firms to bolster the cyber security solutions moving forward.

Mastercard purchases Ciphertrace for a classified sum
This Thursday itself, the global payments giant Mastercard revealed that they had acquired Ciphertrace, the popular Blockchain intelligence firm. Ciphertrace is based in a place called Menlo Park, California, and is a cyber security firm that specializes in cyber security and is responsible for tracking more than a staggering 900 cryptocurrencies at once. Stephen Ryan had founded the company on the 31st of May, 2016, and ever since then, the company has filed for bankruptcy and acquired a series of patents over the years.
In the month of May, the company reported that there is a growing trend where they could point out that the cyber crimes around the world are gradually moving towards systems and applications that are generally concerned with Decentralized Finance or DeFi as we know it. Right after making that statement, the company also announced during the month of August that they were able to enhance the tracing capabilities of Monero (XRP). 
Ajay Bhalla, who is the president of Cyber and Intelligence at the payments giant company Mastercard, stated the growing importance of digital and crypto assets in the world and they are beneficial for the future during the acquisition announcement he made on Thursday. In addition to this, he also stated that it is his vision and intention to make sure that in the future, the digital assets ecosystem is completely free of scam and fraud and can be deemed safe and completely secure. Bhalla also stated that digital assets have the potential to completely alter commerce as we know it and reimagine it in terms of the needs of the present and the future.
Bhalla mentioned that crypto or digital assets could transform the very dynamics of commerce ranging from activities such as making payments or even receiving them to transforming entire economies. According to Bhalla, these characteristics make the crypto and digital assets ecosystem all the more efficient and inclusive. 
Mastercard makes a deeper entrance into the world of crypto
Mastercard has been showing a lot of interest in crypto for quite some time, and their interest in the digital assets ecosystem has been increasing tenfold every couple of weeks. Back in the month of July, the company announced that they would be enhancing their cards to make them compatible with crypto transactions. Just a week after that, the company announced that they would like to start an initiative to help nurture and bolster startups that were centered around crypto.
Moreover, when Ciphertrace came out with their announcement regarding the enhanced tracing capabilities of Monero (XMR), Mastercard came out with their plans for working on stablecoins, crypto, and CBDCs or better known as central bank digital currencies, that very week. The company has been closely following and associating itself with the crypto ecosystem.
Dave Jevans, who is the chief executive officer of Ciphertrace, mentioned that they create softwares that can help companies monitor any sort of fraud or scams going on in any service that is related to crypto, and they have actually specialized in it. He also added that their vision is quite similar to that of Mastercard, in the way that both of them share the same goal of making companies or institutions and the entire crypto ecosystem a safer and more secure place for everyone to commence and conduct their businesses. 
Finishing thoughts: How to build your own NFT based projects?
Learning Blockchain, Cryptocurrencies and Cyber Security are easy now, all thanks to reputed online courses and training sessions. Blockchain Council is one such organization that offers online training and certification programs to aspiring trainees to render them desired competencies so that they have a successful career in the Blockchain space. Keeping the rising demands of blockchain professionals in mind, Blockchain Council certifications are diversified to meet each aspirant's discrete needs. They have a host of training and courses on Cyber Security that provides world-class knowledge and support.
To get instant updates about Blockchain Technology and to learn more about online Blockchain Certifications, check out Blockchain Council.