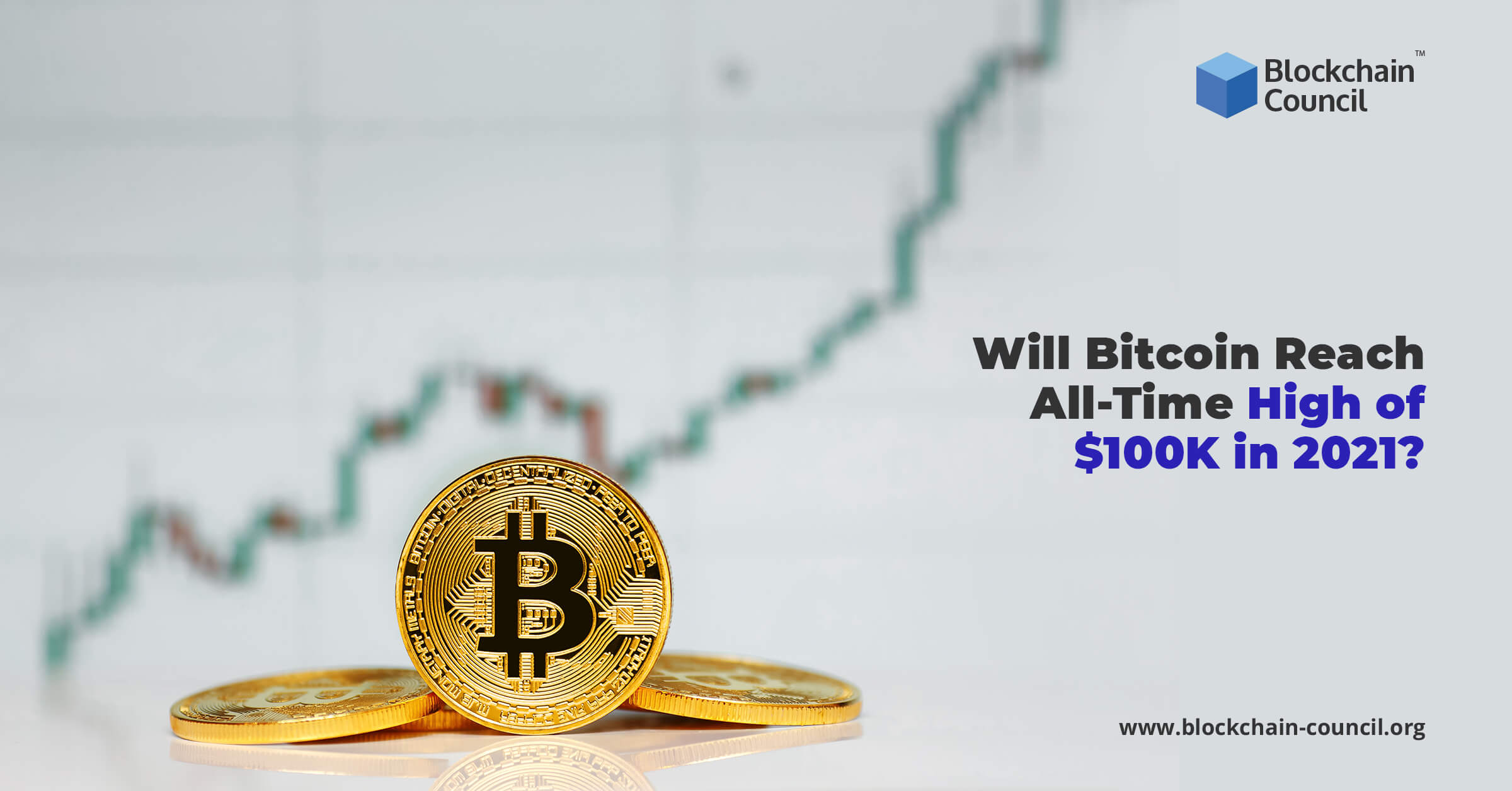 Are you a Crypto enthusiast? Wondering whether BTC will beat all records and reach $100k this year or not? Well, you have landed on the right page. This article talks about the history of Bitcoin, from where it all started, reasons that accelerated its price, and finally analyzing whether BTC could really hit $100K

Table of Contents 
From Where It All Started: The Rise of Bitcoin

Reasons That Accelerated Bitcoin's Price

Could Bitcoin really hit $100K?

Concluding Lines 
From Where It All Started: The Rise of Bitcoin
Bitcoin, the first-ever example of decentralized digital currency, came into existence in 2009 under the pseudonym of Satoshi Nakamoto. Initially, in January 2009, the Bitcoin network was introduced with the release of the first open-source bitcoin client and the issuance of the first bitcoins, with Satoshi Nakamoto mining the first block of bitcoins ever. The first price rise happened in July 2010, when the value of a single bitcoin rose to $0.08, and the next year in 2011, its price rose from $1 in April. After two years, in January 2013, it was seen that BitPay exceeded 10,000 transactions, and in November 2017, the price surged to $10k. Since its introduction, Bitcoin(BTC) has seen significant ups and downs. In 2018, Bitcoin saw the most critical crash to $3,200, but next year in 2019, its price stayed above US $3,190. After its lowest drop in this year, in mid-June, the price rose to the US $10,000, and again in December 2019, the same price fell to the US $7,112.73.  
However, the end of 2020 and the first quarter of 2021 indicates a remarkable rise in Bitcoin's price. In December 2020, BTC touched $10K. In January 2021, Bitcoin price rose to $40K, and on 16 February, the price further surged to $50,000, recording an all-time high. And finally, on 13 March 2021, it was announced that the price of Bitcoin rose to $60,065, and hours later, the price crossed $61,000 to set a new all-time high of $61,556.59. 
Looking for the best cryptocurrency certification courses? Get started today with Blockchain Council. 
Reasons That Accelerated Bitcoin's Price
As Bitcoin has surpassed all records of the past and has unexpectedly crossed USD 60,000, it brings a question to everybody's mind as to why BTC exploded. Here are some of the reasons for the accelerated BTC's price. 
Global COVID-19 Pandemic 
Most people looked at bitcoin as a way to protect themselves from the looming economic downturn brought about by the spread of global coronavirus. Institutional investors such as Microstrategy, Tesla, Square Corp, and many others shifted their cash holdings to BTC, claiming that it was a good store of value against inflation.
Consider as 'Digital Gold'
Although Microsoft founder Bill Gates has warned investors against risky cryptocurrency, and United States Treasury Secretary Janet Yellen mentioned it as inefficient for actually carrying out transactions and is extremely speculative, cryptocurrency enthusiasts are considering BTC for investment purposes and as a payment system. Bitcoin is drawing a worldwide audience, and few consider it as 'digital gold,' considering the fact that it has many of the same properties as gold and acts as a globally recognized store of wealth.
Bringing Better Trust
In the beginning, Bitcoin was surrounded by various questions, such as is it secured? Can it be hacked? Is decentralization a truly workable solution? Will halving destroy the system and so on. And finally, after a decade, BTC has proved that it is secured, non-hackable, and built on a reliable technology(Blockchain) that does not break in any sense. 
The emergence of Financial Institutions
As Bitcoin is now being associated with more institutional investors and with giant financial institutions like Paypal, Visa, JP Morgan, etc., more retail investors are interested in purchasing Bitcoin now more than ever. 
Highest Liquidity
Apart from the reasons mentioned above, another crucial reason for its upsurging is that it has the highest liquidity in the crypto space. The higher the liquidity ratio, the easier it is to sell a cryptocurrency at market price.
Could Bitcoin really hit $100K?
As Bitcoin shows no sign of slowing down, everyone is wondering whether BTC will achieve $100k in 2021 or not? Prediction is tough, especially if it's about the future. But after looking at the features of the past data, we can get some idea about what the feature would look like. Bitcoin has moved closer to $100,000 than it is to $0. The latest advances in the field of Bitcoin are evidence that it is on its way to becoming a mainstream asset class. Blockchain Experts and analysts believe that if this trend continues, it wouldn't be a surprise that BTC might hit $100k by the end of 2021.
Concluding Lines 
From the above discussion, it is clear that the Bitcoin era has begun and it will continue to make a revolution in the years to come. 
If you are planning to invest in Bitcoin, it is crucial that you know trading strategies very well and performs your own research before making any investment decisions. 
If you want to get started as a Certified Cryptocurrency Trader, get enrolled in Blockchain Council now!
To get instant updates about Blockchain Technology and to learn more about online Blockchain Certifications, check out Blockchain Council.