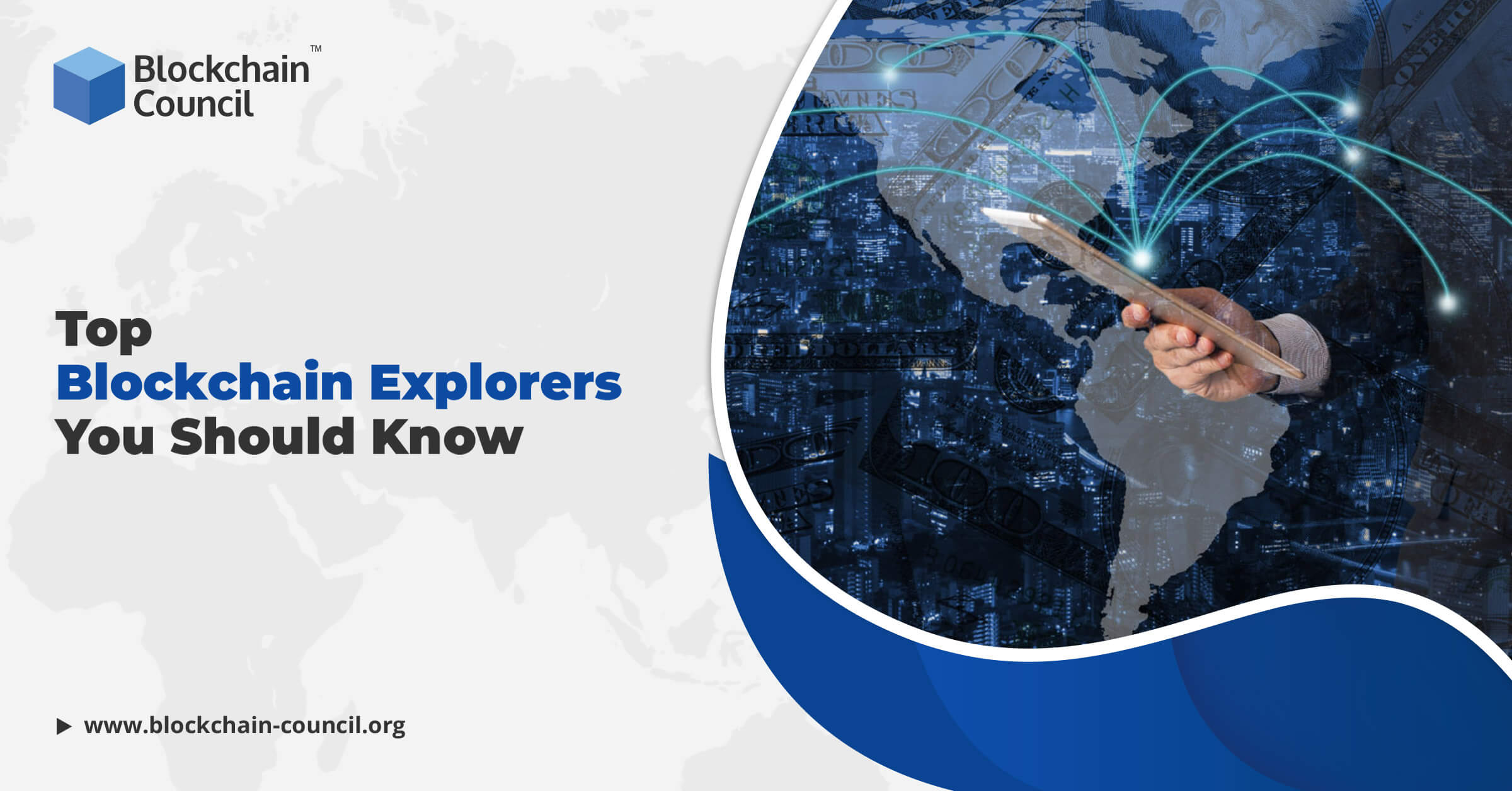 If you are new to the concept of Blockchain Explorers, you have landed on the right page. This article talks about what exactly Blockchain Explorers are, enlisting the most popular Blockchain explorers so far. 

So let's get started.
Table of Contents 
What are Blockchain Explorers?

Top Blockchain Explores you Should Know

Concluding Lines 
What are Blockchain Explorers?
Blockchain explorers have really come a long way from the early days of Bitcoin. There weren't any blockchain explorers at all initially, and when they came up, they were providing only the basic features.
Now comes the question of why these explorers are a must for crypto enthusiasts. It is important to note that anyone who is dealing with cryptocurrencies needs at least one explorer to look up your transactions on the blockchain network. Dealing without a strong blockchain explorer for cryptos enthusiasts is like someone without search engines utilizing the internet.
In most simple words, Blockchain explorers are crucial tools that are utilized for looking up the transactions on the Blockchain network. Moreover, explorers enable one to watch the transaction history of a given address, check mempool status, and view the genesis block.
Top Blockchain Explores you Should Know
.
Now, as we have understood what Blockchain explorer is all about, let's have a look at a few of the most popular ones.
BTC.com Blockchain Explorer
Although there are new alternatives that have emerged, this explorer holds a solid choice in the cryptocurrency community as exploring Bitcoin is simple and fast at the same time. This explorer is assumed to be the most trusted explorer and crypto transaction search engine, which allows users to explore blocks, see inputs, and outputs of all transactions, attached fees, energy consumption, and Bitcoin public addresses, and other crucial details. It supports cryptocurrencies such as Bitcoin, Bitcoin Cash, and Ethereum.
BlockCypher
BlockCypher is another popular open-source explorer that enables users to explore everything related to transactions, blocks, and Bitcoin addresses in real-time. It is known to support Litecoin, Dash, Dogecoin, and Grin as cryptocurrencies. It is a reliable explorer with a user-friendly sleek UI, which is easy to navigate. Apart from the standard blockchain explorer information, it offers some additional features such as confirmation predictions, fee suggestions, and Bitcoin public address information for your cold wallet addresses. With this explorer, users can explore Bitcoin's Blockchain in 4 different currencies, including BTC, Satoshi, Bits, and mBTC. 
Blocktrail
Its official website describes itself as a dominant Bitcoin wallet and developers platform and block explorer that delivers tools to the bitcoin economy. This explorer is known for being user-friendly and therefore scores good numbers in terms of ease of use. Apart from this, it empowers users to access a unique feature by allowing them to export transaction history related to a public address in the CSV file format. Additionally, it offers an easy and understandable pictorial representation of transaction history for a specific address. With the help of this explorer, users can find out information regarding the number of times a particular Bitcoin public address found entries on the internet. 
Tokenview
Unlike other explorers, this one supports more than hundreds of cryptocurrencies such as Bitcoin, Ethereum, Bitcoin SV, Litecoin, and others. With a solid user interface, Tokenview enables users who have different cryptos to search for your transaction without opening another explorer. In addition, it is equipped with other useful tools too, such as pending transactions list, block reward winners, daily trading volumes, number of active wallets per day, and much more. Apart from that, it forecasts crypto-assets along with crypto Mining info, Whale Tracking, etc. However, the only issue with this explorer is that its loading time is not the best due to the reason that it handles a tremendous amount of data. 
Coinmarketcap 
This is another explorer that has gained a lot of public attention. It allows users to freely access and find out the prices and charts of top cryptocurrencies. Moreover, it offers free access to current and historic data for Bitcoin and other altcoins. At present, it is one of the most visited sites and is considered to be a premier source of cryptocurrency market data. 
It is the most-referenced price-tracking platform in the world that seeks to make crypto globally discoverable and effective by enabling retail consumers to draw their own educated decisions with impartial, high quality, and reliable knowledge.
Apart from these explorers that are mentioned above, there are many others in the market, such as Bitcoin.com, Block Explorer, Etherscan, TradeBlock, Blockchain.info, Blocktrail, Blockchair, etc.
Concluding Lines 
Blockchain explorers are born out of the need to access and read detailed transaction data and to ensure transaction accuracy and blockchain transparency.
From the above discussion, we can conclude that Blockchain explorers are essential tools as they help in exploring receiving addresses and change addresses, mempool status, double-spend incidents(if any), latest and largest transaction of the day, orphaned and stale blocks, and other crucial information.
So which, according to you, is the best Blockchain explorer? Let us know in the comment section.
To get instant updates about Blockchain Technology and to learn more about online Blockchain Certifications, check out Blockchain Council.