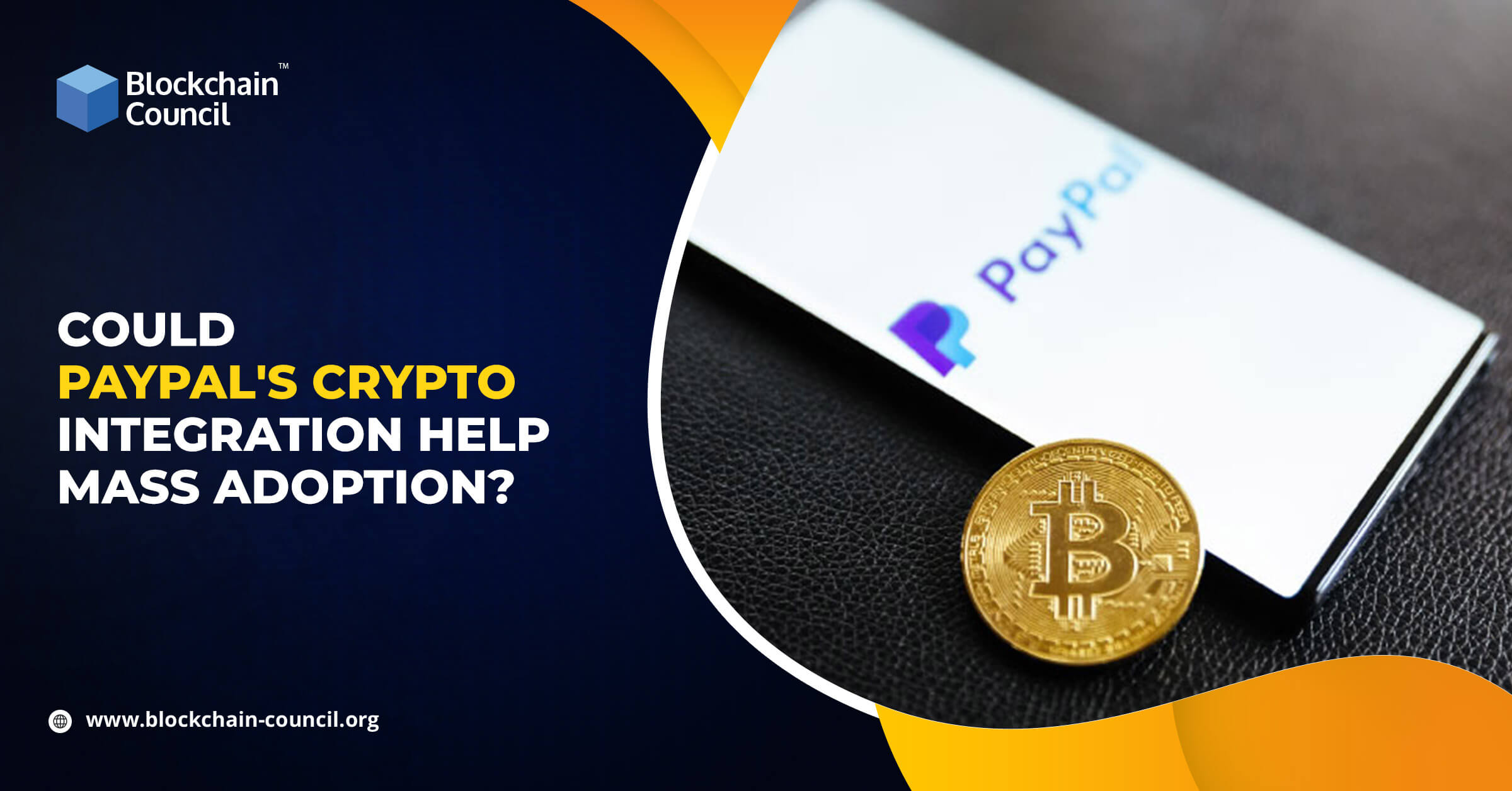 You must have a lot about Paypal's new service that is enabling users to buy, hold, and sell cryptocurrencies. In this article, we will discuss whether PayPal's crypto integration will lead to mass adoption or not. 

Table of Contents
Paypal to Build Understanding and Adoption of Cryptocurrency

PayPal's Entry into Crypto Space: A Game Changer

Experts Answers Regarding Paypal's Crypto Adoption

Concluding Lines 
Paypal to Build Understanding and Adoption of Cryptocurrency
Despite crypto continuing to gain a lot of public attention, its mainstream adoption and awareness still remain very low. Statista survey indicates that BTC usage in countries with developed economies is even below 10%. Apart from this, few experts predict that by 2030, this number will increase to 90% of the United States population. 
Paypal platform, which is known to offer online financial services, made an announcement in the month of July that it is planning to introduce crypto trading. It was stated that the platform is introducing the service to buy, hold, and sell cryptocurrencies directly within the PayPal digital wallet, initially featuring BTC, ETH, BCH, and LTC. In order to bring cryptocurrency popularization, the service is expected to be fully rolled out early by the next year in 2021.
PayPal's Entry into Crypto Space: A Game Changer
For the last few months, the crypto-world has been bursting with hype and rightly so. BTC is now floating near the $13,000 mark, while ETH has comfortably crossed the $400 level once again. For increasing cryptocurrency's utility in digital commerce, Paypal has teamed up with Paxos in order to allow its users to shop seamlessly across its massive network of affiliated merchants. Their teaming will provide customers with streamlined crypto access, which will have huge implications at large. 
Charles Cascarilla, CEO of Paxos, reported that the crypto sector would most likely witness an unparalleled rise in mainstream recognition based on PayPal's market reputation alone. Experts consider Paypal as a safe space with training wheels to learn about cryptocurrencies before escaping to the real world. The report also suggests that PayPal's crypto integration means Bitcoin could triple its user base.
Experts Answers Regarding Paypal's Crypto Adoption
OKEx CEO Jay Hao also stated that Paypal had taken a significant move that will bring greater awareness and acceptance worldwide. 
He also noted that this does not suggest that everyone will be running out and purchasing cryptocurrencies, but as it increasingly becomes more embraced, especially against the backdrop of an economic crisis in which fiat currencies are losing their buying power, inevitably more newcomers will enter the market.
Jimmy Song, who is an instructor at Programming Blockchain, believes that PayPal's integration gives people an additional path to buying cryptocurrencies.
Mati Greenspan, a founder of Quantum Economics, also expressed his views regarding adopting cryptocurrencies in real-world payments. He mentioned that millions of people who prefer to pay with crypto would have new opportunities for payments without the need for any third party.
Cristina Dolan, founder, and CEO of InsideChains and vice-chair of the MIT Enterprise Forum expressed his views regarding Paypal's announcement. He believes that Paypal integration will help in increasing crypto adoption by offering user-friendly and integrated solutions for the millions of active PayPal users all around the globe. He also highlighted the challenges of utilizing crypto for payments, mentioning how online platforms dominate payments processing and attract new customers.
IOTA Foundation co-founder Dominik Schiener also stated that PayPal is introducing crypto as an alternative for consumers, which is very exciting for widespread acceptance. He believes that this new payment method will not only enable payments between users and merchants but also between smart devices and smart cities. 
Concluding Lines 
As PayPal continues to explore the potential of distributed ledger technologies(DLTs) in order to improve financial services and assure they are faster, secure, and cost-efficient, it seems fair to say that the platform will give a new definition to the crypto space by working hand-in-hand with regulators and central banks in this quest. But in order to gain mass adoption, the platform will need to evolve. Many crypto enthusiasts who hold transparency and economic freedom in high regard may not indulge in this platform. However, it seems fair to say that PayPal will bring betterment than harm to the crypto industry.
So what's your take? Could PayPal's crypto integration help in mass adoption? Let us know in the comment section below.
To get instant updates about Blockchain Technology and to learn more about online Blockchain Certifications, check out Blockchain Council.