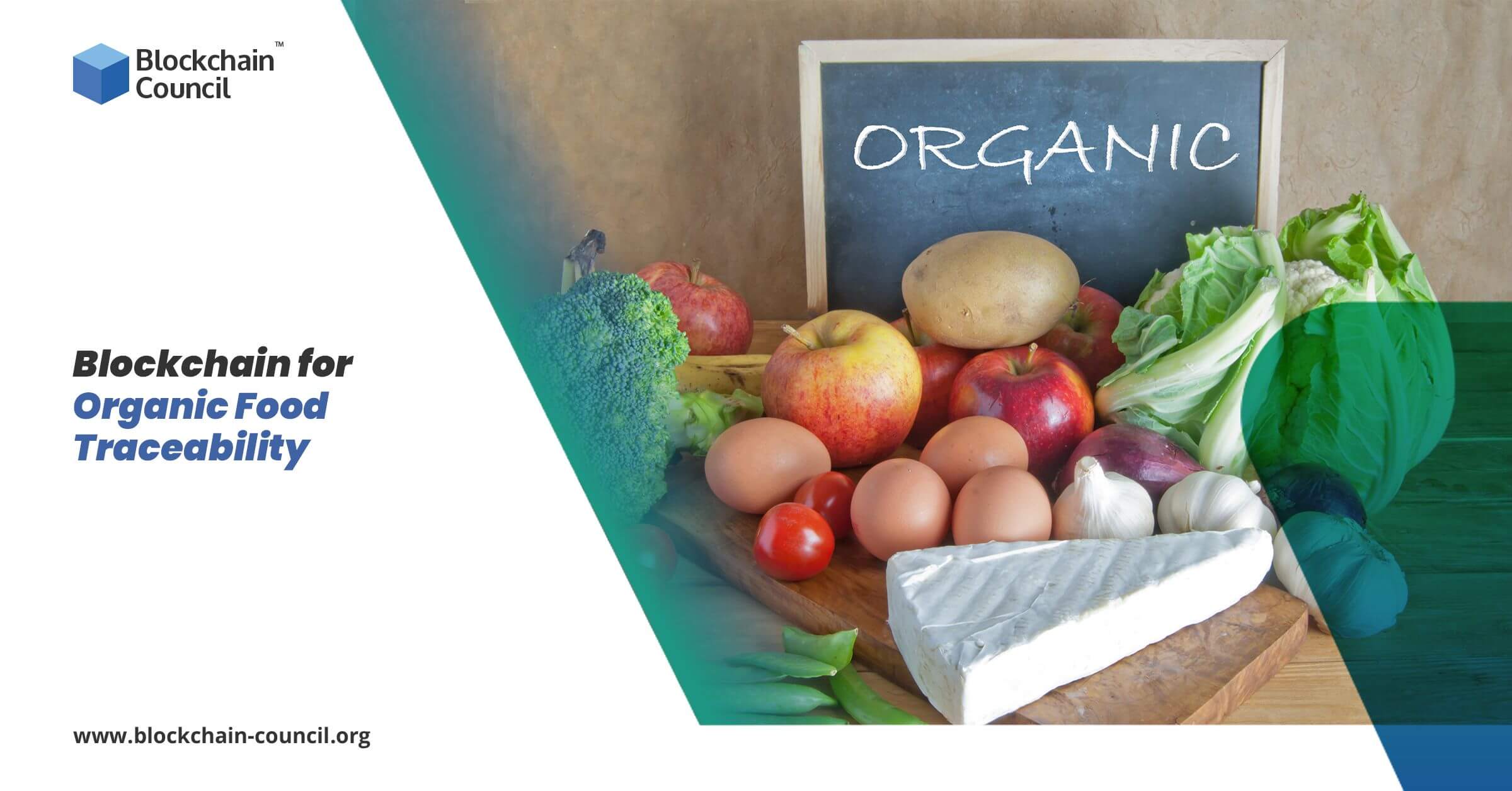 If you are a Blockchain enthusiast, you must have heard a lot about Blockchain and its use-cases. This article talks about the role of Blockchain in organic food traceability and also focuses on the challenges.

Table of Contents
Overview of Blockchain Technology
Role of Blockchain in Organic Food Traceability
Are There Any Challenges?
Concluding Lines
Overview of Blockchain Technology
Blockchain is a peer-to-peer(P2P) decentralized distributed ledger technology that traces and records transactions in an immutable manner. In other words, we can say that it is a special type of database that stores data in blocks that are chained altogether.
Due to its ability to offer complete decentralization, transparency, immutability, security, and privacy, technology is gaining a lot of momentum in various domains, including healthcare, finance, logistics, supply chain, and much more. Blockchain food traceability is growing momentum in the global agriculture-food sector due to its high potential to provide a full history of the product status, improved customer trust and loyalty, fairer payments, authorized vendors, and proper compliance management.
Want to know more about Blockchain and its use-cases and become a Certified Blockchain Expert? Get started with Blockchain certifications now!
Role of Blockchain in Organic Food Traceability
Organic food buyers expect quality and depend on certifying organizations to verify the quality of the products and to provide products' origin. However, when it comes to organic food traceability, it has to deal with several problems, such as issues related to organic labeling, certification fraud, and concerns about the transparency of food information.
Let's explore how Blockchain can help.
Digitizing manual processes and implementing a traceability system with Blockchain can be seen as a viable solution for a safer and more transparent food supply chain. In the organic food supply chain, information about food sources is particularly valuable because it can reveal pesticide use, GMOs, environmental or carbon footprint, and other crucial information.
Since Blockchain aims to maintain a complete database of food item journeys right from the source to the fork, it aids in the prevention of food safety disasters. Everyone in the supply chain can see data in real-time, including supply chain associates, import regulators, and food safety inspectors. And, most of all, information stored on Blockchain is fully trustworthy because it is permanent and cannot be changed or forged at any time.
Another advantage of Blockchain is that it helps in building consumers' trust while receiving their organic products.
Today's shoppers aim to make healthier and more eco-friendly purchases. Many people now choose healthier versions of their preferred foods and drinks and are able to pay a higher price for them. But how can they be sure they're receiving 100 percent authentic goods? With its complete decentralization, Blockchain is useful in telling the story of a product to the customer, even at the time of purchase, showing whether the product is organic or not and thus building consumer trust.
Are There Any Challenges?
Without a doubt, Blockchain has the potential to redefine the food supply chain market, but it still has underlying drawbacks that must be considered.
One of the foremost challenges in improving traceability with Blockchain is adoption. For Blockchain to be efficient, there must be participation from all parties and points of contact involved. Additionally, validation of data stored in a blockchain solution is an issue since food that is labeled as organic or fair trade could also be non-compliant. Also, data integrity still remains a problem as it lies in the hands of the data collectors.
Want to learn all the ins and outs of Blockchain? Get started today with Blockchain Council!
Concluding Lines
Today, Blockchain technology is making headway in almost all domains, including finance, supply chain, healthcare, logistics, and much more. As the food industry is embracing this decentralized, distributed ledger technology, the desire to remain successful would eventually accelerate the migration to Blockchain.
Nestlé, Carrefour, Tyson Foods, JBS, Bumble Bee Foods, and many other food industries are using Blockchain to eliminate most of the persisting issues and ensure a healthier community.
Last year in July, WEF conducted a study where it explained that by the year 2030, Blockchain technology could contribute to a $365 billion savings by reducing food loss and waste in the food supply chain. Also, MarketsandMarkets states that the global Blockchain in agriculture and food supply chain market size is estimated to reach USD 948 million by 2025.
Such studies indicate that Blockchain could revamp the industry the way no one ever imagined.
To get instant updates about Blockchain Technology and to learn more about online blockchain certifications, check out Blockchain Council.