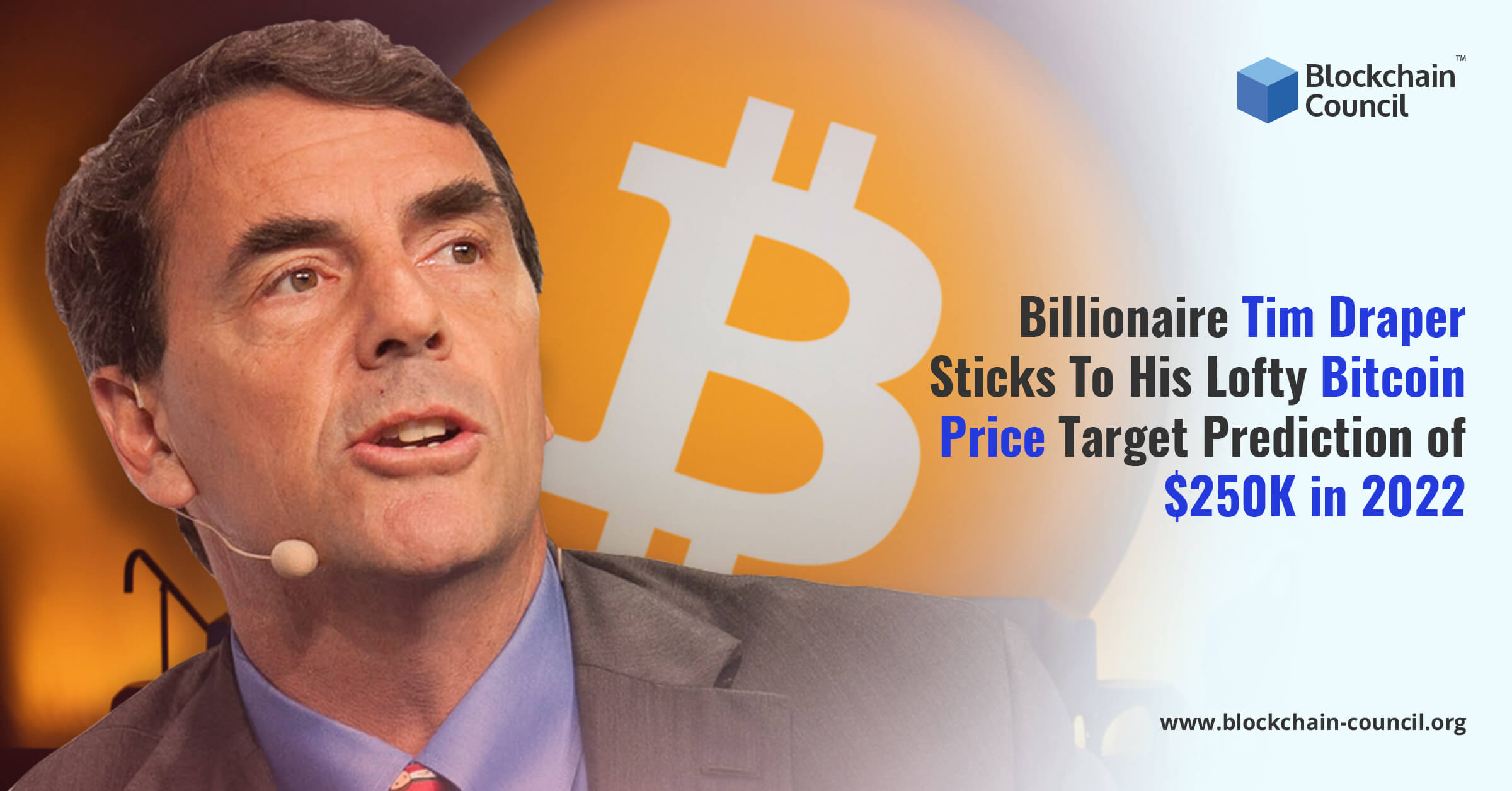 Despite the brutal sell of in the crypto market that happened recently, Tim Draper, who is the founder of Draper Fisher Jurvetson and is a billionaire in his own right, insisted that the cryptocurrency will still make it to his predicted price target of $250K by the end of 2022.

Back in 2018, Draper had claimed, quite boldly enough, that the price of Bitcoin will be able to reach $250K by 2022. He has remained thoroughly optimistic about the future of this particular cryptocurrency and ever since he has made his prediction, nothing of that importance to him has ever taken place that could shake his optimistic resolve on the subject. 
Tim Draper, who is also known as a successful venture capitalist with investments made in some famous companies such as Tesla, Skype, Coinbase, Hotmail and others, has recently stated in an interview with Benzinga that his prediction about Bitcoin would eventually come true owing to the popularity Bitcoin commands and the growing adoption rates due to that incredible popularity. 
https://t.co/bB2wdMA6Dd #Bitcoin #degov #freedom #trust

— Tim Draper (@TimDraper) July 17, 2021
He clearly stated that even though there have been ups and downs in the market, he still stands by his prediction firmly. He believes that the transparency, openness, decentralized, globally trusted and frictionless characteristics of bitcoin set it apart. He believes that with advancements in technology, Bitcoin will be able to retain its position as faster and better applications are designed for it. He is pretty confident that Bitcoin will reach $250K per coin by 2022 or early 2023.
Bitcoin has a current valuation of $31,668.02 and if it has to sell at the predicted price of $250K by the end of next year, the cryptocurrency needs to appreciate by around 800 percent. 
"Freedom and Trust"
Draper is a believer in the idea that Bitcoin stands for freedom and mutual trust. He even mentioned that certain economies have been built around this particular cryptocurrency and globally people who are able to partake in that ecosystem, conduct their businesses and transactions around it, are actually reaping the benefits of using a method of transaction that is decentralized, safe and overall more convenient. Obviously there are exceptions everywhere and in this case, one can point out to Argentina and Nigeria, where the fiat currencies of the respective nations are witnessing a gradual and constant devaluation. 
In the United States however, things look a lot better. The financial experts in the States strongly believe that Bitcoin will still be able to provide a safe haven from inflation, as it continues to be the best modern hedge fund against inflationary situations, if they were to arise. 
Draper further added that he likes to focus on things where he can see people are actually putting a lot of effort to improve the technicalities of a particular subject, which in this case is their digital currency. A lot of engineers are currently working in order to develop Bitcoin at this moment. Last week, Bitcoin received its very first upgrade in the last four years. The upgrade has been named as Taproot, which is supposed to be in effect from the month of November. Taproot is due to enhance and ensure better security measures as it addresses some important privacy issues which have been there for some time. Also it is supposed to make Bitcoin transactions more efficient and faster. Moreover, with this upgrade, users can also enjoy the benefits of smart contracts on the bitcoin blockchain.
Draper is of the opinion that Bitcoin will be at the center of most of the financial activities in the coming two to three decades.He compared Bitcon to Microsoft in the world of software and Amazon in the sphere of ecommerce and added that Bitcoin has that factor about it that will lead to even greater popularity and adoption. However, there have been concerns regarding the adverse effects on the environment due to the mining processes of bitcoin which led Elon Musk to cancel transactions in bitcoin in Tesla. But he lifted the ban on crypto after a few days, stating that newer methods of mining are being researched that rely on clean energy.
Draper had predicted the rise of Bitcoin back in 2014 as well, when Bitcoin was priced at only $500. He predicted it would go upto $10K in the following three years, and it did. Even now, he continues to be optimistic about its growth and it's only a matter of time before the world gets to see if Tim's predictions come true or not.