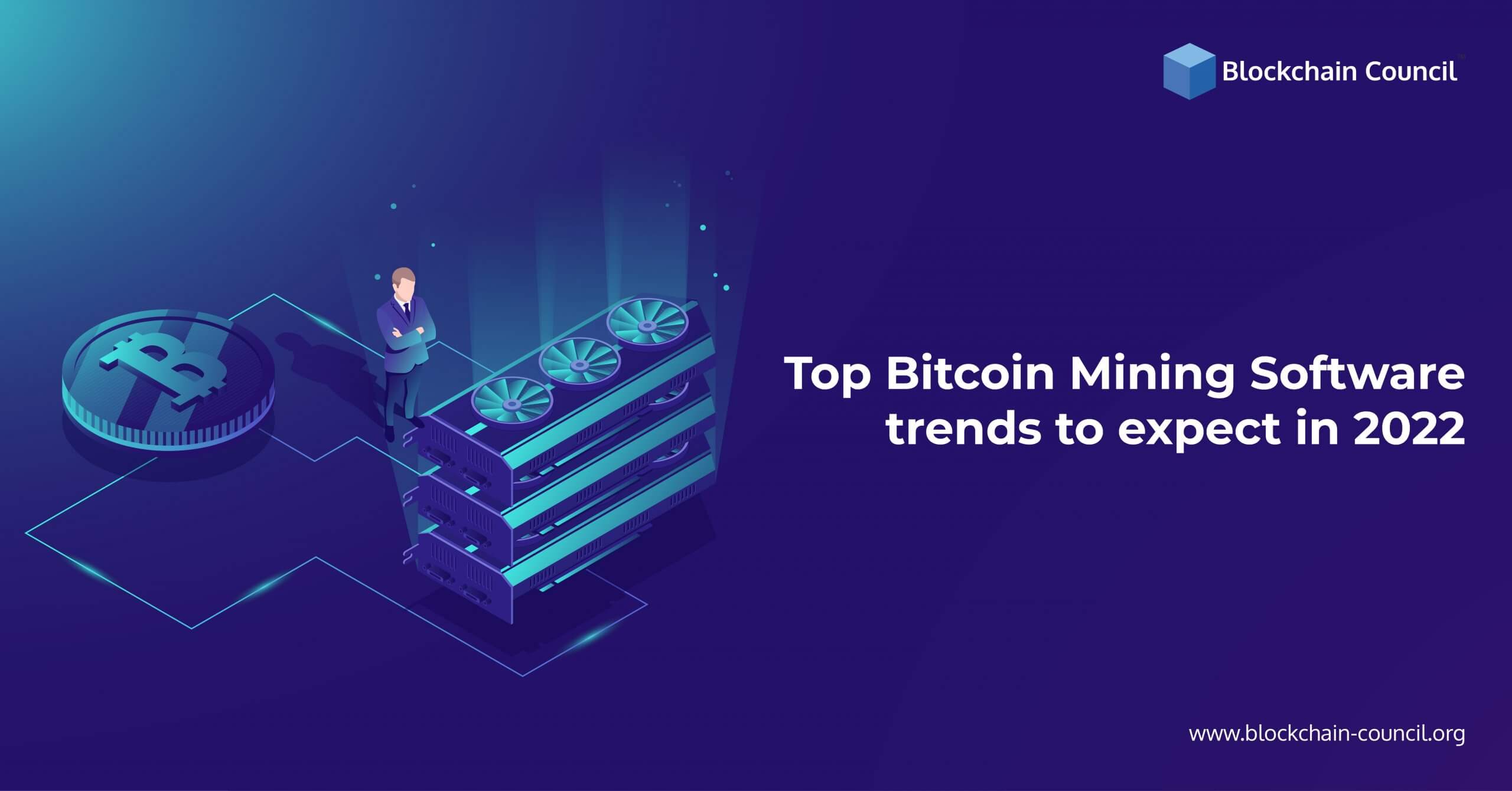 In bitcoin mining, transactions are digitally validated in the bitcoin network and added to the blockchain log. It is accomplished by deciphering complicated cryptographic hash puzzles to confirm updated transactions on the decentralized blockchain log. Solving these hash puzzles requires mighty computing power and updated tools. In return, miners are awarded with bitcoin, which is then discharged for circulation, thus the name – bitcoin mining.

How long does Bitcoin Mining take?
The process of mining 1 BTC can take about 10 minutes, but it can also take 30 days or even more than 30 years.
Bitcoin mining speed depends on various factors, like – 
the device you use like ASIC, GPU, or CPUs

the hash rate of the device 

the mining pool

Finally, the competition in the market.
How to pick the best Bitcoin mining platform?
You should evaluate the following aspects while picking the best Bitcoin mining software:
Support for diverse cryptocurrencies

GUI based or Command-line interface

Automated Features offered, like in Kryptex

Easy to understand, use, and navigate

Support for several devices like Mobile, Tablet or Computer

Support for multiple OS, like Mac, Windows etc

Compatibility with ASIC, GPU, and FPGA

Customization options
What are the Various Kinds of Cryptocurrency Mining Software?
Here are the kinds of Cryptocurrency Mining software available till today:
CPU Miners:

It is an old Bitcoin mining process, done using a standard PC with a standard CPU chip.
GPU Miners:

It is faster and more competent compared to CPU mining.
FPGA Miners:

FPGA (Field-Programmable Gate Array) is powerful and much faster than CPU and GPU mining.
ASIC Miners:

ASIC miners are fabricated for a specific intention. These miners are fast, consume less electricity, and provide more hash rates.
Gridseed Miners:

Gridseed mining is the most delinquent crypto-mining technology and can deliver high hash rates in mining than other Bitcoin miners.
Bitcoin Mining Pools:

Bitcoin mining pools are groups managed and run by third parties to organize hash power from miners worldwide.
Cloud Miners:

Cloud Miners are mining softwares that commonly use cloud computing to access servers, software, and storage from any location.
Top Bitcoin Mining 2022 Software
Shamining
SHAMINING is a cloud mining platform (web) operating with ASIC and GPU. It has a hash power rate of 23 580 GH/s. It has a user-friendly and super simple interface. Thus it is one of the best mining tools for cryptocurrency.
Features
Real-time statistics with evolved capabilities.

Income calculator

Remote account administration from any device.

Different payment method options (incl. Visa, MasterCard, IBAN).

No need to download and set up.

Compatible with any OS.
Price: The minimum deposit amount is $250
ECOS
Best for transparent and legal service. Take up a bitcoin certificate to enter ECOS.
ECOS is a cloud mining platform well known in the industry. It was founded in 2017 in the Free Economic Zone. and first cloud mining platform that has a legal status. It has more than 90000 users from all over the globe.
Moreover, ECOS is a full-fledged investment platform. It contains a wallet, investment portfolios, exchange, and savings. ECOS is available as an app in the Google Play and App Store.
Features:
Suitable calculator on the website for selecting a mining contract (has standard and pro versions).

The minimum deposit is $49.

Detailed transaction history.

Minimum withdrawal is relatively low – from 0.001 BTC.

Regular payouts

A wide range of contracts is available for users to choose from.

Get a mining contract for 1 month after enrollment for free.
Kryptex Miner
Best for beginners as well as bitcoin professionals. 
Kryptex is a Windows run platform that can catch the most profitable coin. It is competent in handling tricky cryptocurrency calculations. It is effortless to start with this platform –
download the app, complete the registration, keep the app running, and get paid.
Kryptex operates in the background and pays for the job done by the computer. The lowest amount that can be drawn is $0.5. With Kryptex, you can handle mining remotely from any location.
Features:
Kryptex examines the hash rate and profitability of GPUs accessible on the market.

It supplies detailed real-time statistics.

Its mining profit calculator will display the best GPUs for your mining job and the most advantageous alternative coins for the given electricity pricing.

Kryptex guarantees to deliver up-to-date miners.

The calculator will estimate the returns you can expect according to the electricity price inputs and graphics cards.
Cudo Miner
It is best for novice miners who desire to earn Bitcoins from laptops or desktops.
Cudo Miner is a fully-featured CPU and GPU miner that supports various algorithms. It is a cryptocurrency mining medium that is comfortable and highly lucrative, with some unique traits not seen in other famous mining software.
It also provides advanced tracking capabilities and remote control that permit the account holder to authorize/vandalize mines, revenues, hardware health stats like temperature and wattage, exhibit hash rates, recommendations, and transactions from afar. 
Features
User-friendly interface

Idle mining

Powerful web console

Remote management

Capability to customize algorithms for enhancing performance or profitability.

Choice of payment method.

Advanced tracking capabilities.
BeMine
Best for cloud mining.
BeMine is the provider of cloud-sharing ASIC-miners. It is a specially made device for efficiently executing calculations, such as verifying transactions.
BeMine continuously operates in full force, and it demands some conditions for functioning well. It performs as an ASIC merchant and cloud mining solution.
Features:
You can purchase 1/1000 of ASIC or the whole pack to profit.

BeMine presents only the suitable machines.

It supports refilling the balance of your account in different ways such as MasterCard, Visa, Bitcoin, Bitcoin cash, Exmo, etc.
Awesome Miner
Best for Users seeking the centralized authority of their mining activity.
Awesome Miner is a robust mining program that can simultaneously accommodate several mining hardware types. It presents over twenty-five mining engines, blends with every primary mining algorithm, and allows users to control various mining pools simultaneously.
Awesome Miner has an easy GUI and makes it easy to handle your crypto mining activity. The mining software also has a dashboard that displays the temperature and situation of your hardware, thereby allowing you to keep track of its performance and health.
Features
Functions with all ASIC devices.

Displays GPU state like temperature, speed of the clock, speed of the fan, etc.

It allows you to keep track of Bitcoin and a variety of other cryptocurrencies in real-time.

Mining with a single click.

Supports over 25 mining engines.
BFGMiner
Best for Pro users who want to tailor the mining process.
BFGminer is an ASIC and FPGA mining software that does not have GPU mining. It has a developed tracing and timing functionality and a remote interface especially for miners seeking tailored ability.
BFGminer is not only a very smooth app, but it is also cross-platform, with the capability to run it on a Raspberry Pi. Although it is text-based, the GUI is very user-friendly, and you can have a pleasant journey through the various options using hotkeys.
Features
Capability to simultaneously mine diverse cryptocurrencies.

Capacity to hash on several famous mining algorithms at the same time.

Cross-platform

Powerful mining features
MultiMiner
Best for Beginners seeking for easy-to-use mining tool.
MultiMiner is a relatively easy Bitcoin mining platform to use, created mainly for Windows 10. But it can be used with macOS or Linux, although this would require the installation of extra applications.
You can choose the coins you want to mine based on the linked mining system using the app (FGPA, ASIC, GPU). 
Features
Remote rig access.

Capability to select coins to mine according to the mining hardware connected.

Placeholders for comprehending the jargon.

Direct engine ideas and API settings access.
EasyMiner
Best for users who want to control their diverse cryptocurrencies from one place.
EasyMiner is a user-friendly choice for miners who desire not to use the normally used Command-Line Interface-based mining tools. With this app, you will also get a pictorial representation of your numerals and outcomes, which certainly can be very helpful.
This Bitcoin mining 2022 platform is ideal for miners who want to mine Litecoin and Bitcoin simultaneously. EasyMiner immediately switches to the "MoneyMaker" mode when first activated. This automatically creates a Litecoin wallet and starts mining on a private pool using the CPU of your machine.
Features
ASIC mining

Capacity to mine Bitcoin and Litecoin simultaneously.

Moneymaker mode lets you start mining immediately.

Ability to choose your pool using a tailored hash algorithm.

A chat system to support beginners to connect with pro miners.
CGMiner
Best for Miners who desire an open-source mining platform that can operate on any device and is compatible with various mining tools.
CGminer has been in use for a long time and is one of the most commonly used ASIC/GPU/FPGA mining platforms today. CGminer is a cross-platform and C-based command-line program. It functions on Mac, Linux, and Windows.
Features
Facilitates ASIC/GPU/FPGA mining

Can manage any hash rate without causing delays in the network.

Remote control, fan speed control, and wallet locking functionality.

Automatically catches new blocks with a mini archive for sluggish situations.

Works with a variety of mining pools and computers.
The Future of Bitcoin Mining
Mining cryptocurrency is still a very new vision and requires time to become accepted by a community where many individuals use a substantial form of payment.
However, most people do not even carry cash, simply a plastic card when you think about it. So the primary step toward a cashless society has already started. To enter in this world, we suggest you taking up a BTC certification and start your career.