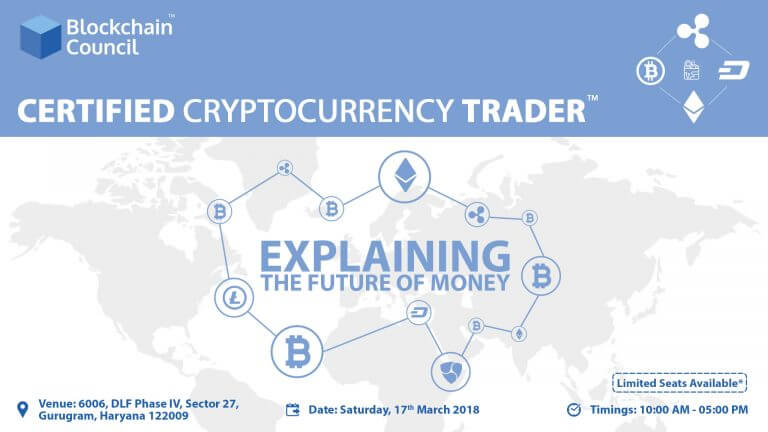 Blockchain Council, SpringHouse Co-Working Space, 6006, Lower Ground Floor, DLF Phase IV, Gurugram, Haryana, 122009
Certified Cryptocurrency Trader
Learn from the industry experts and smartly manage your cryptocurrencies investment portfolio. Acquire skills to create strategies and expand your profile utilizing trading tools. With Blockchain Council's Crypto Trader Training session, learn the swift and effortless way to invest.
Benefits of the Certification
Understand the fundamentals of cryptocurrencies.
Understand the analysis behind the top cryptocurrencies prices.
Learn how to technically analyze a crypto chart to identify good trades.
Learn how to determine the portfolio size.
Learn to store cryptocurrencies securely in wallets.
Understand the legalities behind investing in cryptocurrencies.
Understand the types of trades and which one to get into it.
Topics to be Covered
Blockchain Technology overview.
Cryptocurrency overview.
Key cryptocurrencies and their price analysis.
Legalities and compliances around cryptocurrencies
How cryptocurrencies gain value?
How to buy and store cryptocurrencies securely?
Interpreting and analyzing crypto charts technically.
How to use technical indicators?
Identifying buy and sell zones of a trade.
How to pay tax on profit?
Future of cryptocurrency trading.
How to manage a crypto portfolio?
Brief introduction of ICOs.
Q&A
Who must attend
Financial consultant & advisors looking to expand their business portfolios.
Investment Bankers
Asset Managers
Working professionals who want to invest in cryptocurrencies.
Cryptocurrency enthusiasts
Anybody who wants to expand their investment portfolios.
Anybody who wants to understand the fundamentals behind cryptocurrencies and their market evaluations.
Anybody who wants to learn the technical indicators and analysis of trading.
Trainers Profile
Toshendra Sharma
Founder & CEO at RecordsKeeper, a Blockchain-based record keeping solution for businesses & individuals.
Earlier he founded Appvigil (Wegilant) in Nov 2011 along with pursuing my Masters in Application Security from IIT Bombay, India.
During Wegilant & before that, he has trained 15000+ students in 5+ years across various college & offices in India. He has also written a book on AVR Micro-controller with the name "Robotics with AVR".
He was the part of Forbes India 30Under30 List of 2016 in Technology space. Check his social profile at LinkedIn, FB, Twitter
Rohendra Singh
Blockchain Solution Architect, Ex-VP Engineering @Appvigil
Founder & CTO @RecordsKeeper Blockchain Solution Architect, Ex-VP Engineering @Appvigil
Rohendra had led Appvigil's 16+ people team as VP-Engineering and architect the whole solution on AWS in highly scalable way. Were performing 10,000 memory intensive vulnerability scans per hour without getting crashed. Rohendra has also led the Architect team in TCS for multiple projects.
Rohendra is known for faster & highly scalable product development on AWS & can solve any problem using technology. Check his social profile at LinkedIn, FB, Twitter
Register Now
Register Now
Learn and start crypto trading
What People Say
Good content, very well explained. Can be implemented after understanding in building up various use-cases.
---
Patrick Nguyen
I can see the instructor has a lot of experience in this field. The example he shows touches many different areas with many "gotcha" details. If you are serious learning about coding in blockchain, you will eventually discover all these points, but now you can learn all that in 2 hours.
---
Steven Sills
Great course I really enjoyed it and the course was way easy to learn with very good explanations of the code, I could easily understand and develop applications with the knowledge gathered during the course.
---
Jet Hingerty
From New York
I really enjoyed this course , the instructor is so experienced and this is totally cool , at the same time , and the examples made the learning quick. Thanks a lot 
---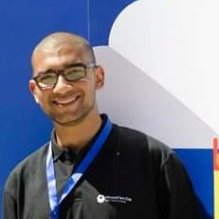 Ahmed Adel Fahmy
From Australia